Lac d'Hourtins-Carcans, Aquitaine, France
Also known as:  Lake Hourtins, Lac Carcans-Hourtin-Maubuisson
Welcome to the ultimate guide for history, statistics, local fun facts and the best things to do at Lac d'Hourtins-Carcans.
If you're considering Lac d'Hourtins-Carcans vacation rentals, we've made it super easy to explore accommodations and nearby hotels using the interactive map below. Simply click on a listing to compare similar properties, best rates and availability for your dates. Or keep scrolling to read our Lac d'Hourtins-Carcans guide!
Lac d'Hourtins-Carcans visitor and community guide
Beautiful Lac d'Hourtins-Carcans is nestled within France's Aquitaine region. One of the longest and largest bodies of water in the country, it has a surface area of 14,085 acres and a maximum depth of 33 feet. This freshwater lake is also known as Lac d'Hourtin-Carcans-Maubuisson (after the names of three cities that surround it) – or simply Lake Hourtins, for short. It is sandwiched in between Lac de Lacanau to the south and the Gironde estuary to the north.
The variety of activities on and around Lac d'Hourtins-Carcans has turned the lake into a family-friendly destination. Here you'll find activities suitable for everyone: children, teenagers, parents, and even grandparents. If you are looking for a quiet and peaceful vacation, Lac de'Hourtins-Carcans offers swimming, sailing, and crayfish fishing. Bird and animal watching enthusiasts can expect to find small animals such as toads, rabbits, lizards, and frogs. At night, take advantage of the vast array of restaurants and pubs in the vicinity; everything at Lake Hourtins is within walking distance.
More vigorous land activities include mountain biking, horseback riding, or hiking. For cyclists, a fabulous track connects the Lake Hourtins to the ocean. Intense recreational pastimes like wind surfing, canoeing and kayaking are extremely popular Lac d/Hourtins-Carcans. Kite surfing conditions are at their prime during the summer, when there is a consistent thermal wind in the afternoon. Tree climbing and parachuting can be done year round.
Facilities at Lac d'Hourtins-Carcans include a marina, a jet ski slipway and sport centers at Maubuisson, Bombannes and Hourtin Port. Paths around the lake make getting around by foot or on a bicycle a breeze. Budget travelers can pack a lunch and take advantage of various picnic areas that are perfect settings for an intimate outing.
Just southwest of Lac d'Hourtins-Carcans lies the town of Lacanau Ocean, where surfing is the name of the game. This summer hot spot includes nine miles of immaculate white-sand shores, and surf camps abound. For short-term visitors, individual surfing lessons are also available. Lacanau's downtown tourist office can help arrange surfing and other activities, as well as provide maps of the area's many local cycling and hiking trails. One path stretches just under four miles, ending at a charming carousel – an ideal daytrip for families with young children. There is also a championship golf course and some spectacular shopping nearby.
Another town situated to the south of Lac d'Hourtins-Carcans is Maubuisson, the site of the Popular Museum of Art and Traditions, or the Musee des Arts et Traditions Populaires des Landes. Afterward, you can get some fresh air at the Etang de Cousseau, a protected marshland that is eight miles long and home to adorable otters and skittish deer. Various vineyard tours in Medoc make for another spectacular excursion near Lac d/Hourtins-Carcans. Aficionados can learn about the winemaking process and – best of all – treat themselves to an elegant wine tasting afterward.
Real estate properties and vacation rentals are available around Lake d'Hourtins-Carcans, many with private pools and lake access. In this area, restored homes belonging to former "resiniers" are all the rage. These are old domiciles previously inhabited by forest dwellers, who subsisted by collecting pine tree resin, back in the time of antiquity. Many cottages offer short or long-term holiday rentals with both lakeside views and a close proximity to the Atlantic Ocean.
Lac Hourtins-Carcans is a unique place where you can parachute from an airplane in the morning; lose yourself in a peaceful nature walk in the afternoon; and enjoy a shopping spree at the local mall in the evening – all in one day. The word 'bored' simply is not a part of daily vocabulary at this charming French lake.
Custom Lac d'Hourtins-Carcans house decor
Read our full review of these personalized lake house signs.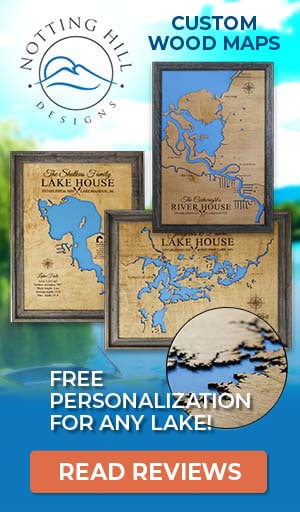 Things to do at Lac d'Hourtins-Carcans
Vacation Rentals
Fishing
Boating
Sailing
Swimming
Canoeing
Kayaking
Jet Skiing
Kite Surfing
Wind Surfing
Golf
Picnicking
Hiking
Biking
Horseback Riding
Wildlife Viewing
Museum
Shopping
---
Best hotels and vacation rentals at Lac d'Hourtins-Carcans
The Lac d'Hourtins-Carcans map shown above is a simple and stress-free way to search for trip accommodations. But if you want to take a deeper dive to find the ideal waterfront home, cabin, condo, hotel or resort, visit our favorite lodging partners by clicking the buttons below.
Note: These are affiliate links so we may earn a small commission if you book through them. While there is no extra cost to you, it helps provide resources to keep our site running (thank you)! You can read our full disclosure policy here.
---
Lac d'Hourtins-Carcans photo gallery
New photos coming soon!
Lac d'Hourtins-Carcans statistics & helpful links
We strive to keep the information on LakeLubbers as accurate as possible. However, if you've found something in this article that needs updating, we'd certainly love to hear from you! Please fill out our Content Correction form.
Advertise your Lac d'Hourtins-Carcans vacation rental
LakeLubbers will soon offer homeowners and property managers the opportunity to to showcase their vacation rentals to the thousands of lake lovers searching our site daily for accommodations. If you'd like additional details, please contact our advertising team here.
Looking for the Lac d'Hourtins-Carcans forum?
LakeLubbers previously offered visitors the ability to create accounts and participate in lake forums. When we overhauled the site's content management system in 2021 we had to disable those features. We're evaluating options and welcome your comments and feedback here.
We also encourage you to join our lake-lovin' community on Facebook and Instagram!
Spread the word! Share our Lac d'Hourtins-Carcans article with your fellow Lake Lubbers!