Lac Bleu, Midi-Pyrenees, France
Welcome to the ultimate guide for history, statistics, local fun facts and the best things to do at Lac Bleu.
If you're considering Lac Bleu vacation rentals, we've made it super easy to explore accommodations and nearby hotels using the interactive map below. Simply click on a listing to compare similar properties, best rates and availability for your dates. Or keep scrolling to read our Lac Bleu guide!
Lac Bleu visitor and community guide
Lac Bleu is a charming mountain lake in the Midi-Pyrenees region of Southwestern France. It is also known as Lac Bleu de Lesponne, because it overlooks the Lesponne Valley. Lac Bleu was originally named Lac Lhecou, a pre-Celtic word for large or flat stone.
Lac Bleu has an elevation of 6,486 feet and a surface area of 126 acres. Due to deep depths – its maximum depth is 397 feet – the body of water is characterized by an intense shade of blue, thus earning its name. Water is siphoned out of the lake and into the Ardour River, which provides canals and waterways that are crucial to proper irrigation and efficient transportation in the region.
There is plenty to do around Lac Bleu and the surrounding Pyrenees region, particularly hiking. The best time for trekking is during May to October, when hikers enjoy the Lac Bleu circuit – which can be tackled with or without a guide. Another hiking trail from the Chiroulet hamlet leads to the lake and takes about two and a half hours; the return trip leads past the Ouscouanou waterfall and Lake Ourrec.
Many more hiking trails abound in the Lac Bleu area, and the longest and most intense is undoubtedly the Haute Randonee Pyrenee. This challenging path leads from one side of the mountain range to the other, ending at the Atlantic Ocean. The Grand Randonee is a slightly easier version of a similar route, passing from the Meditteranean to the Atlantic through the Pyrenees. Circular wall cliffs are also worth seeing, most notably Cirque de Gavarnie and Cirque de Troumouse. Adventurers of all ages love the cable cars at Lac de Fabreges, a nearby lake. The cables lead to the mountain peak known as Pic de la Sagette, revealing phenomenal vistas en route.
Other activities around Lac Bleu include parasailing and canyoning. Guided pony trekking and horseback riding tours are available for equine lovers. During the springtime, white water rafting is possible when the snow melts down the valley. Mountain biking and road cycling are popular summer activities; oftentimes a knowledgeable tour guide can make the experience more smooth and relaxing than trying it on your own. Cross country skiing and snowshoeing are the most popular things to do in the wintertime.
Pyrenees National Park can be found to the south and the west of Lac Bleu. The reserve is brimming with beauty and wildlife, including brown bears. Bird watching for lammergeirs – intelligent birds nicknamed "bone breakers" for their capacity to drop bones from high altitudes in order to get to the marrow. You'll also find griffon vultures, red and black kites.
Massif du Pibeste is another nature reserve close to Lac Bleu. The nearby Lac de Puydarrieux was named a Natura 2000 site for its populations of common cranes and great white egrets. It is not atypical to see six to eight hundred of these majestic birds socializing at the lake at sunset. Also close by is the Naturelle de Neouvielle (RNR), France's first protected zone established in 1935. Outdoor lovers might try camping at the preserve near Lac d'Oredon.
On the Spanish-French border, Mont Perdu is an incredible natural mountain near Lac Bleu. The third highest mountain peak in the Pyrenees range, it boasts an altitude of 10,997 feet. Trekking peaks include Pic du Montaigu, at 2,339 meters, and Pic du Midi du Bigorre, at 2,877 meters. The latter peak features a world-renowned observatory for stargazing. Daredevils looking for something more intense can try La Grande Fache (3,005 meters) and the Balaitous (3,114 meters).
Bagneres de Bigorre is a small town to the northeast of Lac Bleu. Its streets are lined with charming cafes, boutiques and spas, and the city shuts down for a fantastic fireworks display every year on Bastille Day.
North west of Lac Bleu, Lourdes has a rich history going back to the 8th century, during the reign of Charlemagne. Many Catholics make pilgrimages to the nearby town of Lourdes, where Bernadette Sobirous purportedly had 18 apparitions of the Virgin Mary back in 1858. Since that time Lourdes has attracted many wounded, sick and suffering Christians looking for miracles and inspiration.
Visitors never fail to be amazed at Lac Bleu's irresistible charm, and it comes as no surprise that vacation rentals and holiday cottages can be found in the Lac Bleu area. Here you'll find nothing but peace, tranquility and inspiration.
Custom Lac Bleu house decor
Read our full review of these personalized lake house signs.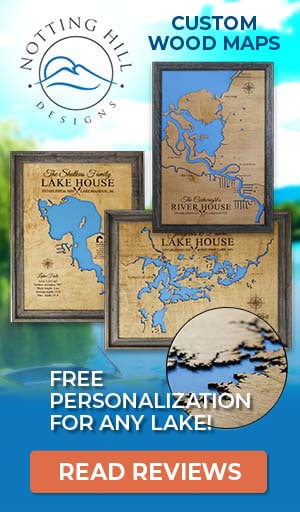 Things to do at Lac Bleu
Vacation Rentals
Whitewater Rafting
Parasailing
Camping
Hiking
Biking
Cross-Country Skiing
Horseback Riding
Waterfall
Wildlife Viewing
Birding
National Park
---
Best hotels and vacation rentals at Lac Bleu
The Lac Bleu map shown above is a simple and stress-free way to search for trip accommodations. But if you want to take a deeper dive to find the ideal waterfront home, cabin, condo, hotel or resort, visit our favorite lodging partners by clicking the buttons below.
Note: These are affiliate links so we may earn a small commission if you book through them. While there is no extra cost to you, it helps provide resources to keep our site running (thank you)! You can read our full disclosure policy here.
---
Lac Bleu photo gallery
New photos coming soon!
Lac Bleu statistics & helpful links
We strive to keep the information on LakeLubbers as accurate as possible. However, if you've found something in this article that needs updating, we'd certainly love to hear from you! Please fill out our Content Correction form.
Advertise your Lac Bleu vacation rental
LakeLubbers will soon offer homeowners and property managers the opportunity to to showcase their vacation rentals to the thousands of lake lovers searching our site daily for accommodations. If you'd like additional details, please contact our advertising team here.
Looking for the Lac Bleu forum?
LakeLubbers previously offered visitors the ability to create accounts and participate in lake forums. When we overhauled the site's content management system in 2021 we had to disable those features. We're evaluating options and welcome your comments and feedback here.
We also encourage you to join our lake-lovin' community on Facebook and Instagram!
Spread the word! Share our Lac Bleu article with your fellow Lake Lubbers!