Lac d'Allos, Provence-Alps-Cote d'Azur, France
Also known as:  Lac Allos, Allos Lake
Welcome to the ultimate guide for history, statistics, local fun facts and the best things to do at Lac d'Allos.
If you're considering Lac d'Allos vacation rentals, we've made it super easy to explore accommodations and nearby hotels using the interactive map below. Simply click on a listing to compare similar properties, best rates and availability for your dates. Or keep scrolling to read our Lac d'Allos guide!
Lac d'Allos visitor and community guide
Lac d'Allos, also known as Allos Lake, is situated in the middle of the Reserve de Chasse du Mercantour (Mercantour National Park) in the Provence-Alps-Cote d'Azur region on southeastern France. This small glacial lake has a surface area of 150 acres and a maximum depth of 157 feet. At 7,316 feet above sea level, Allos Lake is the largest natural high-altitude body of water on the European continent. The lake is fed by snow and ice from the surrounding mountains; water escapes through an underground passage to a glacial stream and eventually to the Verdon River. Surrounded by towering mountains, there are no roads leading directly to Lac d'Allos; however, hiking there doesn't take more than an hour, and it is definitely worth the trek. The closest place to park your vehicle is at the Maison Forestier du Laus, about 45 minutes away from Lac d'Allos by foot. It is a beautiful walk that affords plenty of sightseeing opportunities; however, it is important to note that this road is closed during the winter.
With over 600 miles of trails in the Val de Allos, alpine walking holidays in this area are extremely popular. Perhaps the most traversed is a five-hour loop that passes by Lac de la Petite Cayolle, Lac des Garets and Lac d'Allos. Hikers can continue on the Col de la Cayolle from la Petite Cayolle for a full-day excursion.
Animal and birdwatching at Lac d'Allos is sensational. Marmot, chamois, ermine, ibex and mouflon inhabit the area, as do stags, roebucks, hares, and Italian wolves. Wolf-lovers should not miss the visitors' center in Saint-Martin-Vesubie, which is dedicated to this majestic canine. You can also expect to spot a range of vegetation along nearby trails, such as holm oak, rhododendrons, firs, Swiss pines and larches. At least 2,000 types of flowering plants thrive in Mercantour National Park, including the rare edelweiss and martagon lily. The European Distributed Institute of Taxonomy monitors all of the park's plant species through an ongoing program.
Lac d'Allos is also known for its phenomenal mountain biking; the Tour de France progressed through the Allos Pass in 2000. Adventure-lovers enjoy exploring the stunning Verdon Gorges, commonly known as "the Grand Canyon du Verdon," which are up to 2,300 feet deep. Wintertime activities in the area include snowshoeing and cross country skiing.
Lac d'Allos is especially well maintained because it is nestled within Mercantour National Park, one of nine pristine refuges in France. Established in 1979, the preserve features a varied terrain that is speckled with olive groves, thick pine forests and waterfalls. One moment you are hiking along a steep gorge, and the next you are in front of a vast prairie of wildflowers – all within the span of just a couple of miles. Most of all, the 170,000-acre park is known for its beautiful mountain landscapes, which attract over 800,000 visitors per year. Mercantour is also home to the Vallee des Merveilles Historical Monument, an area decorated with petroglyphs from the stone-age.
Because Lac d'Allos is within a national park, you won't find any real estate or vacation rentals directly on the lake. However, the charming town of Allos lies about 7.5 miles west of the lake. There are two ski resorts here, both founded in the early 20th century. A nearby community park, Paradis des Enfants, is the perfect family excursion because it provides countless recreational activities like pedal boating, canoeing, and rock climbing. Children love the archery targets, trampolines, mini golf course and giant chess board here – not to mention the enormous man-made lake complete with water slide.
Peppered with various bodies of water, the Lac d'Allos area is a lake lover's paradise. Lac de L'Encombrette is situated to the south of Lac d'Allos, and Le Lausson to the east. To the north you'll also find Lac Du Trou de l'Aigle, Lac de la Petite Cavolle, and Lac des Garrets.
Here at Lac d'Allos you can simultaneously commune with nature, experience French culture and cuisine, and practice speaking the musical French language. Lake Allos is the perfect place to come for a tiny taste of France.
Custom Lac d'Allos house decor
Read our full review of these personalized lake house signs.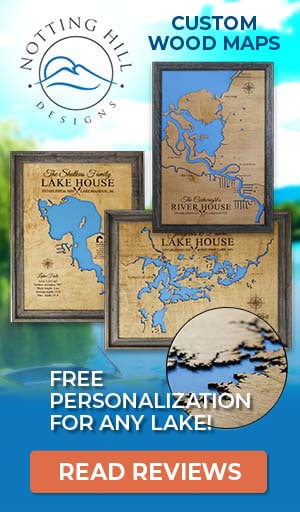 Things to do at Lac d'Allos
Vacation Rentals
Boating
Canoeing
Golf
Hiking
Rock Climbing
Biking
Cross-Country Skiing
Waterfall
Birding
National Park
Miniature Golf
---
Best hotels and vacation rentals at Lac d'Allos
The Lac d'Allos map shown above is a simple and stress-free way to search for trip accommodations. But if you want to take a deeper dive to find the ideal waterfront home, cabin, condo, hotel or resort, visit our favorite lodging partners by clicking the buttons below.
Note: These are affiliate links so we may earn a small commission if you book through them. While there is no extra cost to you, it helps provide resources to keep our site running (thank you)! You can read our full disclosure policy here.
---
Lac d'Allos photo gallery
New photos coming soon!
Lac d'Allos statistics & helpful links
We strive to keep the information on LakeLubbers as accurate as possible. However, if you've found something in this article that needs updating, we'd certainly love to hear from you! Please fill out our Content Correction form.
Advertise your Lac d'Allos vacation rental
LakeLubbers will soon offer homeowners and property managers the opportunity to to showcase their vacation rentals to the thousands of lake lovers searching our site daily for accommodations. If you'd like additional details, please contact our advertising team here.
Looking for the Lac d'Allos forum?
LakeLubbers previously offered visitors the ability to create accounts and participate in lake forums. When we overhauled the site's content management system in 2021 we had to disable those features. We're evaluating options and welcome your comments and feedback here.
We also encourage you to join our lake-lovin' community on Facebook and Instagram!
Spread the word! Share our Lac d'Allos article with your fellow Lake Lubbers!