Huntington Lake, California, USA
Lake Locations:
USA - West - California - High Sierra -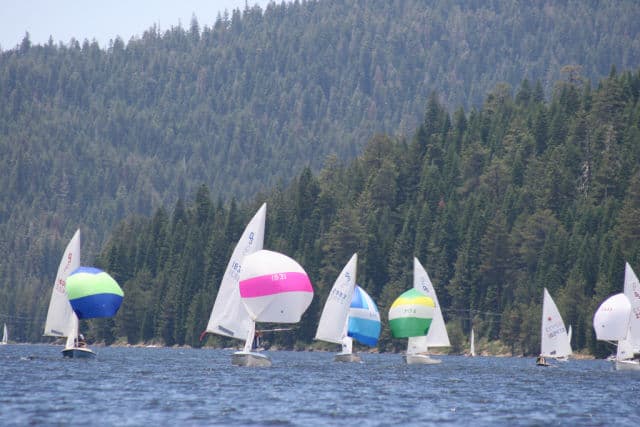 Huntington Lake is located high in the Sierra Mountain Range, just below the Alpine level, at 6,950 feet. The lake covers 1,435 acres and extends 4 miles long and 1/2 mile wide. With 14 miles of shoreline, Huntington Lake offers abundant year-round activities. Hiking, camping, cycling, horseback riding, backpacking, water sports, and sailing are popular during warmer months. And when the snow starts falling in the Sierras, outdoor enthusiasts head to Huntington Lake for cross-country skiing, snowshoeing, and snowmobiling. Huntington Lake is in Fresno County, about a two hour drive northeast of Fresno, California.
Upon first glance, you would never guess the beautiful mountain lake is in fact man-made. Before Huntington Lake was created, it was originally a basin used by the Western Mono Band of Indians during the summer and fall seasons. The original streambed that ran through the basin provided a plethora of natural resources for the Indians. Deer and fish were plenty as well as the local berries and nuts, such as strawberries, gooseberries, elderberries, pine nuts and acorns.
In 1886 John Eastwood saw the plentiful water source and noticed the 4,500 food drop in elevation from the basin to the San Joaquin Valley floor. He hoped to harness this natural element as a source of hydropower for Southern California. It wasn't until 1902 that Eastwood, working for Pacific Light and Power Company, selected Big Creek as the site for the hydroelectric project. Construction began in 1909 and continued until 1929 with a total of six dams, eight tunnels, three lakes (Huntington, Florence, and Shaver), five power houses and 248 miles of steel tower transmission lines. At the time, the "Big Creek Hydroelectric Project" was considered the second greatest engineering achievement, after the Panama Canal.
Huntington Lake was completed in 1913; it was named after Henry Edward Huntington who helped finance the Big Creek Project. Three of the project's six dams were used to create Huntington Lake. In 1919 the lake's storage capacity was increased by raising the height of the three dams and constructing a fourth dam. Today, Southern California Edison Company (SCE) operates the project's dams and controls the water levels of the lakes. SCE lowers the water level of Huntington Lake in the fall after the peak recreation season to prepare for snow melt and spring rains.
Huntington Lake was made famous when a World War II B-24 bomber with six men crashed into the lake in December of 1943. It is rumored that the pilot needed to make an emergency landing during a severe snowstorm and mistook the frozen lake for a mountain meadow. Two of the six men survived. Remains of the plane are still at the bottom of the lake.
Huntington Lake continues to be a beautiful destination full of opportunities for recreation and relaxation. Whether you prefer rustic camping or a cottage near the lake, Huntington has both. The U.S. Forest Service operates seven public campgrounds, mainly around the north shore, offering tent and RV camping with drinking water, toilets, and swimming facilities (Upper Billy Creek, Lower Billy Creek, Catavee, Deer Creek, Kinnikinnick, College and Rancheria). Resorts and private cottage rentals offer alternatives for visitors who prefer less rustic accommodations.
Huntington Lake has plenty of opportunities for outdoor recreation. In summer months visitors enjoy bike trails, equestrian trails, hiking trails, fishing, sailing, and water skiing. Day hikes in the Huntington Lake area include Rancheria Falls, Indian Pools, Black Point, and Mushroom Rock. Day hikes and overnight hikes are also available in the nearby Kaiser Wilderness Area. You can summit Kaiser Peak for great vistas of the Sierra Mountain Range or hike to nearby natural pristine mountain lakes, such as Nellie Lake, or Twin Lakes for some great fishing. Horseback riding and backcountry guided services are available through the Sierra National Forest.
Cross-country skiing and snowmobiling are prime winter activities around Huntington Lake. Snowmobilers enjoy 209 miles of groomed trails around the lake and the High Sierra area. The trails are maintained by the California State Off-Highway Vehicle Program. Cross-country trails are marked with blue diamond signs and range in length and difficulty from a one-mile beginner trail to a six-mile advanced trail. All snowmobile routes are open to cross-country skiers, snowshoers and licensed ATVs. There are also 33 miles of ungroomed cross-country ski trails. Two resorts offer downhill skiing and snowboarding for visitors from beginner to advanced levels. The California Department of Parks and Recreation operates two "Sno-Parks" at Huntington Lake with snow-cleared parking lots, sanitation facilities, access to snow play areas, and access to cross-country ski and snowmobile trails.
Huntington Lake is a popular cold-water fishery. So if fishing is your passion, cast your reel to catch German brow trout, rainbow trout, and kokanee salmon with a limit of 5 per day.
Huntington Lake is one of the top sailing lakes in the world, and holds an annual sailing regatta. People come from all over the West to compete in this well-known competition. If sailing isn't your idea of fun, the lake also lends itself to waterskiing, canoeing, kayaking, or any other water sport you can think of. If you are looking for a cool summer retreat during those hot summer months, comes up to Huntington Lake where there is always something to do!
Things to do at Huntington Lake
Vacation Rentals
Fishing
Sailing
Swimming
Canoeing
Kayaking
Water Skiing
Camping
Campground
Hiking
Biking
Downhill Skiing
Snowboarding
Cross-Country Skiing
Snowmobiling
Horseback Riding
Wildlife Viewing
National Forest
Fish species found at Huntington Lake
Kokanee Salmon
Rainbow Trout
Salmon
Trout
---
Huntington Lake Photo Gallery
Huntington Lake Statistics & Helpful Links
Spread the word! Share our Huntington Lake article with your fellow Lake Lubbers!