Indian Lake, Ontario, Canada
Also known as:  Rideau Lakes
Welcome to the ultimate guide for history, statistics, local fun facts and the best things to do at Indian Lake ON.
If you're considering Indian Lake ON vacation rentals, we've made it super easy to explore accommodations and nearby hotels using the interactive map below. Simply click on a listing to compare similar properties, best rates and availability for your dates. Or keep scrolling to read our Indian Lake ON guide!
Indian Lake ON visitor and community guide
Every North American chain of lakes seems to have an Indian Lake; Ontario's Rideau Waterway is no exception. The name no doubt came from the original inhabitants of the natural lake before the Rideau Canal imposed its many changes on the former aboriginal canoe route. By 1820, Samuel Chaffey had built a mill at the outlet of Indian Lake. The mill area had already become a busy little settlement by the time British Colonel By came here to build a canal. Colonel By not only ordered a channel dug through to nearby Clear Lake, but he tamed the existing rapids at Chaffey's Mill by building a lock and weir overflow dam. This water control structure raised the level of Indian Lake by seven-and-a-half feet. Today, every boater using the Rideau Canal passes through Chaffey's Lock, right past the 1870s mill and through Indian Lake.
Indian Lake is one of the more populated lakes on the Rideau Waterway. Cottages and year-round homes line the southern shorelines and several islands in the lake. With depths as deep as 78 feet, the lake lends itself to all types of watersports. Sailing, pontooning, windsurfing, water skiing, swimming and fishing are all popular here. The irregular shoreline is ideal for canoeing and kayaking. A total of six lakes, including Indian Lake, surround a high point of land called Scott Island. Several of the lakes are the drowned channels of creeks and rivers that existed before the lock was installed. Scott Island forms a shoreline of each of these lakes, and it is possible for small boats to pass through all six lakes around Scott Island and return to their starting point without having to pass through any locks. The distance is considerable, though, and the passageway fraught with submerged rocks and stumps. Fishermen find the series of lakes particularly attractive as the varied terrain offers perfect habitat for a wide variety of fish.
Indian Lake holds black crappie, northern pike, muskellunge, walleye, sunfish, and particularly largemouth bass and smallmouth bass. As different lakes have differing fishing rules, anglers should obtain a copy of Ontario fishing guidelines to make sure all planned activities are lawful. The marina at Chaffey's Lock will have all licensing and regulatory information necessary, along with approved bait, tackle and even fishing charter information. Among the many vacation rentals found for Indian Lake, a few fishing resorts still exist. These usually include lodging, a boat and some meals, freeing serious anglers to concentrate on their favorite sport.
Indian Lake also has much to offer the visitor who desires off-water activities. Many country lanes are ideal for a leisurely stroll or bike ride. The landscape remains wooded, and the area around Indian Lake is a birdwatcher's paradise: chickadees, goldfinches, woodpeckers-including the spectacular pileated woodpecker- blue jays and sparrows all co-exist quite comfortably among the cottages. Osprey, great blue herons and loons frequent the lake. Muskrat, beaver, all types of ducks and waterfowl share the shallows. Children enjoy watching the turtles, frogs and minnows along the shoreline. Indian Lake has much to offer the nature-lover of any age. The serious hiker will enjoy the Cataraqui Trail which passes near Chaffey's Lock. The trail follows the old Canadian National rail bed and is open year-round for hiking, mountain biking, cross-country skiing, snowshoeing, snowmobiling and horseback riding. The trail is a part of the Trans-Canada Trail System and crosses the Rideau Trail near Smith's Falls.
Many visitors become acquainted with the Rideau Lakes while boating the famed canal. The Rideau Canal is the oldest operating canal system in North America; its significance is recognized internationally as the Rideau Canal World Heritage Site. Much of the Canal Corridor is recognized as part of the Frontenac Arch Biosphere Reserve. The famous 125-mile canal was completed in 1832 and utilized existing lakes and rivers with some modifications to create a navigable waterway between Kingston on the St. Lawrence River and Ottawa on the Ottawa River. Although built for defensive purposes, the canal was never used for military supply lines: instead the canal became first a busy commercial waterway aiding in the settlement of Upper Canada (Ontario). Now used exclusively for pleasure boating, the canal makes use of 47 individual locks and a dam that was the largest in North America when built. Several lock stations contain early 1800s defensive blockhouses, some of which are restored and open for visitors. Traversing the Rideau Canal one way takes at least three days. Most boaters plan for a week or more so they can enjoy the sights.
The Indian Lake area contains several historic structures that will both brighten a rainy afternoon and fill the visitor in on local history. Nearby Chaffey's Lock is a small resort and tourism community that offers a museum in the old Lockmaster's house and a walking trail to a historic cemetery. The 1870 Opinicon Hotel was first in operation as a fishing lodge and is now a lovely resort. Both driving and cycling tour routes provide a way to see much of the waterway from land. Internet resources provided on the left sidebar poffer suggestions and maps to help visitors plot an enjoyable course.
Finding vacation rentals on and around Indian Lake are plentiful. Both commercial resort cottages and privately-rented homes and cabins are usually available. Some are quite modern; others are rustic and remote as befitting a Spartan family lake hide-away. Hotels and motels, bed-and-breakfasts and tourism-related amenities are available in the larger towns such as Newboro or Westport. Indian Lake is a great place to relax, unwind and recharge from the hurried world of the city and work. For this reason, real estate is often in great demand. Plan a fishing trip or a long vacation at Indian Lake today. Soon, you'll be looking for a way to spend every weekend here!
Custom Indian Lake ON house decor
Read our full review of these personalized lake house signs.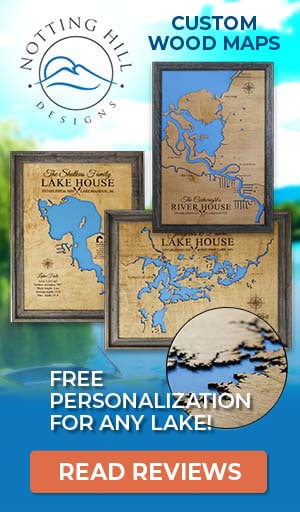 Things to do at Indian Lake ON
Vacation Rentals
Fishing
Boating
Sailing
Swimming
Canoeing
Kayaking
Water Skiing
Cabin Rentals
Hiking
Biking
Cross-Country Skiing
Snowmobiling
Horseback Riding
Birding
Museum
Fish species found at Indian Lake ON
Bass
Black Bass
Black Crappie
Crappie
Largemouth Bass
Muskellunge
Northern Pike
Perch
Pike
Smallmouth Bass
Sunfish
Walleye
---
Best hotels and vacation rentals at Indian Lake ON
The Indian Lake ON map shown above is a simple and stress-free way to search for trip accommodations. But if you want to take a deeper dive to find the ideal waterfront home, cabin, condo, hotel or resort, visit our favorite lodging partners by clicking the buttons below.
Note: These are affiliate links so we may earn a small commission if you book through them. While there is no extra cost to you, it helps provide resources to keep our site running (thank you)! You can read our full disclosure policy here.
---
Indian Lake ON photo gallery
New photos coming soon!
Indian Lake ON statistics & helpful links
We strive to keep the information on LakeLubbers as accurate as possible. However, if you've found something in this article that needs updating, we'd certainly love to hear from you! Please fill out our Content Correction form.
Advertise your Indian Lake ON vacation rental
LakeLubbers will soon offer homeowners and property managers the opportunity to to showcase their vacation rentals to the thousands of lake lovers searching our site daily for accommodations. If you'd like additional details, please contact our advertising team here.
Looking for the Indian Lake ON forum?
LakeLubbers previously offered visitors the ability to create accounts and participate in lake forums. When we overhauled the site's content management system in 2021 we had to disable those features. We're evaluating options and welcome your comments and feedback here.
We also encourage you to join our lake-lovin' community on Facebook and Instagram!
Spread the word! Share our Indian Lake ON article with your fellow Lake Lubbers!