Clear Lake, Ontario, Canada
Also known as:  Rideau Lakes
Welcome to the ultimate guide for history, statistics, local fun facts and the best things to do at Clear Lake ON.
If you're considering Clear Lake ON vacation rentals, we've made it super easy to explore accommodations and nearby hotels using the interactive map below. Simply click on a listing to compare similar properties, best rates and availability for your dates. Or keep scrolling to read our Clear Lake ON guide!
Clear Lake ON visitor and community guide
One of the well-known smaller lakes on Ontario's Rideau Waterway is Clear Lake. Often overshadowed by bigger lakes such as Big Rideau Lake, Clear Lake plays a critical part in traversing the Rideau Canal. One of six connected lakes surrounding the landmass known as Scotts Island, the route of the famed canal crosses Clear Lake on its way to Newboro Lake. The six lakes surrounding Scotts Island – Clear, Indian, Mosquito, Benson, Newboro and Loon – all share the same water level. Boaters can travel from one to another without having to pass through any of the waterway's many locks. Clear and Indian Lakes are natural lakes, whereas several of the others were created with construction of Chaffey's Locks. The resulting higher water level drowned several creeks and individual ponds, connecting the chain. The water level of Clear Lake was raised six feet by the new lock.
The first settlement in the region was Chaffey's Mills, when a mill was built in 1820 by Samuel Chaffey at the foot of Indian Lake. The Clear Lake area has likely been a popular spot for fishermen and cottagers ever since. A number of cottages hug the shoreline, and a campground graces the far eastern end of the lake. Many of these cottages have been the vacation destination of families from Ottawa and Kingston for several generations. It is not uncommon on the Rideau to find entire family cottage compounds with a main cottage and several 'bunk houses' for younger family members who now bring their own families to the Rideau. Cottagers here enjoy swimming, sailing, pontooning, water skiing, wakeboarding and scuba diving. The irregular shoreline is ideal for wildlife viewing and bird watching while canoeing and kayaking. The entire area is a part of the Frontenac Arch Biosphere Reserve, and the wealth of natural habitat supports deer, small mammals, a variety of song-birds and waterfowl. Loon echo their eerie calls across the water at dawn, and osprey raise their young in their nests over the water. Both require solitude to raise their young successfully, so good-citizen cottagers give them all the space they need. Great blue herons are often seen, and woodpeckers work diligently among the trees. Clear Lake is the ideal spot to escape the noise and confusion of the city and restore the soul.
Clear Lake is a fisherman's favorite. The lake is especially known for largemouth bass but also supports smallmouth bass, walleye, muskellunge, northern pike, perch and crappie. Guide service is available at Chaffey's Lock, and the marina on neighboring Indian Lake can provide fishing licenses, bait, guidelines and plenty of advice. Boats can be rented in several places, and many cottage rentals provide some type of watercraft for the vacationer's use. Some cottage rentals on Clear Lake are more accurately fishing camps; they rent cottages and boats, and provide free hints on where the hot-spots are. For the non-fisherman, the many country roads and lanes along the lake provide unlimited opportunities for walking and cycling. For hiking enthusiasts, the Cataraqui Trail is only a few minutes away. This 65-mile part of the Trans-Canada trail follows an old Canadian National Railway rail bed and is open all four seasons for hiking, horseback riding, mountain biking, cross-country skiing, snowshoeing and snowmobile riding.
The Rideau Canal system is a Canadian national treasure and attracts thousands of visitors every year. Not only is the extensive waterway a biosphere reserve, it is designated a UNESCO World Heritage Site. Built between 1826 and 1832 for British defensive purposes, the 125-mile waterway contains 47 locks connecting a series of lakes and rivers. The waterway connects Ottawa on the Ottawa River with the St. Lawrence Seaway. The waterway is a marvel of 19th century ingenuity. Although never used for defensive purposes, the waterway greatly aided in the settlement of Upper Canada and is now used strictly for pleasure boating. Although there is no commercial marina on Clear Lake, both adjoining Indian Lake and Newboro Lake have marinas available at a reasonable distance.
Managed by Parks Canada, each of the lock systems is individually operated by a lock master on-site. The locks and canals can handle boats up to 90 feet in length as long as they have a draft of no more than five feet. As much of the waterway remains in its natural state, house-boating the canal has become increasingly popular. Most boats, including houseboats, can be rented at several spots along the waterway. Non-sailors can take one of the regularly-scheduled cruises through portions of the canal. Terrain varies from towering granite outcroppings to low-lying marsh wetlands with hundreds of islands in the chain. In some areas cottages dot the shoreline in large numbers but in others, nary a road or habitation is seen for long stretches. A boater can easily become lost among the many lakes and islands – a good navigation map is absolutely necessary. The left sidebar provides internet resources for marina locations, boat docking facilities, nearby towns and the history of the canal.
Vacation rentals are numerous around Clear Lake. Some are small enterprises consisting of several cabins; others are individual cottages or homes leased by the week or month by their owners. Larger towns such as Westport hold motels, but most vacation lodging is the more intimate, self-catered variety. Real estate is possible to find, although one may have to wait until property on just the right lake comes available. Cottagers here tend to keep the same property for generations. One cruise along the Rideau will convince you that Clear Lake is the place you've been looking for. Bring the fishing gear and the swimsuits. You'll quickly discover Clear Lake feels like home.
Custom Clear Lake ON house decor
Read our full review of these personalized lake house signs.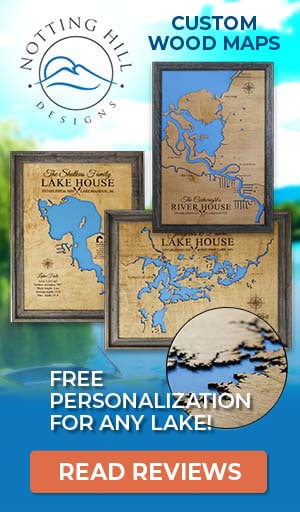 Things to do at Clear Lake ON
Vacation Rentals
Fishing
Boating
Sailing
Swimming
Canoeing
Kayaking
Water Skiing
Wakeboarding
Scuba Diving
Camping
Campground
Cabin Rentals
Hiking
Biking
Cross-Country Skiing
Snowmobiling
Horseback Riding
Wildlife Viewing
Birding
Fish species found at Clear Lake ON
Bass
Black Bass
Crappie
Largemouth Bass
Muskellunge
Northern Pike
Perch
Pike
Smallmouth Bass
Walleye
---
Best hotels and vacation rentals at Clear Lake ON
The Clear Lake ON map shown above is a simple and stress-free way to search for trip accommodations. But if you want to take a deeper dive to find the ideal waterfront home, cabin, condo, hotel or resort, visit our favorite lodging partners by clicking the buttons below.
Note: These are affiliate links so we may earn a small commission if you book through them. While there is no extra cost to you, it helps provide resources to keep our site running (thank you)! You can read our full disclosure policy here.
---
Clear Lake ON photo gallery
New photos coming soon!
Clear Lake ON statistics & helpful links
We strive to keep the information on LakeLubbers as accurate as possible. However, if you've found something in this article that needs updating, we'd certainly love to hear from you! Please fill out our Content Correction form.
Advertise your Clear Lake ON vacation rental
LakeLubbers will soon offer homeowners and property managers the opportunity to to showcase their vacation rentals to the thousands of lake lovers searching our site daily for accommodations. If you'd like additional details, please contact our advertising team here.
Looking for the Clear Lake ON forum?
LakeLubbers previously offered visitors the ability to create accounts and participate in lake forums. When we overhauled the site's content management system in 2021 we had to disable those features. We're evaluating options and welcome your comments and feedback here.
We also encourage you to join our lake-lovin' community on Facebook and Instagram!
Spread the word! Share our Clear Lake ON article with your fellow Lake Lubbers!