Newboro Lake, Ontario, Canada
Lake Locations:
Also known as:  Mud Lake, Rideau Lakes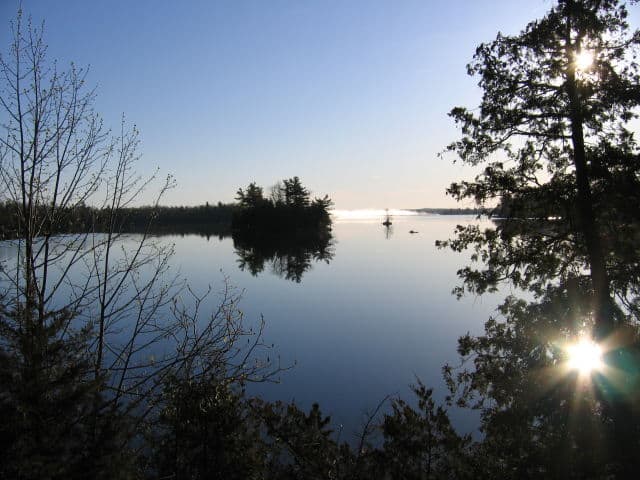 Newboro Lake, in Ontario's Rideau Lakes Region is synonymous with water fun. The 4500-acre lake is home to cottages and fishing camps, islands large and small, and over 20 miles of wooded shoreline. Although a natural lake, the water level was raised over five feet when the Narrows Lock and Dam was constructed on neighboring Upper Rideau Lake. Long a fisherman's paradise, the lake has hosted many fish camps and vacation cottages over the past 150 years. This continues today, with many cottages gracing the shoreline of an island or nestled between the native trees on the bank. As the Rideau Waterway continues to draw boating visitors, Newboro Lake is introduced to new generations of lakelubbers who yearn to call Newboro Lake home.
The town of Newboro is designated the 'Home Port of the Rideau'. It's an apt designation, as the canal next to the town proved to be its most difficult engineering feat; Newboro is also the watershed divide of the new canal system. Newboro Lake represents the head of the Cataraqui watershed, with all water draining south to Lake Ontario. Points north are included in the Rideau watershed and drain to the Rideau River leading to the Ottawa River. Entirely enclosed within the Frontenac Arch Biosphere Reserve, the landforms around Newboro Lake are a study in contrasts: exposed granite rock faces give way to lowlands that are underwater part of the year. The diverse geology encourages a wide variety of wildlife, both year-round and seasonally. The many bays, inlets and coves invite the canoe or kayak enthusiast to explore. Fishermen haunt the margins of islands and shorelines for smallmouth bass, pike, pickerel, rock bass, pumpkinseed, bluegill, black crappie, yellow perch, rainbow smelt, lake chub, and particularly largemouth bass. Although the lakes of the Rideau Waterway are extremely clean, those intending to eat fish caught here on a frequent basis should check local fish advisories.
All types of watersports are enjoyed on Newboro Lake: sailing, pontooning, motor boating, jet skiing, waterskiing and wakeboarding. Swimmers find optimum bathing opportunities from private docks, campgrounds and town beaches. Two large bays on Newboro Lake are permanently off-limits to fishing as they are fish spawning sanctuaries. Those with canoes or kayaks often explore these bays and paddle the shallow channels to Pollywog and Loon Lakes from the west end of Newboro Lake. In winter, skating on the lake and ice fishing attract the most visitors.
Waterway boaters enter Newboro Lake either from Clear Lake to the south via a narrow channel, or the north from Upper Rideau Lake via the Newboro Lock. Originally called 'the isthmus', the Newboro channel proved the most difficult leg of the Rideau Canal construction. When Colonel By, the British officer charged with developing the canal, encountered both dense bedrock and epidemics of malaria among laborers, he was stymied for many months. After solving the problem by damming Rideau Lake to raise the water level, the canal system opened in 1832. The lock station offers boat camping, picnic facilities, phone and bathroom facilities. Newboro Lock Station also features one of the four blockhouses built for the defense of the Rideau Canal. The nearby Presbyterian cemetery holds the bodies of some of those who died of malaria during the building of the canal. The lock, as are all Rideau Waterway locks, is independently operated from the lock station.
The town of Newboro provides all other amenities a boater may need, including fuel, groceries, restaurants and shopping. Newboro also has a public wharf with transient docking. Several public boat launches are located along the shoreline. Newboro is an interesting old town, holding many well-preserved historic buildings, some of which have been re-purposed to serve the tourist trade. A historical walking tour is available. Newboro is home to several tourist and vacation camps and resorts. Although quite a few cottages and resorts are located along the lakeshore, much of the shoreline is still wooded and entirely natural. The lake and the waterway are not the only features attracting outdoor enthusiasts: a wealth of hiking and mountain biking trails and country roads encourage visitors to get outside and experience nature. The area around Newboro Lake is rich in such wildlife as deer, fox, squirrel, rabbit, mice, shrews and voles. Lowland marshes and Newboro Lake shallows often hold great blue herons, osprey, loons and water birds. Both the Rideau Trail and the Cataraqui Trail are available nearby for walking, cross-country skiing or mountain biking. In winter, visitors enjoy snowshoeing and snowmobiling. Less active visitors can choose to see much of the Newboro area from the Rideau Heritage Route along Highways 15 and 42.
Finding vacation rentals at Newboro Lake is usually easy. Visitors can choose from hotels and motels near the cities to resorts, fishing camps, bed-and-breakfasts and private cottages in a wide range of prices, amenities and proximity to the nearest road. Some are remote or must be accessed by boat. Real estate is often available but may take some diligence to seek out. Newboro Lake is an extremely desirable location for a self-catering vacation rental, so early reservations are recommended. Many Ontario families have a tradition of reserving the same cabin year after year for generations. Let this become your tradition too. Visit Newboro Lake soon. You'll be back year after year!
Things to do at Newboro Lake
Vacation Rentals
Fishing
Ice Fishing
Boating
Sailing
Swimming
Beach
Canoeing
Kayaking
Jet Skiing
Water Skiing
Wakeboarding
Camping
Campground
Picnicking
Cabin Rentals
Hiking
Biking
Cross-Country Skiing
Snowmobiling
Wildlife Viewing
Birding
Shopping
Fish species found at Newboro Lake
Bass
Black Bass
Black Crappie
Bluegill
Carp
Crappie
Largemouth Bass
Perch
Pickerel
Pike
Pumpkinseed
Smallmouth Bass
Smelt
Sunfish
Yellow Perch
---
Newboro Lake Photo Gallery
Newboro Lake Statistics & Helpful Links
Spread the word! Share our Newboro Lake article with your fellow Lake Lubbers!