Lake Abitibi, Ontario & Quebec, Canada
Lake Locations: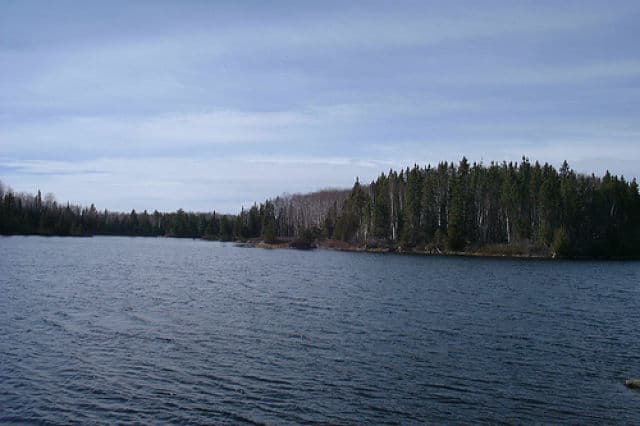 Nearly 250,000 acres of water delight visitors to Lake Abitibi on the Ontario/Quebec border. This huge lake is actually two lake basins connected by a short channel. Located about 600 miles from Montreal and over 200 miles south of James Bay, Lake Abitibi remains relatively remote and not visited by the casual vacationer. One must plan carefully to get to the lake; the purpose of such planning usually involves the hope of snagging one of the huge pike the lake is known for. Abitibi means 'middle waters' in the Algonquin language, signifying its location to early canoe travelers as halfway between the Ottawa River and James Bay. Lake Abitibi straddles the Ontario-Quebec border and has in the past been important to fur trapping, logging and railroad interests. Now a number of private 'camps' with rustic cottages share the shoreline with Abitibi-de-Troyes Provincial Park and native wildlife that inhabit the second-growth forest.
Local lore reports that Lake Abitibi was created by beavers damming the Abitibi River. The industrious rodents may have had a hand in the process at some point, but human intervention had a more direct effect. A dam was first built downstream on the Abitibi River in 1915 which caused water levels to rise about 40 feet. Since the lake is only 49 feet at its deepest point and most of the lake averages 11 feet, the lake was obviously much smaller before the dam was built. The dam was later rebuilt to alleviate spring flooding and forms one of the five dams that control water to the Abitibi Canyon Generating Station downstream. The original dam was probably constructed to provide power to the Abitibi Power and Paper Company. Pulp and paper mills are still a major employer in the area.
Lake Abitibi and the Abitibi River have changed much since First Nations tribes and the Hudson Bay Company first used it as a canoe route to access the trapping areas of the northern wilderness. Archeological evidence of native tribal use proves their presence in the area for over 6000 years. At one time, the Hudson Bay Company had a trading post on the east shore of the lake in Ontario. The arrival of the Grand Trunk Pacific Railway (now Canadian National Railway) improved access for logging and reduced the importance of the waterway.
Abitibi-de-Troyes Provincial Park is accessible only by air or water. There are no park facilities for visitors, but the park offers over 27,000 acres of woods, marsh, wetlands and water for backpacking, rough camping, canoeing and wildlife viewing. Important waterfowl nesting areas are located within the park. Because the lake is so shallow, fishing for big pike is possible from the shore, so those without access to a boat can enjoy the sport. The lake holds over 900 islands, many very small. Because of the wide expanse of shallow water, rough waves are a continuing hazard.
The shallow water of Lake Abitibi is often muddy when roiled by winds, making it nearly impossible to see the many rocks that exist under the surface. An experienced local guide is suggested for anyone taking a boat onto these waters. Along the eastern portion of the lake in Quebec, a local non-profit group has set up a system of buoys to help visitors navigate the treacherous shoreline. Club Nautique Lake Abitibi has set up 247 buoys to designate a safe passage and mark the outlets to various rivers in the hopes of improving recreational use of the lake. Camps exist on many of the islands, and one large island near the Quebec shoreline holds a community of residents technically connected to the tiny hamlet of Clerval on the shore.
Most occasional visitors, particularly visiting fishermen, engage the services of a guide from Cochrane, Ontario, Rouyn-Noranda, Quebec, or one of the local outfitters who maintain guest camps on nearby local lakes. The fishing is considered excellent with many huge pike in the lake, along with walleye, pickerel, sauger and a few other smaller game fish. Sturgeon were once common in Lake Abitibi but have apparently died out since the river was dammed and disrupted their migratory patterns. Ice fishing the many bays is nearly as popular as angling on open water. At least one outfitter in Cochrane places ice fishing shanties on the lake for rental. It isn't unusual to see an ice fisherman kneeling over a small hole in the ice, trying to guide a reluctant three-foot pike into the above-water world. The internet fishing forums are usually alive with queries asking for information about the best bait, fishing rigging or safety of the ice starting in late fall. Many of the best guides don't need much advertising, as word-of-mouth keeps their calendars filled.
Cochrane is likely the most popular spot to use as a base for accessing the Lake Abitibi area. Cochrane has a number of motels and hotels, guest cottages and camps nearby, and the small city of 5000 offers the usual amenities and services. Cochrane also hosts several festivals, both winter and summer, to occupy those not fishing or hunting for moose or black bear in the area. A polar bear rehabilitation unit at Cochrane allows such activities as 'swimming with polar bears' (there is a thick plate-glass wall between the pools), an activity that delights children. Cochrane's large First Nations community is developing cultural activities to allow tourists to experience their food, customs and traditional housing. Hundreds of miles of trails are available for hiking, snowshoeing, cross-country skiing and mountain biking. Increasing numbers of families are coming to Cochrane for a summer vacation where non-anglers in the family can sleep in comfort and enjoy these activities as avid anglers go off with their fishing guides for a day or two.
A few private camps may be available for weekly rental, although most have little in the way of electricity or plumbing. These camps can also be found for sale, often on leased land. Any local real estate agent will likely have information on what is available in the way of lodgings near Lake Abitibi. The large lake is the ideal spot for a week filled with solitude and the appreciation of nature. Reservations should be placed well in advance. Big, beautiful and unexpected pleasures await at big Lake Abitibi.
Things to do at Lake Abitibi
Vacation Rentals
Fishing
Ice Fishing
Boating
Swimming
Canoeing
Camping
Hiking
Biking
Cross-Country Skiing
Hunting
Wildlife Viewing
Provincial Park
Fish species found at Lake Abitibi
Perch
Pickerel
Pike
Sauger
Sturgeon
Walleye
---
Lake Abitibi Photo Gallery
Lake Abitibi Statistics & Helpful Links
At LakeLubbers.com, we strive to keep our information as accurate and up-to-date as possible, but if you've found something in this article that needs updating, we'd certainly love to hear from you!
Please let us know about it on our Content Correction form.
Spread the word! Share our Lake Abitibi article with your fellow Lake Lubbers!