Independence Lakes, Idaho, USA
Lake Locations:
USA - West - Idaho - South Central -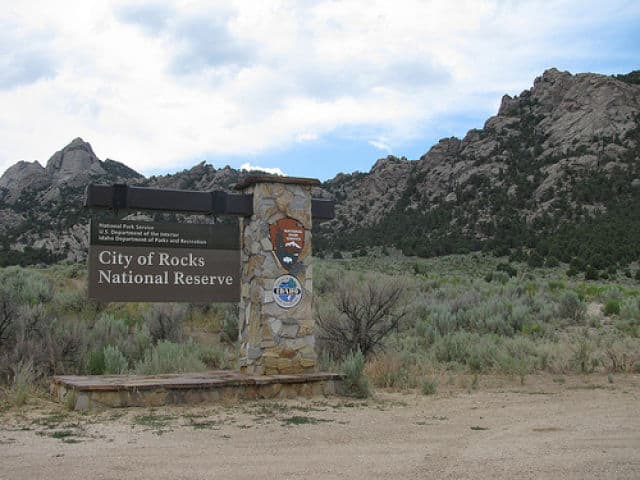 Independence Lakes in Idaho's Sawtooth National Forest are at the end of one of south central Idaho's most popular hiking trails in the Albion Mountains. The four tiny alpine lakes require a three-mile hike to reach, but the trail is only moderately difficult and suitable for families with pre-teen children. The trailhead is located not far from a climber's delight, City of Rocks, and offers the possibility of a trout or Arctic grayling as entree to the usual backpacker's fare.
The largest lake has about a half-mile of shoreline, and the others are considerably smaller. This unnamed lake, usually referred to as the second lake, receives the benefit of regular stocking by Idaho Fish and Game. Arctic grayling, cutthroat trout and California golden trout have been stocked, but anglers say the lake also contains rainbow trout, largemouth bass and bluegills. The first, or lowest elevation lake, is also reported to hold fish, while the two highest are said to be unproductive for fishermen. Although there are no official statistics for the lakes, depths are reported to vary from 10 to 60 feet.
A small primitive campground at the Independence Lakes trailhead is accessible by car. The campground can be reached most years between July and October and contains pit toilets, picnic tables, grills and livestock corrals. There is no drinking water available. Horse camping is encouraged, but any hay brought in must be certified weed-free to avoid invasive species contamination of the area. As the campsites are handicapped accessible, this is one of a few areas where disabled persons can get off the main highways and enjoy nature. Some hardy backpackers may choose to climb the trail and camp near the lakes themselves but due to rocky terrain and slopes, there are few spots for pitching a tent near the lakes. The trailhead camping area is at about 8000 feet above sea level, and the lakes range in elevation from about 8890 feet to 9200 feet.
From the trailhead, hikers can choose to take the trail in two different directions. One leads to Independence Lakes where confident hikers may climb above the lakes to a ridge and see all four lakes from that vantage point. Most casual hikers go only as far as the larger second lake. If hikers choose to take the Rangers Trail, which branches from the Independence Lakes Trail, they can bear south over a series of switchbacks to the saddle between Green and Grape Creeks, a length of 11 miles. The beginning portion of Rangers Trail is open to motorized vehicles but is too narrow for ATVs. The Independence Lakes Trail is closed to motorized traffic. Both trails are scenic with views of nearby peaks in the Albion Mountain Range.
Visiting Independence Lakes is often part of a longer excursion to nearby City of Rocks National Reserve. This well-known climbers' destination is actually a historic part of the 1840s Oregon and California trails. Future gold miners were impressed with the extensive spires of rocks in the Circle Creek valley and called them the City of Rocks. The area was a local tourism attraction for many years and became a popular spot for photography and rock climbing. In 1988, City of Rocks was incorporated into the National Parks system. More recently, another group of granite rock spires became a state park five miles to the north of City of Rocks. Known as Castle Rocks, the spires are a prominent feature of the valleys of Little Cove and Almo Creeks. Castle Rocks State Park offers camping facilities, ranger services and facilities for horse camping.
The largest city near Independence Lakes is Burley, Idaho, about 25 miles to the north. The area near Burley and Independence Lakes can form the basis of a complete vacation featuring fishing and watersports on the Snake River, soaking in one of the many family-friendly hot springs or spas, downhill skiing in the Sawtooth Mountains, and hiking on more trails than any trekker could ever hope to traverse. A favorite of bird watchers is the Minidoka National Wildlife Refuge at nearby Lake Walcott, northeast of Burley, where over 40 breeding pairs of white pelicans can be seen. Burley itself offers all amenities: golf courses, movies, eating establishments, outdoor stores and outfitters. and guest facilities. The city holds several parks, including Storybook Park and a skate park. Mountain biking trails are also available in the area.
Campgrounds, guest ranches, private cottages, and small motels in the area cater to tourists. A few bed-and-breakfasts are available. Independence Lakes awaits your fly presentation, so bring your rod and tackle and try to snag one of the Arctic grayling or trout lurking beneath the rocks. Whether you catch anything or not, this will be one of the most scenic vacations of your lifetime. Make sure you bring the camera. There are bound to be so
*All statistics are based on available estimates.
Things to do at Independence Lakes
Vacation Rentals
Fishing
Golf
Camping
Campground
Picnicking
Hiking
Rock Climbing
Biking
Downhill Skiing
Horseback Riding
Wildlife Viewing
National Wildlife Refuge
State Park
National Park
National Forest
Fish species found at Independence Lakes
Bass
Black Bass
Bluegill
Cutthroat Trout
Golden Trout
Grayling
Largemouth Bass
Rainbow Trout
Trout
---
Independence Lakes Photo Gallery
Independence Lakes Statistics & Helpful Links
Spread the word! Share our Independence Lakes article with your fellow Lake Lubbers!