Folsom Lake, California, USA
Welcome to the ultimate guide for history, statistics, local fun facts and the best things to do at Folsom Lake.
If you're considering Folsom Lake vacation rentals, we've made it super easy to explore accommodations and nearby hotels using the interactive map below. Simply click on a listing to compare similar properties, best rates and availability for your dates. Or keep scrolling to read our Folsom Lake guide!
Folsom Lake visitor and community guide
Folsom Lake lays magnificently nestled along the American River at the base of the Sierra foothills. It is surrounded by an abundance of striking scenic views and rolling hills. The 75-mile shoreline attracts more than four million visitors a year. Folsom Lake is one of the most visited lakes in California. It is situated in Northern California's Gold Country, about 30 miles northeast of Sacramento. Filled with miles of biking, walking and equestrian trails, Folsom Lake is a prime wilderness retreat. Outdoor lovers will savor the amazing opportunities that include sailing, water-skiing, fishing, swimming and sunbathing.
The city of Folsom is rich in history. The Historic District consists of homes, landmark sites, and the original downtown which now boasts one-of-a-kind shops, restaurants, and beautiful galleries. The city's award-winning Parks and Recreation Department at Folsom Lake is exceptional. Residents and visitors alike enjoy Folsom's multitude of recreational amenities including several miles of pedestrian and bike trails, an aquatic center with a 50-meter Olympic pool, a beautiful golf course, and a zoo sanctuary.
Folsom Dam was constructed to control the American River and to provide flood control and water rights for the Sacramento Valley. The Folsom Project, overseen by the United States Bureau of Reclamation, provides flood control, hydroelectricity, drinking water and water irrigation. The California Department of Parks and Recreation manages the recreation at Folsom Reservoir.
Folsom Lake is home to three public campgrounds and miles of well-paved bike and advanced mountain bike trails. The American River Water Education Center displays striking exhibits that encourage water education related to the American River Watershed.
Year-round bank and boat fishing is very popular. Folsom Lake offers miles of beach, beautiful coves, and several convenient spots to launch boats. The bike trails and camping at Granite Bay and Beal's Point are truly worth exploring. Valley oak, blue oak, black oak, California buckeye, oracle oak, and digger pines are interspersed throughout the woodlands. During the spring, a dazzling variety of wildflowers blanket the area. The variety includes Indian paintbrush, California poppy, larkspur, lupine, bordicaea, fiddle neck, Dutchman's pipe as well as monkey flower.
Folsom Lake and the surrounding recreation areas offer excellent opportunities for hiking, biking, running, camping, picnicking, horseback riding, boating, fishing and interpretive programs. There is a long bicycle path that connects Folsom Lake with many Sacramento County parks. Fishing at Folsom Lake is an exhilarating adventure in itself. Popular catches include trout, catfish, large and smallmouth bass, perch. Year-round fishing consists of rainbow trout, brown trout, black bass, catfish, salmon, bullhead, crayfish, largemouth and smallmouth bass, yellow perch, crappie, and bluegill.
Visitors should remember to visit the Folsom Powerhouse, once known as "the greatest operative electrical plant on the American continent." The famous Oaks Nature Trail is just over three quarters of a mile and offers a great experience for nature lovers. Nature enthusiasts will be truly surprised by the fabulous lakeshore views and one-of-a-kind interpretive panels located throughout the trail.
Wildlife lovers can take peeks at deer, gray foxes, rabbits, coyotes, back-tailed deer, ground squirrels, raccoons, opossums, wild turkeys and various reptiles. Mountain lions and bobcats can also be seen roaming around the area. For birders, there are heron rookeries on Anderson Island Nature Preserve. The area is also home to ducks, scrub jays, quails, wrens and towhees. Canada geese usually winter at Folsom Lake. Kingfishers, grebes and gulls are often sighted near the water and red-tailed hawks, kestrels and eagles can be seen soaring over Folsom Lake.
Folsom Lake is surrounded by miles of beautifully preserved wetlands and creeks. Folsom is home to famous bridges that include Lake Natoma Crossing, Rainbow Bridge, and a historic truss bridge. The town is intersected by a portion of the American River which is filled with stunning walking, biking, and equestrian trails.
Folsom Lake is the site of many popular special events that include bass fishing tournaments, rowing competitions, running races, horseback endurance rides, and sailboat regattas, among other activities that take place throughout the year. Summer education programs are also very popular and a special treat for visitors.
Folsom is considered a gateway to the Sierra Mountains. The city has recently experienced a huge population growth due to excellent job opportunities, wonderful neighborhoods, magnificent shopping centers and excellent recreational opportunities. Neighboring El Dorado County is well known for its wineries and apple orchards.
Folsom Lake, home of one of the largest inland marinas in California, offers some of the best boating, sailing, fishing, hiking, biking, camping and beautiful beach experiences possible. Folsom is a top-notch city with the special charm of a small town. Visitors and residents enjoy the exciting Gold Rush history intermixed with modern living and water so clear you can peek to the bottom. Folsom's residents share a rich sense of community and pride that make Folsom Lake a unique place to live and visit.
Custom Folsom Lake house decor
Read our full review of these personalized lake house signs.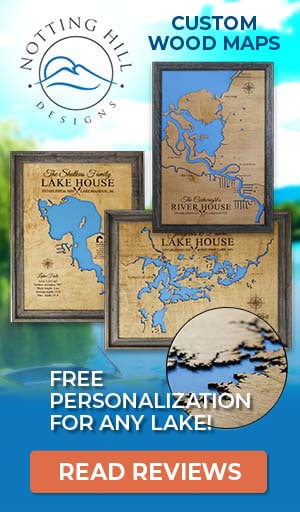 Things to do at Folsom Lake
Vacation Rentals
Fishing
Fishing Tournaments
Boating
Sailing
Swimming
Beach
Water Skiing
Golf
Camping
Campground
Picnicking
Hiking
Biking
Horseback Riding
Wildlife Viewing
Birding
Shopping
Fish species found at Folsom Lake
Bass
Black Bass
Bluegill
Brown Trout
Catfish
Crappie
Largemouth Bass
Perch
Rainbow Trout
Salmon
Smallmouth Bass
Sunfish
Trout
Yellow Perch
---
Best hotels and vacation rentals at Folsom Lake
The Folsom Lake map shown above is a simple and stress-free way to search for trip accommodations. But if you want to take a deeper dive to find the ideal waterfront home, cabin, condo, hotel or resort, visit our favorite lodging partners by clicking the buttons below.
Note: These are affiliate links so we may earn a small commission if you book through them. While there is no extra cost to you, it helps provide resources to keep our site running (thank you)! You can read our full disclosure policy here.
---
Folsom Lake photo gallery
New photos coming soon!
Folsom Lake statistics & helpful links
We strive to keep the information on LakeLubbers as accurate as possible. However, if you've found something in this article that needs updating, we'd certainly love to hear from you! Please fill out our Content Correction form.
Advertise your Folsom Lake vacation rental
LakeLubbers will soon offer homeowners and property managers the opportunity to to showcase their vacation rentals to the thousands of lake lovers searching our site daily for accommodations. If you'd like additional details, please contact our advertising team here.
Looking for the Folsom Lake forum?
LakeLubbers previously offered visitors the ability to create accounts and participate in lake forums. When we overhauled the site's content management system in 2021 we had to disable those features. We're evaluating options and welcome your comments and feedback here.
We also encourage you to join our lake-lovin' community on Facebook and Instagram!
Spread the word! Share our Folsom Lake article with your fellow Lake Lubbers!