Highland Lake (Westbook), Maine, USA
Also known as:  Duck Pond
Welcome to the ultimate guide for history, statistics, local fun facts and the best things to do at Highland Lake (Westbook).
If you're considering Highland Lake (Westbook) vacation rentals, we've made it super easy to explore accommodations and nearby hotels using the interactive map below. Simply click on a listing to compare similar properties, best rates and availability for your dates. Or keep scrolling to read our Highland Lake (Westbook) guide!
Highland Lake (Westbook) visitor and community guide
Located in the Portland-Casco Bay region of southern Maine, Highland Lake is well-used and well-loved. The 623-acre lake was originally called Duck Pond in the early 1700s and somehow evolved to be called Highland Lake. Because the beautiful lake is only a dozen miles from the City of Portland, the dam that was built at the lake's outlet to power mills contributed to the industrial growth of the area and made it a popular place for homes and cottages. The settlement that grew up near the dam in the 1700s was called Duck Pond Corners.
Highland Lake forms the headwaters of Mill Brook, a tributary to the Presumpscot River which flows into Casco Bay. The dam has been rebuilt more than once, being owned by the City of Westbrook since 1936. About 500 homes and cottages now share the eight miles of shoreline, although the heavily wooded banks give the lake a feeling of wilderness and solitude. The only public access to the lake is a small boat launch suitable for hand-carried boats and parking for a few cars. Most lakefront property owners (many of whom nostalgically call their cottages 'camps') have their own launch facilities, docks and swim areas. An active group of property owners make up the Highland Lake Association and are involved in water quality monitoring, problem remediation and lakefront education. The group has worked extensively and successfully with other water ecology groups toward repairing a sedimentation problem and keeping invasive species from invading the lake. Due to their efforts, aided by federal water quality grants, Highland Lake was removed from the State list of 'impaired' lakes.
Local property owners enjoy water skiing, sailing, jet skiing, pontooning and other water sports. In shallower areas there are many rocks, usually marked by buoys. The boat launch allows for small fishing boats, canoes and kayaks to access the water. Fishing is good for largemouth bass, smallmouth bass, brown trout, white perch, splake and chain pickerel. The rugged irregular shoreline is a popular place for paddling, with numerous songbirds, eagles, great blue herons and ducks sharing the skies and lake margins. The area is a natural wildlife haven, with moose, coyote, deer, beaver, fox owls and other forest denizens of the Maine countryside. In winter the lake is heavily used for snowmobiling and ice fishing. The few rental properties on the lake are in great demand, with many families returning every year. Most vacation rentals include the use of a boat or raft.
Although there are few organized hiking trails in the immediate vicinity, the 280-acre Blackstrap Hill Preserve is located a few miles to the east. The preserve has a large trail network accommodating hiking, mountain biking, horseback riding, nature observance, snowmobiling, cross-country skiing and snowshoeing. The only motorized vehicles permitted are snowmobiles on designated, marked trails. Located along the Piscataqua River, the preserve holds several spectacular waterfalls on tributary streams and is a favorite hiking spot among day visitors from Portland.
With metropolitan Portland close by, Highland Lake is a popular summer respite. Its proximity to the entertainment and culture afforded by larger Portland makes even year-round living an easy commute. Visitors to the area can take advantage of its proximity to Casco Bay to enjoy sea kayaking, sea fishing, boat tours, lighthouse visits and several Atlantic beach venues. Portland Head Light was commissioned by General George Washington in 1791 and was the first national sentry light. The scene is reputed to be the nation's most photographed lighthouse. Several other lighthouses can be accessed on one of the cycling tours regularly offered by a local tourism business.
Portland has several well-known art museums near the Maine College of Art, including the Portland Museum of Art and the Institute of Contemporary Art. The Maine Historical Society is located next door to Henry Wadsworth Longfellow's childhood home. Architecture buffs won't want to miss the historic Stroudwater district including colonial Tate House and Victoria Mansion. Portland also holds plenty of restaurants and lodging options. A few campgrounds are found locally near the beach. Visitors to Highland Lake can enjoy both freshwater and saltwater fun within half an hour of each other. Those looking for real estate will find all types of properties available on local lakes, including Highland Lake.
Although a fish ladder has been available at the Highland Lake Dam since the mid-20th century, the system was recently rebuilt, facilitating the migration of the native alewives to the lake to spawn. An issue of contention since the first dam was built along the river, the alewives' blocked migratory path even sparked a war with the local Native American tribe in the 1700s and was repeatedly ordered remediated by various courts over the intervening years. Finally, the new fish ladder, along with the removal of a dam at Presumpscot Falls, has allowed the species to follow their ancient migration paths to spawn in Highland Lake before returning to the Atlantic to live most of their lives. Unlike many migrating species, the alewives do not die after spawning and may return several times during their lifespan.
Another improvement desired by the Maine Department of Inland Fisheries and Wildlife hasn't met with nearly as much success. With the improved water quality, the Fisheries Department wanted to improve the local boat access to accommodate larger power boats. Local residents strenuously objected, saying increased boating would increase the danger of invasive species infestation and overcrowd an already busy lake. In response, the Fisheries Department has declared they will no longer stock fish in Highland Lake until other boaters are given 'parity'. So, the boat ramp remains limited to hand-carried boats, and it remains to be seen if the fishery is adversely affected.
One thing that is certain is how beautiful Highland Lake looks glimmering under a full moon or with mist rising from the surface on a chilly early morning. The lake can only continue to grow in popularity. Make sure you're one of the lucky ones to share the experience.
Custom Highland Lake (Westbook) house decor
Read our full review of these personalized lake house signs.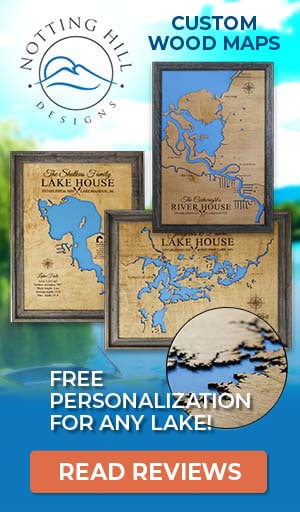 Things to do at Highland Lake (Westbook)
Vacation Rentals
Fishing
Ice Fishing
Boating
Sailing
Swimming
Beach
Canoeing
Kayaking
Jet Skiing
Water Skiing
Camping
Campground
Hiking
Biking
Cross-Country Skiing
Snowmobiling
Horseback Riding
Waterfall
Wildlife Viewing
Birding
Museum
Fish species found at Highland Lake (Westbook)
Bass
Black Bass
Brown Trout
Chain Pickerel
Largemouth Bass
Perch
Pickerel
Pike
Smallmouth Bass
Splake Trout
Trout
White Perch
---
Best hotels and vacation rentals at Highland Lake (Westbook)
The Highland Lake (Westbook) map shown above is a simple and stress-free way to search for trip accommodations. But if you want to take a deeper dive to find the ideal waterfront home, cabin, condo, hotel or resort, visit our favorite lodging partners by clicking the buttons below.
Note: These are affiliate links so we may earn a small commission if you book through them. While there is no extra cost to you, it helps provide resources to keep our site running (thank you)! You can read our full disclosure policy here.
---
Highland Lake (Westbook) photo gallery
New photos coming soon!
Highland Lake (Westbook) statistics & helpful links
We strive to keep the information on LakeLubbers as accurate as possible. However, if you've found something in this article that needs updating, we'd certainly love to hear from you! Please fill out our Content Correction form.
Advertise your Highland Lake (Westbook) vacation rental
LakeLubbers will soon offer homeowners and property managers the opportunity to to showcase their vacation rentals to the thousands of lake lovers searching our site daily for accommodations. If you'd like additional details, please contact our advertising team here.
Looking for the Highland Lake (Westbook) forum?
LakeLubbers previously offered visitors the ability to create accounts and participate in lake forums. When we overhauled the site's content management system in 2021 we had to disable those features. We're evaluating options and welcome your comments and feedback here.
We also encourage you to join our lake-lovin' community on Facebook and Instagram!
Spread the word! Share our Highland Lake (Westbook) article with your fellow Lake Lubbers!