Green Lake, Styria, Austria
Lake Locations:
Also known as:  Gruner See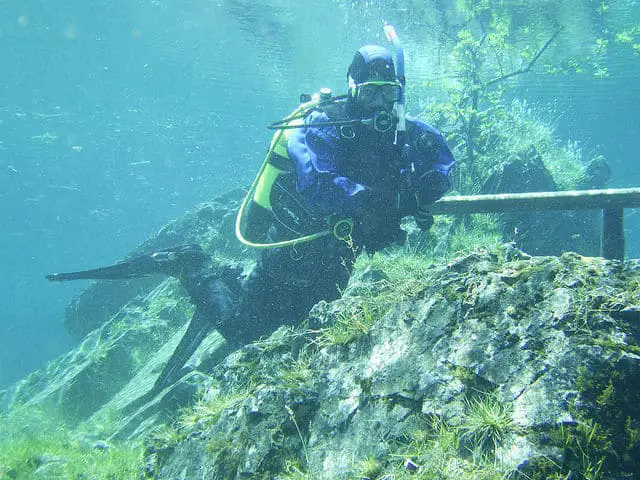 Exquisite yet fleeting are the words that describe Austria's Green Lake. The tiny lake, ringed by pines and reflecting the massive Hochschwab Mountains, exists for only a few short months a year. A shallow pond within a park-like setting for most of the year, it becomes a stunning and picturesque study in green water from May through July. The dry lakebed is a lush meadow for most of the year, a county park favored for hiking and the contemplation of nature. The nature reserve offers hiking trails, park benches, bushes, grasses and flowering plants until warm spring days bring water from the thawing mountain peaks to drown it all. Only three or four feet deep during most of the year, Green Lake swells to depths of nearly 40 feet when fed by snow melt, submerging bushes and park benches alike under crystal-clear waters.
Green Lake, or Gruner See as it is also called, appears green from the submerged meadow vegetation and the reflection of the surrounding forest. The water remains cold, usually below 50 degrees. Swimming is not prohibited, but only those willing to brave the cold venture past wading. Several species of trout live in the lake, along with a variety of aquatic insects. Little in the way of aquatic vegetation grows during the short months of the lake's existence. One of the most popular activities is scuba diving along the submerged trails. The clarity of the water lends a surreal quality to the underwater landscape, with submerged benches and bushes giving the impression of a slightly-distorted looking glass world. Diving at Green Lake is controlled, and divers must possess the appropriate diver ID card. A hotel-restaurant near the shore offers the only legal access for divers to enter the water and also provides air tank refills and rudimentary gear rental. Underwater photography is popular at Green Lake.
Diving at Green Lake is one of the primary attractions to the Tragoess region of Styria (one of Austria's nine states). Tragoess, a resort town, is located less than five miles from Green Lake. Many hiking and mountain biking trails originate in Tragoess, making the area a favorite holiday destination. A number of guest cottages, hostels and inns welcome visitors to the region year round. In winter, several ski resorts and snow-based recreational destinations make the Tragoess area popular, with cross-country skiing, snowshoeing and dog sledding available on the trails. The State of Styria calls itself the 'green heart' of Austria, with Green Lake one of its most picturesque sights. Water from the snow melt in the region provides much of the drinking water for the city of Vienna.
The area around the Hochschwab Mountains boasts one of Europe's largest populations of chamois (goat-antelope species). Several spectacular natural sights are located within hiking distance of Tragoess and Green Lake. Marie Gorge is a study in ferns and moss-covered rocks until winter turns the waters trickling down from the rocky cliffs into a fairyland of ice. A meadow of Edelweiss delights hikers who view their rare beauty during spring. Admirers are reminded to look but not touch. About 20 miles away, Austria's newest reserve, the Gesause National Park offers a wide variety of terrain from mountain heights to alpine valleys and river bends harboring numerous forms of native wildlife and flora. And, although camping is not available directly on Green Lake, a number of campgrounds and caravan parks are located nearby including on Zenzsee Lake in Tragoess. First noted in written records in 1023, the long history of Tragoess can be enjoyed at the Heritage Museum. Exhibits here document the trades and crafts practiced over hundreds of years, with documentaries about past area cults and exhibits depicting agriculture and forestry as practiced in the region.
A vacation that includes Green Lake is perfect for those who would enjoy a walking holiday around central Austria. All of Styria is picturesque and geared toward those who want to hike along country roads and across rough tracks to view some of Europe's best scenery. Inns and guest cottages are found in many of the small villages, while local fare available in most local cafes is filling and suitable for the hearty appetites generated by physical activity. Green Lake attracts the kind of visitors most comfortable in sturdy boots and backpacks. A good camera is a must.
*Statistics for Green Lake are not available as the lake's size varies year to year according to snow melt.
Things to do at Green Lake AUT
Vacation Rentals
Swimming
Scuba Diving
Campground
Hiking
Biking
Cross-Country Skiing
Dog Sledding
Wildlife Viewing
National Park
Museum
Fish species found at Green Lake AUT
---
Green Lake AUT Photo Gallery
Green Lake AUT Statistics & Helpful Links
Spread the word! Share our Green Lake AUT article with your fellow Lake Lubbers!