Great Slave Lake, Northwest Territories, Canada
Lake Locations:
Canada - Northwest Territories -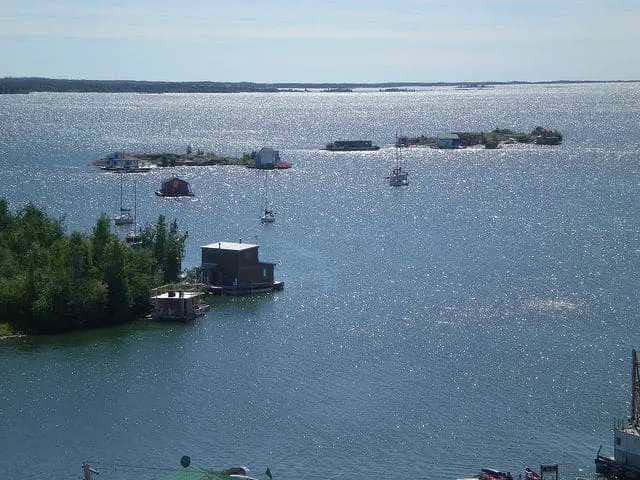 Great Slave Lake is the fifth-largest lake (by acreage) in North America and, following Great Bear Lake, is the second-largest in Canada. A natural lake, it is located in south-central Northwest Territories (NWT). Located just south of the Arctic Circle, Great Slave Lake is frozen about five and a half months out of the year. With an area of nearly 7 million acres and more islands than can be named, Great Slave Lake is an outdoor utopia for visitors who seek the peace and quiet of a large, beautiful, mostly untouched lake. The area was explored by Samuel Hearne in 1771 who initially named the lake Lake Athupuscow. The city of Yellowknife was started in 1935 with gold being discovered; in 1967 it became the capital of the Northwest Territories. With gold mining petering out, Yellowknife grew as a government center and now is growing again with the discovery of diamonds.
Pre-glacial valleys formed the bottom of Great Slave Lake. Its west side is mostly forested wilderness, and the north and east arms join with the barren tundra. At a maximum depth of over 2000 feet, Great Slave Lake is the deepest lake in North America. It is irregular in shape, almost 300 miles long, and 12 to almost 70 miles wide. A pristine lake environment, its water sources are numerous streams and rivers including Hay, Yellowknife, Snare, Beaulieu, Emile, Snowdrift and the Taltson. The lake drains into the Mackenzie River.
The Great Slave Lake area affords a wonderful boating milieu for kayakers, canoeists and sailing enthusiasts. As one might expect on a lake surrounded by wilderness, there are multitudes of inlets, islands and quiet bays to try. Imagine luxuriating in the quiet outdoors. Sport fishing is super with trophy size lake trout, artic grayling, northern pike and whitefish the main attractions. Ice fishing expeditions are frequent, again with trophy size catches for the avid angler. Guides offer dog team tours in winter, snowmobiling across the vast expanses of ice. There are a number of geocaches around Yellowknife for the intrepid 'cacher' – anyone visiting should try these for an unusual 'find'.
Great Slave Lake hosts the month-long Winter Festival each March on Yellowknife Bay. An elaborate ice castle is constructed each year to house the festival, which includes an auditorium, courtyard, cafe, slide, and turrets. During the winter, an ice road connects Yellowknife to the First Nations community of Dettah. Another treat for visitors near the spring and fall equinoxes are the Northern Lights, the Aurora Borealis, that create spectacular displays of color in the nighttime skies.
Great Slave Lake wildlife viewing is great; caribou, musk ox, black bear, and bald eagles are to be spotted on most any excursion. A trip to one of the remote lodges from November to April is recommended for Northern Lights viewing and a meal of musk ox, a unique experience.
Houseboat living in Yellowknife Bay is a way of life for some rugged individualists. About 40 houseboats make the Bay their home. In 2014, the television channel Animal Planet began a reality show titled "Ice Lake Rebels" that followed a small group of houseboaters who choose to live off-the-grid, following their challenges during the long, harsh winters.
The wilderness setting of Great Slave Lake provides a spectacular scene in which to participate with the rustic outdoors. A trip there will be an outstanding adventure.
Things to do at Great Slave Lake
Vacation Rentals
Fishing
Ice Fishing
Boating
Sailing
Canoeing
Kayaking
Snowmobiling
Wildlife Viewing
Birding
Fish species found at Great Slave Lake
Grayling
Lake Trout
Northern Pike
Pike
Trout
Whitefish
---
Great Slave Lake Photo Gallery
Great Slave Lake Statistics & Helpful Links
At LakeLubbers.com, we strive to keep our information as accurate and up-to-date as possible, but if you've found something in this article that needs updating, we'd certainly love to hear from you!
Please let us know about it on our Content Correction form.
Spread the word! Share our Great Slave Lake article with your fellow Lake Lubbers!