Great Bear Lake, Northwest Territories, Canada
Lake Locations:
Canada - Northwest Territories -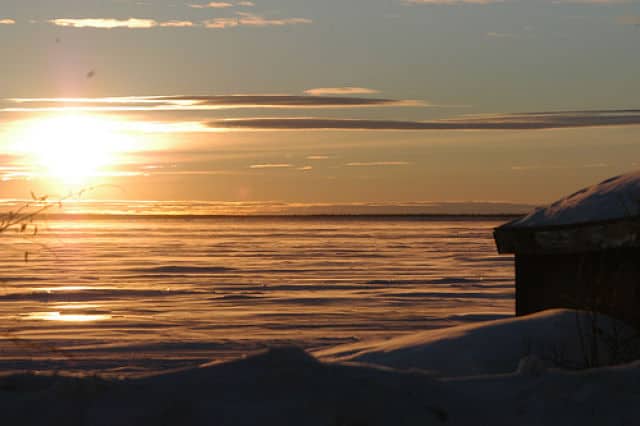 Great Bear Lake is located in the Northwest Territories of Canada. It is a natural lake, encircled by wilderness, and the largest lake completely in Canada. Great Bear Lake is on the Arctic Circle and ice-covered eight months out of the year. With an area of over 7 million acres and more than 26 islands, Great Bear Lake is an outdoor utopia for visitors who seek the peace and quiet of a large, beautiful, untouched lake. Magnificent scenery is the norm, especially in the MacTavish Arm of the Lake. The only village on Great Bear Lake is Deline – about 600 residents. During nine months of the year, air travel is possible with an airport a short distance from Deline. From 1898 to 1964 discoveries of radium, uranium and silver spawned an intermittent mining industry.
Pre-glacial valleys formed the bottom of Great Bear Lake. It is ice-covered from November through July and its surface was, in earlier times, used as a highway before a road was built around the lake. The Lake is one of the deeper lakes in the world at 1463 feet, and the water is a pristine lake environment. Great Bear Lake drains through the Great Bear River into the Mackenzie River.
The Great Bear Lake area affords a wonderful hunting ground, and 'fly in' is the mode of transportation. As one might expect on a lake surrounded by wilderness, hunting is a favorite sport with caribou and musk ox prime targets. Sport fishing is also great with trophy size lake trout and arctic grayling the main attractions (Great Bear Lake has world records for both), along with northern pike and walleye catches helped by several guiding establishments. There is a fine hunting and fishing lodge in Deline, and native guides must be used. Ice fishing is a favorite activity both for visitors and natives.
Wildlife viewing is a frequent visitor activity; caribou must be chased from the Deline Airport before landing! If you're lucky, you may see a few bear, caribou, moose, musk ox, or elk. Many different bird species are possible to see.
Great Bear Lake is a spectacular setting in which to partake of the rustic outdoors. Size and remoteness ensure that a visitor will have few competitors for its natural, wilderness setting of scenic beauty.
Things to do at Great Bear Lake
Vacation Rentals
Fishing
Ice Fishing
Hunting
Wildlife Viewing
Fish species found at Great Bear Lake
Grayling
Lake Trout
Northern Pike
Perch
Pike
Trout
Walleye
---
Great Bear Lake Photo Gallery
Great Bear Lake Statistics & Helpful Links
Spread the word! Share our Great Bear Lake article with your fellow Lake Lubbers!