Lake Laberge, Yukon, Canada
Welcome to the ultimate guide for history, statistics, local fun facts and the best things to do at Lake Laberge.
If you're considering Lake Laberge vacation rentals, we've made it super easy to explore accommodations and nearby hotels using the interactive map below. Simply click on a listing to compare similar properties, best rates and availability for your dates. Or keep scrolling to read our Lake Laberge guide!
Lake Laberge visitor and community guide
A famous poem by Robert Service forever immortalizes Lake Laberge and the wonders of the Yukon Territory.
"There are strange things done 'neath the midnight sun
By the men who moil for gold.
The arctic trails have their secret tales
That would make your blood run cold.
The northern lights have seen queer sights,
But the queerest they ever did see
Was that night on the marge of Lake Laberge
I cremated Sam McGee."
Nestled in the Yukon wilderness of Canada, Lake Laberge is 49,668 surface acres. On average it plunges down to 177 feet, and is at its deepest at 479 feet. Surrounded by the jutting points of mountain peaks, it has miles of beaches and numerous bays. It is one of those beautiful splendors of the earth commanding the stillness of the spirit and giving relief to the heart and mind.
Yukon is in a semi-arid region of Canada, located on the western border adjacent to Alaska. Usually sunny and dry, it is a pristine wilderness area, home to hundreds of animal and plant species and a small density of human populations. Lake Laberge was formed during the last Ice Age. It is 31 miles long and is a 3-mile widening of the Yukon River which flows in one end of the lake and out the next. Lake trout and whitefish are in the lake. And for thousands of years chinook salmon have been born in the Yukon River, migrated the long journey to the Bering Sea and returned to their place of birth to spawn the new generation of salmon that will repeat the cycle again. A hydroelectric dam was built by Northern Canada Power Commission at Whitehorse to the south in 1956 which greatly disrupted the cycle of the chinook salmon. In 1959, the company built the Whitehorse Fishway which has the longest wooden fish ladder in the world. An interpretation center at the Fishway has an underwater window that allows you to look at the salmon on their spawning journeys 'home'. Displays in the building serve to inform visitors about salmon and the fish of the Yukon River. Anglers will love fishing at Lake Laberge, where the fish are biting, the mountains command awe and the lake stretches for miles like an endless sea.
Many adventures at Lake Laberge and the Yukon River are possible. Part of the Yukon River, the 'Thirty Mile', between the north end of Lake Laberge and the mouth of the Teslin River, is featured in National Geographic for its crystal clear beauty and spectacular riparian life. Take a magical canoeing trip down the river or fish its waters for Arctic Greyling. At the end of the river and beginning of another adventure, is an abandoned gold rush sternwheeler, the 'Evelyn', which surfaced on an island about 90 years ago. All at once a repository of history, romantic intrigue and artifact, it is one of the many sternwheelers that went down in the river.
Indeed there are treasures to be found beneath Lake Laberge's icy waters. In 2009, the discovery of a gold rush steamer was made in Lake Laberge. The steamer, called A.J. Goddard, sank over 100 years ago and represents a relic of the gold rush that emblazoned the Yukon Territory in the late 1800s and early 1900s. The wreckage, perfectly preserved in the lake's waters, was discovered by a team of archaeologists. Signs of life on the ship, like the stove left out on the deck, dishes and tools, or blacksmith's forge, reflected the crew's self-sufficiency and dogged frontier spirit in an era when thousands were rushing the gold.
The Midnight Sun during the summer months casts its ceaseless glow. Under this perpetual daylight, adventure in Yukon takes on a different meaning. Miles of enchanting history and breathtaking nature await your exploration. In Yukon's thinly populated territory, find Whitehorse, just below Lake Laberge, a gateway to activities in Yukon. Hike the beautiful Wolf Creek Trail, picking cranberries in the fall. Visit a ranch and take a horse riding journey through the pristine countryside and foothills. Hit one of the biking trails on Grey Mountain, or marvel at Yukon from a plane miles above on your own personal flightseeing tour. On Main Street of Whitehorse, Art Underground beckons to your creative inclinations showing the work of both budding and professional Yukon artists. Take in some performing arts at the Yukon Arts Centre or the Guild Theatre. Catch memorabilia photos of the log skyscraper building, four stories high and made of logs, and peruse the Fireweed Market for stunning handmade Yukon crafts or fresh Yukon produce. Stop to visit the many historic sites that are in Whitehorse and along the Lake Laberge and Yukon River. Listen to Yukon's many enchanting stories, of the "strange things done 'neath the midnight sun" and the "secret tales" of the arctic trails.
In Yukon's snowy winter, dog sledding, cross-country skiing, and snowshoeing become the pace of activities, but one of the most amazing treats you will get is a splendid sight of the Northern Lights (aurora borealis). The view from Lake Laberge of one of Earth's most wondrous atmospheric activities is one of the best in northern Canada. The lights reportedly get so bright as to light up the lake.
While you trek, fish, canoe on your Yukon wilderness journeys you will chance upon all kinds of wildlife. Timber wolf, peregrine falcons, loons, golden eagles, grizzly bears, black bears, moose, caribou, and mule deer roam the Yukon wild around Lake Laberge. Charter one of the fishing, hiking, or kayaking guides available for an adventure led by someone with experience, or go it alone. Acquire one of the vacation rentals offered on or near Lake Laberge for a whole season of exploration. Or if you are smitten with Yukon like others have been, perhaps you will want to look into real estate or build a beautiful cabin on the lake.
People come to Lake Laberge for photography, fishing, history, hiking or relaxing. But mostly they come spurred by that calling for something that reminds them of life's magic. Any time spent at Lake Laberge will not only incite poetry but wash your heart with wonder and place a permanent dazzle in your eyes.
Custom Lake Laberge house decor
Read our full review of these personalized lake house signs.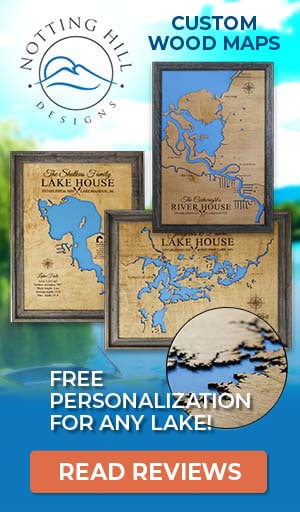 Things to do at Lake Laberge
Vacation Rentals
Fishing
Swimming
Beach
Canoeing
Kayaking
Cabin Rentals
Hiking
Biking
Cross-Country Skiing
Dog Sledding
Horseback Riding
Wildlife Viewing
Birding
Fish species found at Lake Laberge
Chinook Salmon
Lake Trout
Salmon
Trout
Whitefish
---
Best hotels and vacation rentals at Lake Laberge
The Lake Laberge map shown above is a simple and stress-free way to search for trip accommodations. But if you want to take a deeper dive to find the ideal waterfront home, cabin, condo, hotel or resort, visit our favorite lodging partners by clicking the buttons below.
Note: These are affiliate links so we may earn a small commission if you book through them. While there is no extra cost to you, it helps provide resources to keep our site running (thank you)! You can read our full disclosure policy here.
---
Lake Laberge photo gallery
New photos coming soon!
Lake Laberge statistics & helpful links
We strive to keep the information on LakeLubbers as accurate as possible. However, if you've found something in this article that needs updating, we'd certainly love to hear from you! Please fill out our Content Correction form.
Advertise your Lake Laberge vacation rental
LakeLubbers will soon offer homeowners and property managers the opportunity to to showcase their vacation rentals to the thousands of lake lovers searching our site daily for accommodations. If you'd like additional details, please contact our advertising team here.
Looking for the Lake Laberge forum?
LakeLubbers previously offered visitors the ability to create accounts and participate in lake forums. When we overhauled the site's content management system in 2021 we had to disable those features. We're evaluating options and welcome your comments and feedback here.
We also encourage you to join our lake-lovin' community on Facebook and Instagram!
Spread the word! Share our Lake Laberge article with your fellow Lake Lubbers!