Grand Lake St. Marys, Ohio, USA
Lake Locations:
USA - Midwest - Ohio - Northwest -
Also known as:  Grand Lake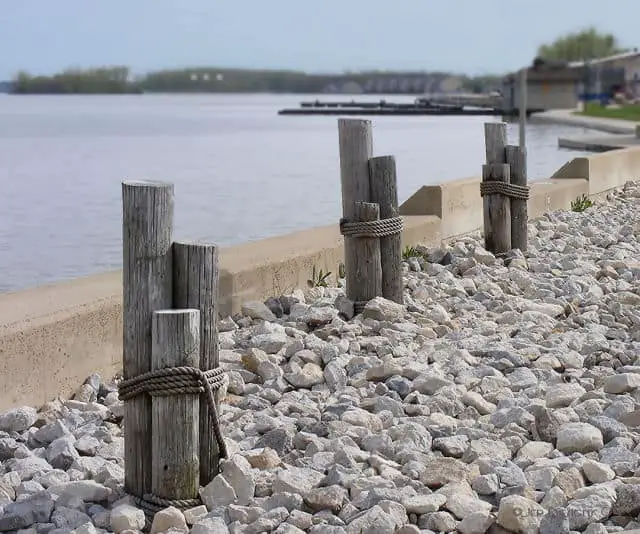 With its sail billowing in the wind, the sailboat glides in front of the lighthouse. It's a rare scene for an inland lake, but Grand Lake St. Marys is a rare lake. Three lighthouses grace the lake's shores. The north shore's Northwood Lighthouse was constructed in 1923 and is on the National Register of Historic Places. It is only visible by boat. Grand Lake's lighthouses, however, aren't the only reason to take to the water. The lake in northwest Ohio stretches nine miles long with plenty of water for boating, and the fishing is exceptional year round.
Grand Lake St. Marys was created as a storage reservoir for the Miami and Erie Canal. Known as a canal feeder lake, it is one of several reservoirs that were used to keep water levels stable and maintain the canal's five foot depth. Construction of Grand Lake was started in 1837 and completed in 1845. At the time of its completion, it was the largest manmade reservoir in the world. Today, it is still the largest inland lake in the state of Ohio.
With an average depth of just six feet and the majority of the lake under seven feet deep, Grand Lake St. Marys is a shallow lake. Its 12,900 acres sprawl across parts of Auglaize and Mercer Counties. Grand Lake is an impoundment of Coldwater Creek, and its outflow is Beaver Creek. Part of the lake's 74 mile shoreline is in the Grand Lake St. Marys State Park. Established in 1949, it is one of Ohio's oldest state parks.
The Grand Lake St. Marys State Park includes a campground with RV sites and cabins. There is a beach for swimming and several public boat launches. A state wildlife refuge on the southwest corner of Grand Lake provides a stopping place for migratory birds and waterfowl including Canada geese, grebes, swans, egret, loons and cormorants. Several pairs of nesting bald eagles make their home in the refuge. The Ohio Department of Natural Resources (DNR) holds a lottery for the many duck blinds along the lakeshore during hunting season. Only a mile and a half from the state park, the 47 mile long Miami-Erie Trail, part of the Buckeye Trail, provides an opportunity to hike across the state.
In the past, walleye were stocked in Grand Lake St. Marys, and there are abundant populations of largemouth bass and black and white crappie. In the winter, the yellow perch fishing is exceptional. Anglers can compete in several fishing tournaments held on Grand Lake throughout the year. The St. Mary's Fish Hatchery is on the eastern shore of the lake. It produces saugeye, walleye, channel catfish and bass that are stocked in lakes across the state.
In addition to the public facilities maintained by the state park, there are several private marinas with boat launches, fuel and boat rentals. After a day on the water, fishing, boating or water skiing, guests can relax at one of Grand Lake's waterfront restaurants before retiring to one of the vacation rentals, cottages or bed and breakfasts. The town of St. Marys has any additional amenities a visitor might need including real estate for sale for those wishing to extend their stay. A short drive from Grand Lake St. Marys, Wapakoneta's Armstrong Air and Space Museum is dedicated to Ohio's native son and the first man to set foot on the moon: Neil Armstrong. The museum includes the Gemini VIII aircraft and artifacts from the Apollo 11 mission and is sure to awaken the inner space explorer in anyone.
The rich history, spacious water, and abundant fish combine to make Grand Lake St. Marys a rare treat and a fantastic Ohio destination.
Lake Updates:
May 19, 2011: Warning signs are once again being posted. Toxic blue-green algae have returned to the lake. Alum treatment has been delayed to June due to heavy spring rains.
April 2011: Optimism is high for this summer's recreation. State agencies will treat the lake with alum and hydrogen peroxide to lock up phosphorous feeding the algae, dredging phosphorus-rich sediment, and creating wetlands to intercept farm runoff.
February 7, 2011: Ohio's Environmental Protection Agency lifted the advisory against eating fish caught from Grand Lake St. Marys. The EPA tested channel catfish, largemouth bass, crappie, and bluegill collected from the lake last fall.
October 29, 2010: Grand Lake St. Marys is no longer under a toxin advisory. Although state offficials declared the lake safe for recreation, advisories against fish consumption remain.
Health Alert, Summer 2010: Officials posted warning signs around the lake due to blue-green algae, known as cyanobacteria, that have made the lake unsafe for swimming, boating, and fishing. Algae feed on fertilizer and manure runoff from nearby farms that flow into streams that empty into the lake. Ohio's governor announced a series of steps, starting in September, to combat the algae outbreak.
Things to do at Grand Lake St. Marys
Vacation Rentals
Fishing
Fishing Tournaments
Boating
Sailing
Swimming
Beach
Water Skiing
Camping
Campground
Cabin Rentals
Hiking
Hunting
Wildlife Viewing
Birding
State Park
Museum
Fish species found at Grand Lake St. Marys
Bass
Black Bass
Bluegill
Catfish
Channel Catfish
Crappie
Largemouth Bass
Perch
Saugeye Perch
Sunfish
Walleye
White Crappie
Yellow Perch
---
Grand Lake St. Marys Photo Gallery
Grand Lake St. Marys Statistics & Helpful Links
Spread the word! Share our Grand Lake St. Marys article with your fellow Lake Lubbers!