Jackson City Reservoir, Ohio, USA
Also known as:  Hammertown Lake
Welcome to the ultimate guide for history, statistics, local fun facts and the best things to do at Jackson City Reservoir.
If you're considering Jackson City Reservoir vacation rentals, we've made it super easy to explore accommodations and nearby hotels using the interactive map below. Simply click on a listing to compare similar properties, best rates and availability for your dates. Or keep scrolling to read our Jackson City Reservoir guide!
Jackson City Reservoir visitor and community guide
Jackson City Reservoir, commonly called Hammertown Lake, is open for business in Southeastern Ohio…and that business is fun. Hammertown is one of the largest and deepest lakes in this area of Ohio. When constructed in 1953, the officials responsible for planning the new reservoir took everyone's desires into account. Two small dams control the waters of small creeks, forming the large pool behind them. Not only supplying the majority of water to the City of Jackson, the surrounding protected watershed has become a recreation area offering enjoyment to its many and varied visitors.
As a measure to protect the water supply, no swimming is allowed at Jackson City Reservoir. Likewise, only electric motors are allowed on boats, making the lake a quiet haven for canoeing, kayaking, sailing and rowing. Three boat launches allow plenty of access, although one of these is quite small and suitable only for canoes or kayaks. There is no development along the shoreline, and the heavily wooded banks maintain a wild and untouched appeal. The reservoir stretches in a rough horseshoe with many small bays and coves breaking the nearly six miles of shoreline.
The lake is regularly stocked by the Ohio Department of Natural Resources (DNR), which has also installed fish-attracting bottom structures. The lake offers what is known as 'two-story' fishing opportunities, with yellow perch, crappie, bluegill, largemouth bass and channel catfish inhabiting the upper reaches of the lake and golden trout and rainbow trout lurking in the lower, cooler waters. A map of where the fishing structures are located is available from Ohio DNR. Those without a boat will find plenty of shoreline fishing at the boat ramp area near the picnic area. An Ohio fishing license is required.
To accommodate those wishing to enjoy lake views from land, a park complete with shelter house, playground and restrooms makes a good starting point for walking the informal trails through the area. 150,000 pines shade the area, and a 15-mile horse trail offers plenty of riding space for equestrians. A radio-controlled (RC) airplane area occupies the southern side of the horseshoe's curve. Hammertown Lake is a fine place to enjoy bird watching. Several local birding groups meet regularly to observe the avian natives of southeastern Ohio. In combination with Lake Katharine State Nature Preserve less than five miles to the north, Jackson City Reservoir constitutes one of the best areas for enjoying nature's creatures. Forty-one species of birds have been recorded here, including osprey, American kestrel, golden-crowned kinglet, scarlet tanager, pie-billed grebe and many others. Lake Katharine State Nature Preserve contains several plants unusual to the area such as umbrella magnolia and bigleaf magnolia. A small man-made lake within the Nature Preserve is off-limits to motorized boats of all kinds and requires a special permit for boating. Hunting is only allowed in certain areas in season, and permits are required.
The area around Jackson, Ohio has been settled since the late 1700s, with salty springs nearby an attraction for both Native Americans and wildlife. The first European settlement was called Salt Lick Town. The salt springs created an early industry in the area: boiling down the waters to produce salt by evaporation. When better salt springs were discovered nearby, the salt-making industry collapsed. By 1815, Jackson's second major industry was underway: coal and iron mining. A grade of iron was produced using charcoal, bringing the railroads to difficult-to-reach Jackson. Invaluable to the war effort during the Civil War, Jackson was actually invaded by southern troops, its depots and furnaces burned. All too quickly, a better grade of iron ore and cheaper production in the Great Lakes area again displaced the hardy workers of Jackson.
So much salt was produced and iron ore smelted by charcoal that the forests in the area were nearly all consumed by the furnaces; protection was undertaken for the remaining treed tracts. It wasn't until the late 1800s that modern furnaces and smelters were built to once again produce quality iron products, this time using the area's abundant coal. It is likely that the nickname 'Hammertown' grew out of the two iron-based industries that called Jackson home. And, although Jackson City Reservoir is a more precise term, Hammertown Lake is what everyone calls this piece of man-made paradise.
Located midway between Columbus, OH and Huntington, WV, Jackson City Reservoir is now considerably easier to reach than in years past. Improved US 35 now skirts the eastern edge of Jackson, and other industries have taken up the slack left by the demise of iron smelting. The area is home to several food processing plants and plastics industries. The Hammertown Lake area contains many craggy cliff faces that were left exposed by the actions of waters rushing past long ago. Some of these can be seen at Leo Petroglyph State Memorial not far north of Jackson. Here, prehistoric Native American rock carvings can be seen on the sides of a limestone ravine. The trail through the gorge leads hikers past impressive cliffs, wildflowers and plenty of native birds.
Jackson's iron-smelting past comes to life at the Buckeye Furnace State Memorial. Here a reconstructed rock charcoal furnace offers visitors a glimpse into the industry that dominated southeast Ohio in the early part of the 1800s. And, not far south of Jackson City Reservoir, Jackson Lake State Reserve offers camping, fishing and scenic trails for walking. Lodgings in the form of hotels, motels, guest cottages and RV parks dot the area near Jackson. Plenty of restaurants and pleasant sights can be seen in the City of Jackson itself. The Architectural Walking Tour of restored mansions in Jackson is a self-guided treat. Several golf courses are available, and a large water park will delight the youngsters. So, spend a few days exploring the area surrounding Jackson and make sure to plan for a day at Hammertown Lake. You'll be amazed that quiet southeastern Ohio has so much to offer.
Custom Jackson City Reservoir house decor
Read our full review of these personalized lake house signs.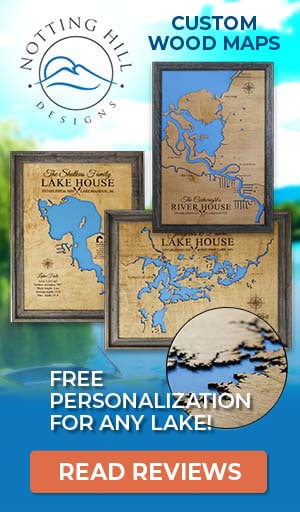 Things to do at Jackson City Reservoir
Vacation Rentals
Fishing
Boating
Sailing
Canoeing
Kayaking
Golf
Picnicking
Hiking
Horseback Riding
Hunting
Wildlife Viewing
Birding
Playground
Fish species found at Jackson City Reservoir
Bass
Black Bass
Bluegill
Catfish
Channel Catfish
Crappie
Golden Trout
Largemouth Bass
Perch
Rainbow Trout
Sunfish
Trout
Yellow Perch
---
Best hotels and vacation rentals at Jackson City Reservoir
The Jackson City Reservoir map shown above is a simple and stress-free way to search for trip accommodations. But if you want to take a deeper dive to find the ideal waterfront home, cabin, condo, hotel or resort, visit our favorite lodging partners by clicking the buttons below.
Note: These are affiliate links so we may earn a small commission if you book through them. While there is no extra cost to you, it helps provide resources to keep our site running (thank you)! You can read our full disclosure policy here.
---
Jackson City Reservoir photo gallery
New photos coming soon!
Jackson City Reservoir statistics & helpful links
We strive to keep the information on LakeLubbers as accurate as possible. However, if you've found something in this article that needs updating, we'd certainly love to hear from you! Please fill out our Content Correction form.
Advertise your Jackson City Reservoir vacation rental
LakeLubbers will soon offer homeowners and property managers the opportunity to to showcase their vacation rentals to the thousands of lake lovers searching our site daily for accommodations. If you'd like additional details, please contact our advertising team here.
Looking for the Jackson City Reservoir forum?
LakeLubbers previously offered visitors the ability to create accounts and participate in lake forums. When we overhauled the site's content management system in 2021 we had to disable those features. We're evaluating options and welcome your comments and feedback here.
We also encourage you to join our lake-lovin' community on Facebook and Instagram!
Spread the word! Share our Jackson City Reservoir article with your fellow Lake Lubbers!