Delaware Lake, Ohio, USA
Lake Locations:
USA - Midwest - Ohio - Central -
Also known as:  Lake Delaware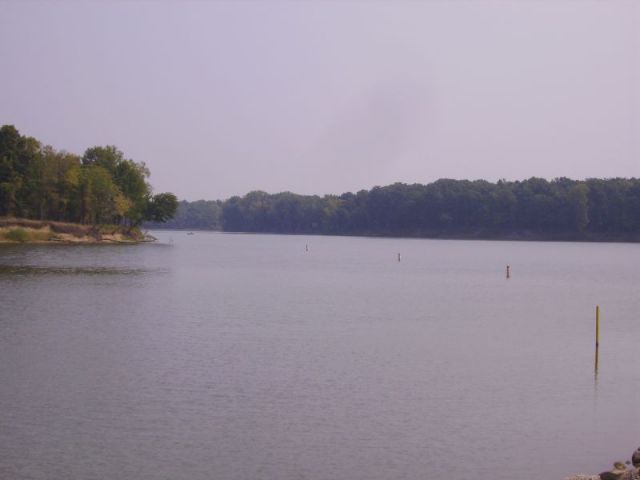 Delaware Lake is a central Ohio reservoir designed and constructed by the Huntington District of the U.S. Army Corps of Engineers. The Corps' Ohio River Basin plan was sanctioned by the Flood Control Act of 1938. Construction of Delaware Dam was completed in 1948, and the lake filled to capacity in 1951. Located north of the capital city of Columbus, the lake was designed for flood control, increased water supply, recreation, and fish and wildlife management. Today, Delaware Lake and Delaware Lake State Park are major recreation destinations, offering boating, fishing, swimming, camping, hiking, and hunting.
Delaware Lake spans 963 acres with two main sources of water: the Olentangy River and Whetstone Creek. The reservoir is part of a system of dams that reduces flooding in the Olentangy, Scioto, and Ohio River Basins. Delaware Dam is situated north of the town of Delaware, Ohio. The Corps of Engineers maintains Delaware Lake at summer pool level from April through September, then begins lowering water levels in October. Winter pool levels are maintained from October through March to provide floodwater storage for winter snow melt and spring rains.
Delaware Lake is one of the best lakes in Ohio for fishing. Anglers on the hunt for white and black crappies have an abundant amount of good sized fish ready for the catching. The lake is also a hotspot for largemouth bass tournament fishing and continually voted one of the top-10 in the state for bass tournament results. When it comes to fishing for saugeyes, the tailwater area in late fall and early spring is ideal. However, Whetstone Creek is better for catching white bass, especially during the month of May. Take note that a valid Ohio fishing license is required.
The Ohio Division of Parks and Recreation operates an assortment of amenities at Delaware Lake, including parking lots, boat ramps, docks, campgrounds, swimming beach, picnic areas, and hiking trails. The Division of Wildlife also operates and maintains a shooting range and public hunting areas primarily on the east side of the lake.
Sightseers have the world at their fingertips, since there is an abundance of open fields and airy woodlands. Delaware Lake, in conjunction with Delaware State Park, offers vacationers many activities. The sightseeing is spectacular, and the biking opportunities and boating options are endless. The state park also operates camping areas with an electric hookup available at some sites. The nature programs, hiking trails, and a full service marina are also a plus. In addition, patrons can enjoy everything from game hunting and lake swimming to picnicking and bird watching. Autumn brings brilliant fall foliage displays in mid-October, and winter provides ample opportunity for cross-country skiing and sled riding.
Delaware State Park offers attractive, clean public facilities on the north side of Delaware, Ohio. This landscape boasts not only wide open fields, but interesting forest land great for nature lovers. It provides local residents and visitors alike with outstanding recreational opportunities. The State Park is a perfect area for all to enjoy from kids to adults. The Delaware Lake Dam picnic shelter is located within the day-use area with restrooms and playground.
Just south of the State Park, the Dam offers a wonderfully panoramic view of the lake and surrounding area. An ideal location for a group picnic, the park has a large parking area for those enjoying the grounds. A large group shelter, playground, and restrooms are available. Patrons can reserve the shelter by calling the USACE office. If not, this picnic section is operated on a first-come, first-serve basis.
Visitors can also paddle the Olentangy River below the dam, which carries to the capital city of Columbus and merges with the Scioto River. For those who would like to stick to dry land, bicycling is permitted on the state and local roads. The popular choice of cyclists is usually the easy park roads. Also, public hunting and trapping are allowed on all areas of Delaware Lake except recreational ones and areas specifically posted. And of course, Ohio hunting licenses are required.
The Delaware Lake area is a hiker's delight with foot trails in both the park and dam areas. Note, hiking the dam area is not for the slight of heart, since walking up and across the dam's levy is quite a workout. As a whole, the State Park is a rich spot for viewing the area's flora and fauna. Visitors enjoy the melodies of songbirds and the beautiful displays of native wildflowers.
Although created by the Corps of Engineers, Delaware Lake is now a wonder of nature. The Dam and State Park are sources of great reward for not only its water control purposes, but for visitors and sports lovers, too.
Things to do at Delaware Lake
Vacation Rentals
Fishing
Fishing Tournaments
Boating
Swimming
Beach
Camping
Campground
Picnicking
Hiking
Biking
Cross-Country Skiing
Hunting
Wildlife Viewing
Birding
State Park
Playground
Fish species found at Delaware Lake
Bass
Black Bass
Crappie
Largemouth Bass
White Bass
---
Delaware Lake Photo Gallery
Delaware Lake Statistics & Helpful Links
Spread the word! Share our Delaware Lake article with your fellow Lake Lubbers!