Carter Lake, Colorado, USA
Also known as:  Carter Lake Reservoir, Carter Reservoir
Welcome to the ultimate guide for history, statistics, local fun facts and the best things to do at Carter Lake CO.
If you're considering Carter Lake CO vacation rentals, we've made it super easy to explore accommodations and nearby hotels using the interactive map below. Simply click on a listing to compare similar properties, best rates and availability for your dates. Or keep scrolling to read our Carter Lake CO guide!
Carter Lake CO visitor and community guide
Carter Lake is a major source of fun for residents and visitors to the Loveland area of Colorado's Front Range. The reservoir is one of two main storage basins for the all-important Big Thompson distribution system providing water to the East Slope. Most visitors think little about that critical feature while enjoying water sports on the 1,100-acre lake. Instead, water lovers focus on the opportunities for water skiing, wind surfing, jet skiing, scuba diving, swimming and fishing for the multitude of fish in this man-made reservoir.
Without the water stored at the Carter Lake Reservoir, cities such as Loveland, Fort Collins, Boulder and Denver would hardly have grown to their cosmopolitan size and diversity. The main Carter Lake Dam and two smaller dams contained the waters in a foothills valley beginning in 1954. A wide variety of recreational opportunities have since been developed by the Bureau of Reclamation and the Northern Colorado Water Conservancy District to enhance the quality of life for area residents and provide water-based attractions for visiting tourists and vacationers year-round.
One main focal point along Carter Lake's shores is the concession-operated Carter Lake Marina. Because there is no private land along the eight-mile shoreline, the marina serves as the boating center, offering daily, monthly and annual boat moorings, rentals, lake access, and necessary supplies. Supplied with a restaurant, store and sporting goods shop, the marina rents all types of boats from fishing boats to ski boats and pontoons. One 22-foot sailboat is available for rent to experienced sailors only. One other boating concession exists on Carter Lake; the membership-controlled Carter Lake Sailing Club offers sailing regattas, racing and sailing lessons to junior members. In addition, several boat ramps manned for boat inspection are located around the shoreline. All visitors must obtain a daily permit and have their boats inspected for invasive aquatic species contamination before launch. The hours of the various boat ramp locations vary according to the season, so visiting boaters should check the current schedule.
Swimming is permitted only at the designated swimming beach on the east side of the reservoir. Surrounding the swimming beach, Carter Lake County Park offers hundreds of acres devoted to picnicking, hiking, rock climbing, camping, boating and fishing. Over three miles of hiking trails offer opportunities to observe nature and enjoy views over the lake. Campsites with electrical hook-ups and primitive sites are available, but reservations may be required on busy summer weekends. Five campgrounds are scattered along the shores of Carter Lake, all operated by the Larimer County Department of Natural Resources; each offers fantastic views and assorted amenities. Daily visitor permit fees and/or camping permits are required. Open year-round, the campgrounds are popular starting points for a day or more of mountain biking, horseback riding, or hiking the many trails around Carter Lake. Many fishermen stay at the campgrounds to be close to the lake access points.
Carter Lake is an excellent fishery, offering Kokanee salmon during snagging season, largemouth bass in the summer months, and some great walleye fishing year-round. Carter Lake seldom freezes over; no ice fishing is permitted on those rare icy occasions as fluctuating water levels make the ice unsafe. Some productive fishing can be reached from the trails and shoreline fishing for cutthroat trout, rainbow trout, an occasional brown trout and splake-the hybrid offspring of brown trout and lake trout stocked specifically for anglers. Yellow perch and bluegill add to the fishing opportunities. Water levels can vary as much as 60 feet, so anglers should check which boat ramp locations are open before heading to the lake.
Carter Lake Reservoir is conveniently located about 15 miles from Loveland and 35 miles from Boulder. Although there are no vacation rentals directly on the shoreline, several exist on the bluffs overlooking the lake. A vacation home rental overlooking the reservoir and surrounding mountains provides an ideal home base for forays into Rocky Mountain National Park. Estes Park, the eastern gateway to the Park, is less than 30 miles to the west, providing a wealth of outdoor activities to visitors. The warmer seasons bring nature tours, hiking, whitewater rafting and backpacking, while winter provides the backdrop for fabulous cross-country and downhill skiing, snowshoeing, snowboarding and sledding. Whether exploring on one's own or by guided tour, there is plenty of opportunity to admire the expansive views, observe wildlife, and take photographs.
Colorado's colorful pioneer history is enshrined in a number of small local museums dotted around the area. The area holds a wealth of small galleries and craft shops, while local eateries offer a wide variety of food choices and prices. Real estate is available for those wanting to put down roots, and small acreages as building parcels can still be found with fantastic views of the towering Rockies. Those attending to business interests in the area will find many hotel, condo and apartment rentals available near the highways within a half-hour's drive of Carter Lake Reservoir. A vacation encompassing both city and lakeshore is easy to attain.
The September 2013 floods caused by heavy rain damaged many roads, dams and bridges in Larimer County. However, repairs are proceeding rapidly and most of the area will be accessible by the start of the 2014 vacation season. Carter Lake Reservoir's infrastructure survived intact and continues to be a ready source of lake-based fun and adventure. So plan for a summer vacation with fishing rods and hiking boots part of the agenda. There is plenty to interest every member of the family at Carter Lake.
Custom Carter Lake CO house decor
Read our full review of these personalized lake house signs.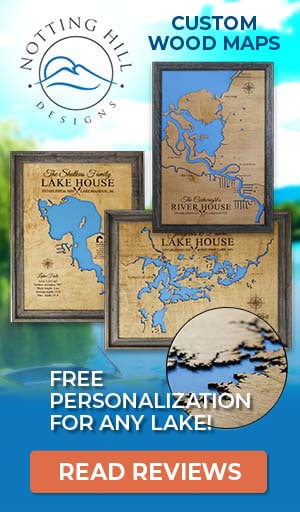 Things to do at Carter Lake CO
Vacation Rentals
Fishing
Ice Fishing
Boating
Sailing
Swimming
Beach
Whitewater Rafting
Jet Skiing
Water Skiing
Wind Surfing
Scuba Diving
Camping
Campground
Picnicking
Hiking
Rock Climbing
Biking
Downhill Skiing
Snowboarding
Horseback Riding
Wildlife Viewing
National Park
Museum
Fish species found at Carter Lake CO
Bass
Black Bass
Bluegill
Brown Trout
Cutthroat Trout
Kokanee Salmon
Lake Trout
Largemouth Bass
Perch
Rainbow Trout
Salmon
Splake Trout
Sunfish
Trout
Walleye
Yellow Perch
---
Best hotels and vacation rentals at Carter Lake CO
The Carter Lake CO map shown above is a simple and stress-free way to search for trip accommodations. But if you want to take a deeper dive to find the ideal waterfront home, cabin, condo, hotel or resort, visit our favorite lodging partners by clicking the buttons below.
Note: These are affiliate links so we may earn a small commission if you book through them. While there is no extra cost to you, it helps provide resources to keep our site running (thank you)! You can read our full disclosure policy here.
---
Carter Lake CO photo gallery
New photos coming soon!
Carter Lake CO statistics & helpful links
We strive to keep the information on LakeLubbers as accurate as possible. However, if you've found something in this article that needs updating, we'd certainly love to hear from you! Please fill out our Content Correction form.
Advertise your Carter Lake CO vacation rental
LakeLubbers will soon offer homeowners and property managers the opportunity to to showcase their vacation rentals to the thousands of lake lovers searching our site daily for accommodations. If you'd like additional details, please contact our advertising team here.
Looking for the Carter Lake CO forum?
LakeLubbers previously offered visitors the ability to create accounts and participate in lake forums. When we overhauled the site's content management system in 2021 we had to disable those features. We're evaluating options and welcome your comments and feedback here.
We also encourage you to join our lake-lovin' community on Facebook and Instagram!
Spread the word! Share our Carter Lake CO article with your fellow Lake Lubbers!