Elizabeth Lake, Illinois & Wisconsin, USA
Also known as:  Lake Elizabeth, Twin Lakes
Welcome to the ultimate guide for history, statistics, local fun facts and the best things to do at Elizabeth Lake.
If you're considering Elizabeth Lake vacation rentals, we've made it super easy to explore accommodations and nearby hotels using the interactive map below. Simply click on a listing to compare similar properties, best rates and availability for your dates. Or keep scrolling to read our Elizabeth Lake guide!
Elizabeth Lake visitor and community guide
Lake Elizabeth or Elizabeth Lake, as it is more commonly known, has been a vacation getaway for over 150 years. Located in the Northern Region of Illinois and the Lake Michigan Region of Wisconsin, Elizabeth Lake is one of a pair of lakes along the Illinois-Wisconsin border that are often referred to as Twin Lakes. The two glacial pothole lakes are separated by a narrow finger of land with a short stretch of waterway connecting them. The twin lakes were named for the twin daughters of one of the earliest settles to the region: Elizabeth and Mary Ineson. It is unknown what the lakes were called earlier but the first large hotel — Akerman's Resort — was built in 1835 before they were born.
The area around Elizabeth Lake was popular with summer visitors from Milwaukee and Chicago. By the 1850s, ice was being harvested on Elizabeth Lake. More large hotels were built through 1920, when Wisconsin's largest ballroom, known as the Twin Lakes Ball Room, was erected. The Village of Twin Lake was finally incorporated in 1937. The popularity of the lakes continued unabated through and beyond the era of the big resort hotel. Summer residences were built along the shores and generations of families returned each year to swim, fish and boat on the waters of Elizabeth Lake.
Today, two-thirds of the residences are year-round homes, and some old hotel properties have given way to condos. Twin Lakes has matured into a pleasant but modern village complete with all the necessary city services. The people of Twin Lakes are committed to preserving both their lakes and their vibrant community. As evidence of the cross-boarder cooperation common in the area, the Wisconsin town of Twin Lakes owns access to the small Elizabeth Lake dam located in the Illinois town of Richmond. Intended only to maintain lake levels, the dam keeps levels within an 11-inch range year round.
All types of water sports can be engaged in on Elizabeth Lake. The large lake lends itself to water skiing, tubing, sailing and jet skiing as well as canoeing, kayaking, pontooning, wake boarding and swimming.The south end of the lake is a strict no-wake zone to protect the excellent bog areas of Elizabeth Lake Nature Preserve.
Known as an excellent fishing destination, the Elizabeth Lake fishery contains a variety of game fish. It is especially known for great catches of northern pike, bluegill and largemouth bass. Walleye, crappie and smallmouth bass are also caught. There is a public boat ramp on the west side of the lake and boat rentals are available nearby. Pontoon boats can also be rented by the day for a more leisurely cruise and are an excellent way to take children on their first fishing excursion. As a precautionary measure, those planning to eat their catch should check the Wisconsin Fish Consumption Guidelines.
The lakeshore of Elizabeth Lake is quite heavily developed on the Wisconsin portion. Nearly all residential properties are located on the Wisconsin side of the state line; much of the Illinois side is State land in the form of Elizabeth Lake Nature Preserve. The Preserve is a diverse wetland composed of calcareous floating mat, marsh, pond, graminoid fen, graminoid bog, lake, low gradient creek, sedge meadow, and dry-mesic savanna. Graminoid bog is a rare natural community, considered to be the first stage in bog succession. Always floating above water and often in the vicinity of more open waters, this type of bog is dominated by sphagnum moss, sedges, and marsh shield fen. Access to the preserve is restricted to tours sponsored by the McHenry County Conservation District to protect the varied and rare plants, birds and butterflies. Endangered or rare cuckoo flowers, pugnose shiners, Iowa darters, sandhill cranes, and black terns can all be found within the nature preserve. Considered to be the highest quality lake in McHenry County IL, Elizabeth Lake has 29 species of native fish, at least 200 species of plant life, 55 species of birds, 15-20 butterfly species, and 20 state endangered or threatened species. Because the wake from high-speed boats can cause great damage to the floating bog, the no-wake areas are strictly enforced.
Off-lake activities are plentiful around Elizabeth Lake and the Village of Twin Lakes. Wednesdays and Saturdays the Aquanuts, a troupe of local water-skiers, put on a free show on Lake Mary. The Country Thunder Music Festival is held here annually, with several days of camping and nationally-known music stars. Several excellent golf courses are located nearby. Five village parks provide a basketball court, baseball diamond, playground equipment, sledding, tennis courts, skateboarding, walking trails, boat launch and restrooms. The village holds regular festival events and parades centered around holidays for the enjoyment of residents and visitors alike.
In winter, ice fishing and snowmobiling are popular activities. Local clubs maintain groomed trails for snowmobiling and cross-country skiing. Several eating establishments around the lakes soon make visitors feel like 'regulars', as do the local pubs. Less than 15 miles northeast of Twin Lakes, Bong State Recreation Area offers hiking trails, fishing, hunting and interpretive guides. South of Elizabeth Lake, the 26-mile Prairie Trail can be accessed at Richmond, IL. The trail is popular for mountain biking and hiking. Twenty-five miles east, Kenosha sports a greyhound racetrack, Lake Michigan beach, museums, parks and a community college. Downtown Chicago is only 70 miles away, making Elizabeth Lake an idea spot for a weekend getaway.
Vacation rentals abound around the Twin Lakes. From cottages and cabins to large residential homes, hotels, bed-and-breakfasts, condos and campgrounds, the ideal lodgings for your visit can be easily found here. Real estate is always available, often lakefront or with lake views. So, pack up the kids, the boat and maybe even the cousins; Elizabeth Lake is waiting for your visit. Come up to Twin Lakes and see what you've been missing.
Custom Elizabeth Lake house decor
Read our full review of these personalized lake house signs.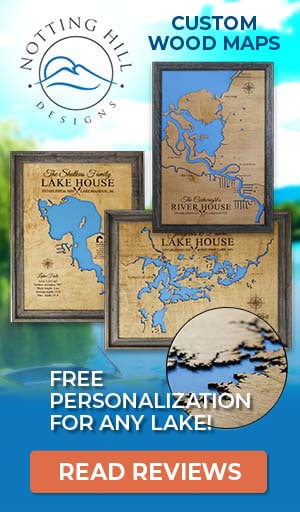 Things to do at Elizabeth Lake
Vacation Rentals
Fishing
Ice Fishing
Boating
Sailing
Swimming
Beach
Canoeing
Kayaking
Jet Skiing
Water Skiing
Wakeboarding
Tubing
Golf
Tennis
Camping
Campground
Cabin Rentals
Hiking
Biking
Cross-Country Skiing
Snowmobiling
Hunting
Birding
Museum
Playground
Fish species found at Elizabeth Lake
Bass
Black Bass
Bluegill
Carp
Crappie
Darter
Largemouth Bass
Northern Pike
Perch
Pike
Smallmouth Bass
Sunfish
Walleye
---
Best hotels and vacation rentals at Elizabeth Lake
The Elizabeth Lake map shown above is a simple and stress-free way to search for trip accommodations. But if you want to take a deeper dive to find the ideal waterfront home, cabin, condo, hotel or resort, visit our favorite lodging partners by clicking the buttons below.
Note: These are affiliate links so we may earn a small commission if you book through them. While there is no extra cost to you, it helps provide resources to keep our site running (thank you)! You can read our full disclosure policy here.
---
Elizabeth Lake photo gallery
New photos coming soon!
Elizabeth Lake statistics & helpful links
We strive to keep the information on LakeLubbers as accurate as possible. However, if you've found something in this article that needs updating, we'd certainly love to hear from you! Please fill out our Content Correction form.
Advertise your Elizabeth Lake vacation rental
LakeLubbers will soon offer homeowners and property managers the opportunity to to showcase their vacation rentals to the thousands of lake lovers searching our site daily for accommodations. If you'd like additional details, please contact our advertising team here.
Looking for the Elizabeth Lake forum?
LakeLubbers previously offered visitors the ability to create accounts and participate in lake forums. When we overhauled the site's content management system in 2021 we had to disable those features. We're evaluating options and welcome your comments and feedback here.
We also encourage you to join our lake-lovin' community on Facebook and Instagram!
Spread the word! Share our Elizabeth Lake article with your fellow Lake Lubbers!