Apple Canyon Lake, Illinois, USA
Welcome to the ultimate guide for history, statistics, local fun facts and the best things to do at Apple Canyon Lake.
If you're considering Apple Canyon Lake vacation rentals, we've made it super easy to explore accommodations and nearby hotels using the interactive map below. Simply click on a listing to compare similar properties, best rates and availability for your dates. Or keep scrolling to read our Apple Canyon Lake guide!
Apple Canyon Lake visitor and community guide
Set among the rolling hills and fertile farmland of far northwestern Illinois, life at Apple Canyon Lake is an eternal vacation. Located in scenic Jo Daviess County, this private lake sits five miles southeast of Charles Mound, Illinois' highest natural peak at 1,235 feet. Only miles south of the Wisconsin border, Apple Canyon Lake shares the Northern Illinois Tourism Region with the neighboring historic cities of Elizabeth and Galena. Apple Canyon Lake is also a nice drive for Quad City dwellers 85 miles to the south, and Chicago residents, about 170 miles to the east.
Today's patchwork of green fields was once the native land of the Sac and Fox Nation; an 1804 treaty forced the Native Americans westward across the Mississippi. They returned under the leadership of Black Hawk, an appointed war chief from the Sac Nation, and the failed attempt to reclaim their land became known as the Black Hawk War. In the town of Elizabeth, eight miles southwest of Apple Canyon Lake, Apple River Forest State Historic Site tells the history of the only fort attacked by Black Hawk during the summer of 1832.
In 1969, Branigar Organization, Inc. created the resort community of Apple Canyon Lake by impounding Hell's Branch Creek, a branch of the Apple River. Upon completion, the three-mile long lake had a maximum depth of 70 feet and a surface area of 480 acres. The residential community surrounding the 15-mile shoreline is designed as a "greenway" where open land winds among the properties and as much as 75% of the shoreline remains undeveloped. Today, many of the homes surrounding Apple Canyon Lake are second homes, vacation rentals and retirement residences.
Apple Canyon Lake has formed a community of residents who actively support and participate in the care and maintenance of the lake. Led by a nine-member board of directors, Apple Canyon Lake Property Owners Association oversees the management of the lake. Community involvement is encouraged through participation in volunteer committees. Residents actively oversee lake monitoring, watershed conservation, architectural control, maintenance of common properties, and lakeside events. To stay abreast of Apple Canyon Lake's news and calendar of activities "The Apple Core" newsletter is published monthly.
Life on Apple Canyon Lake was built for healthful activity and relaxation. Open to residents and guests only, this planned community offers a nine-hole golf course, lakefront restaurant, club house, swimming pool, tennis courts, and a 13-mile trail system used for cross-country skiing in the winter. Swimming is permitted in no-wake zones and the main body of water within 75 feet of the shoreline. Nixon Beach is the center of many community events and is the site of the annual Galena Triathlon. Apple Canyon Lake Campground provides showers, restrooms, and laundry facilities. In addition to a full-service marina, the Property Owners Association offers boat rentals and boat slip rentals.
Sailing, canoeing, and kayaking are popular boating activities. A large number of bays, coves, and no-wake zones make wonderful stops to view deer, squirrels, rabbits, raccoons, and other small wildlife. Power boats are restricted to a 40 mile per hour limit on the lake and five miles per hour in no-wake zones. The lake is stocked and always ready for fishing. Among the species found in Apple Canyon Lake are largemouth bass, smallmouth bass, walleye, northern pike, catfish, muskie, crappie, and bluegill.
More rustic outdoor activities are found at 297-acre Apple River Canyon State Park located six miles east of Apple Canyon Lake. Multiple hiking trails cut through the woods and along limestone bluffs carved by the Apple River. Cast a line at the riverbank and try your hand at catching stocked trout or smallmouth bass, sunfish, crappie, carp, and suckers. Multiple picnic sites and shelters, some handicap accessible, are available along the riverbank. Tables, grills, drinking water, and restrooms are provided. Hunters may contact the park office for information on approved hunting areas.
Beautiful scenery and historic sites line the mighty Mississippi, 20 miles west of Apple Canyon Lake. Running from Rock Island, Illinois to Wabasha, Minnesota, this portion of the Mississippi is the Upper Mississippi River National Wildlife and Fish Refuge. Along this 261-mile stretch of river are found more than 600 species of plants, 200 bald eagle nests, 5,000 great blue heron and common egret nests, 119 species of fish, and 42 species of mussels.
The Illinois Great River Road National Scenic Byway follows the Mississippi down 550 miles of Illinois' western boundary. Especially picturesque during fall foliage, the wooded river banks and rocky bluffs make a spectacular view any time of year. Travelers will find numerous opportunities to stop at parks, scenic lookouts, and rural communities along their drive.
The historic community of Galena is located 12 miles west of Apple Canyon Lake. Beautifully restored buildings, unique gift shops, and fine dining add to the hospitality and charm of this rural town. The Old Market House State Historic Site and Ulysses S. Grant Home State Historic Site are only two of many museums open to the public. Additional parks, golf courses, galleries, and theatres make Galena a delightful place to visit.
History buffs should not miss a short 30-mile drive across the Mississippi River to the city of Dubuque, Iowa. Settled in 1788, Dubuque's history is closely tied to the Mississippi River. At the National Mississippi River Museum and Aquarium you can walk the decks of a steamer, view exhibits, watch living history demonstrations, or sit along the riverbank and watch river barges drift by. Stop at Eagle Point Park at the north end of the city and look over the bluffs. Here you can enjoy the view and watch river traffic pass through the massive locks and dams operated by the U.S. Army Corps of Engineers. While in the city, visit one of the country's last remaining shot towers. Built in 1856, locally mined lead was melted and dropped down the tower to make lead shot for the U.S. military.
Whether you come to Apple Canyon Lake to vacation for a week or a lifetime, you will enjoy the combination of nature and healthful activity in this close-knit community of friends and neighbors. With over 800 homes built on approximately 2,700 acres, you will find vacation rentals and real estate properties built to suit your taste. Apple Canyon Lake was built so you could know the freedom to sail the lake, stroll the wooded trail, or play a round of golf whenever the spirit moved you. Consider the possibilities and then come home to your own vacation spot every day.
Custom Apple Canyon Lake house decor
Read our full review of these personalized lake house signs.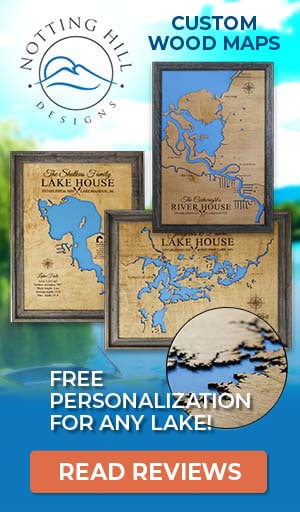 Things to do at Apple Canyon Lake
Vacation Rentals
Fishing
Boating
Sailing
Swimming
Swimming Pool
Beach
Canoeing
Kayaking
Golf
Tennis
Camping
Campground
Picnicking
Hiking
Cross-Country Skiing
Hunting
Wildlife Viewing
Birding
State Park
Museum
Fish species found at Apple Canyon Lake
Bass
Black Bass
Bluegill
Carp
Catfish
Crappie
Largemouth Bass
Muskellunge
Northern Pike
Perch
Pike
Smallmouth Bass
Sucker
Sunfish
Trout
Walleye
---
Best hotels and vacation rentals at Apple Canyon Lake
The Apple Canyon Lake map shown above is a simple and stress-free way to search for trip accommodations. But if you want to take a deeper dive to find the ideal waterfront home, cabin, condo, hotel or resort, visit our favorite lodging partners by clicking the buttons below.
Note: These are affiliate links so we may earn a small commission if you book through them. While there is no extra cost to you, it helps provide resources to keep our site running (thank you)! You can read our full disclosure policy here.
---
Apple Canyon Lake photo gallery
New photos coming soon!
Apple Canyon Lake statistics & helpful links
We strive to keep the information on LakeLubbers as accurate as possible. However, if you've found something in this article that needs updating, we'd certainly love to hear from you! Please fill out our Content Correction form.
Advertise your Apple Canyon Lake vacation rental
LakeLubbers will soon offer homeowners and property managers the opportunity to to showcase their vacation rentals to the thousands of lake lovers searching our site daily for accommodations. If you'd like additional details, please contact our advertising team here.
Looking for the Apple Canyon Lake forum?
LakeLubbers previously offered visitors the ability to create accounts and participate in lake forums. When we overhauled the site's content management system in 2021 we had to disable those features. We're evaluating options and welcome your comments and feedback here.
We also encourage you to join our lake-lovin' community on Facebook and Instagram!
Spread the word! Share our Apple Canyon Lake article with your fellow Lake Lubbers!