Fox Chain O'Lakes, Illinois, USA
Lake Locations:
USA - Midwest - Illinois - Chicagoland - Northern -
Also known as:  Fox Chain of Lakes, Channel Lake, Lake Catherine, Lake Marie, Bluff Lake, Petite Lake, Grass Lake, Fox Lake, Nippersink Lake, Pistakee Lake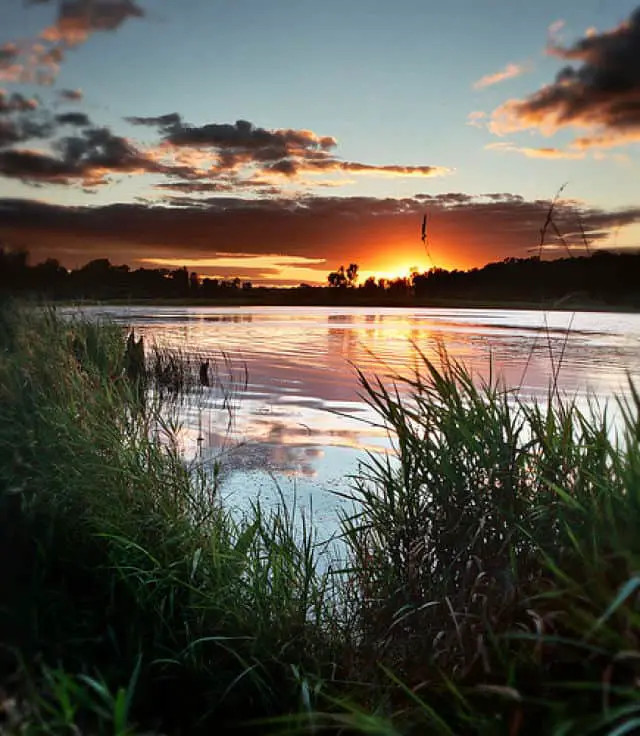 The Fox Chain O'Lakes is a collection of 15 navigable lakes on the Fox River, each with its own flavor. Called the "Key West of the Midwest," the Chain has been drawing visitors to play in the Chicagoland region of Northern Illinois for over a hundred years. Made up of glacial lakes and impoundments, the Fox Chain O'Lakes is impacted by several dams on the Fox River including the McHenry Dam which was completed in 1907. Today the Chain is managed by the Fox Waterway Agency and under the authority of the Department of Transportation, the Division of Waterways, and the Department of Conservation, Division of Fisheries. According to the Fox Waterway Agency, the Chain is the "busiest, most used inland waterway per acre in the United States." The Fox Chain of Lakes is a public navigable waterway including 45 miles of the Fox River and 29 miles of dredged and natural canals. The 15 lakes total over 7,000 acres of water.
The Fox Chain O'Lakes covers part of Lake County and McHenry County and begins near Antioch. Sister lakes, Catherine Lake and Channel Lake, start the chain. From the surface they look like one lake with two lobes. There is an underwater ridge that separates 155-acre Catherine Lake from 352-acre Channel Lake. Catherine Lake has an average depth of 45 feet. Boat ramps provide access to the lake which has earned the reputation as one of the best bluegill lakes in the Chain. Channel Lake is a deep lake with plentiful populations of bass and northern pike. Access to the lake is from one of the many boat ramps or private concessions that ring the shore.
Known as one of the best fishing lakes in the Fox Chain of Lakes, Lake Marie has an average depth of 14 feet and a maximum depth of 35 feet. Abundant populations of bass, crappie, white bass, pike and walleye all make their home in the lake. Lake Marie has boat ramps on both the northern and eastern shore. At 86 acres, Bluff Lake is smaller than the others. It is known for its shore fishing and exceptional pan fish. Petite Lake is also a popular pan fish lake. There are also abundant populations of perch and northern pike. Along with Catherine Lake and Lake Marie, Petite Lake is popular with families. There is almost no water skiing, and sand bars and beaches make great places to swim and play.
Grass Lake is best known for the American lotus that floats on the mirrored surface of the lake. Thin stems with large lime-green leaves rise to the surface with yellow lily-shaped flowers. There was a time when the entire lake was covered with the beautiful flowers; today they only grow in pockets around Grass Lake. The lake is only three feet deep, making it the shallowest of the Fox Chain O'Lakes. However, the lake still sports healthy populations of northern pike, bass, and catfish.
Fox Lake is full of walleye, white bass and perch, and the channel catfish and crappie fishing is exceptional around Crabapple Island. With 1,700 acres of water and over a dozen boat ramps, Fox Lake is a fantastic lake for boating, jet skiing, water skiing, and wake boarding. The lake connects to 420-acre Nippersink Lake which is often considered part of Fox Lake. Nippersink Lake also connects to Grass Lake and Pistakee Lake. Pistakee Lake is the farthest south on the Chain. The 1,700-acre lake sits on the McHenry County and Lake County border and has an average depth of six feet with a maximum depth of 30 feet. Pistakee Lake has abundant populations of white bass, channel catfish and walleye which have been stocked in the Chain since 1978.
Just four miles south of the Illinois and Wisconsin border, the Chain O'Lakes State Park touches parts of Grass Lake, Lake Marie, and Nippersink Lake. The 2,793-acre state park was established in 1945 and borders a 3,230-acre Conservation Area. Trails cross the park, and there are horse rentals and camping available. In season there is hunting for doves, archery deer and pheasant. There is also waterfowl hunting in the park and in places all along the Chain. In the winter, visitors can ice skate, ice fish and cross-country ski. The Fox Chain O'Lakes is a four season destination.
The Fox Chain O'Lakes is between Chicago and Milwaukee, about an hour from each with access to all the amenities of cities their size. There are marinas, boat rentals, restaurants and accommodations including waterfront vacation rentals. Small towns dot the area around the Chain, and there is real estate available for sale for anyone wishing to extend their stay.
With so many different lakes in so many different flavors, there is a lake to suit everyone on the Fox Chain O'Lakes. Add the waterfront amenities, and visitors to the Chain hardly need to leave their boats. That may be the best vacation of all.
Things to do at Fox Chain O'Lakes
Vacation Rentals
Fishing
Boating
Swimming
Beach
Jet Skiing
Water Skiing
Wakeboarding
Camping
Hiking
Horseback Riding
Hunting
Wildlife Viewing
State Park
Fish species found at Fox Chain O'Lakes
Bass
Bluegill
Catfish
Channel Catfish
Crappie
Northern Pike
Perch
Pike
Sunfish
Walleye
White Bass
---
Fox Chain O'Lakes Photo Gallery
Fox Chain O'Lakes Statistics & Helpful Links
Spread the word! Share our Fox Chain O'Lakes article with your fellow Lake Lubbers!