Dworshak Reservoir, Idaho, USA
Lake Locations:
USA - West - Idaho - North Central -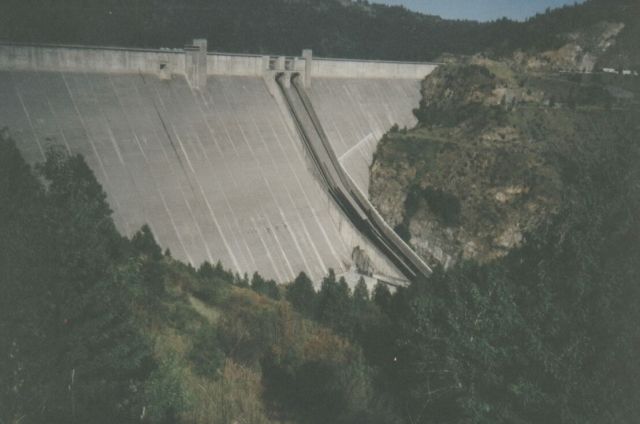 Dworshak Reservoir is an excellent outdoor recreation site with a great water playground of over 19,000 acres. Located in northern Idaho near the town of Orofino, it extends into the Bitterroot Mountains for beautiful scenic vistas. While log handling facilities exist today, Dworshak Reservoir is primarily used for recreational tourism, wildlife mitigation and wildlife habitat. Its very diverse outdoor recreational offerings for both summer and winter include water sports, hiking, biking, camping, fishing, wildlife viewing, swimming and game hunting. Its popularity is evidenced by the more than 140,000 yearly visitors. Lewiston, Idaho is some 35 miles east of the reservoir providing a source of supplies and city amenities.
The Dworshak Dam and Reservoir Project was authorized by Congress in 1962 as a flood control, recreation, wildlife mitigation and hydroelectric power enterprise with construction starting in 1966. It also provides transportation for the timber industry. The 53 mile long reservoir was created by damming the North Fork of the Clearwater River and was completed in 1972. Power generation comes from two 90,000-kilowatt turbines and one 220,000-kilowatt unit, coming online in 1973. Dworshak Dam is the highest straight axis dam in the Western Hemisphere and is the third highest dam in the U.S.
Dworshak Reservoir provides a wealth of outdoor recreation opportunities. A proliferation of camp grounds, both developed and primitive, surround the reservoir including Dworshak State Park. Remote mini-campsites are located on the reservoir, providing gorgeous locations for the boater/camper. There are over 200 camping sites, numerous picnic and recreation areas, playgrounds, and swimming areas around the reservoir. A marina provides slips for boating and there a number of boat ramps available.
The major sport fishing in Dworshak Reservoir is the kokonee salmon along with thousands of pounds of trout stocked annually to alleviate the loss of angler days from the dam construction. Dworshak National Fish Hatchery was built by the Corps to provide stockable trout. The Dworshak Fish Hatchery has a design capacity of 420,000 pounds of steelhead trout smolt and there are fish collection facilities at the powerhouse. The Hatchery, operated by the U.S. Fish and Wildlife Service, is the largest steelhead hatchery in the world – certainly worth a visit. Dworshak Reservoir is obviously a trout and salmon angler's paradise.
In addition to the fish mitigation efforts, wildlife mitigation concentrating on the Rocky Mountain elk and white-tailed deer. Wildlife viewing is enhanced by a significant variety of bird and other animal species. For the geocachers among us, there are over 15 caches located in the area – some are very easy to find. That GPS receiver will add to your enjoyment!
Dworshak Reservoir is truly an outdoor enthusiasts location, in a gorgeous scenic setting. If you are in central Idaho, you must stop there and partake of its offerings.
Things to do at Dworshak Reservoir
Vacation Rentals
Fishing
Boating
Swimming
Camping
Picnicking
Hiking
Biking
Hunting
Wildlife Viewing
State Park
Playground
Fish species found at Dworshak Reservoir
Salmon
Steelhead Trout
Trout
---
Dworshak Reservoir Photo Gallery
Dworshak Reservoir Statistics & Helpful Links
Spread the word! Share our Dworshak Reservoir article with your fellow Lake Lubbers!