Devils Lake, Oregon, USA
Lake Locations:
USA - West - Oregon - The Coast -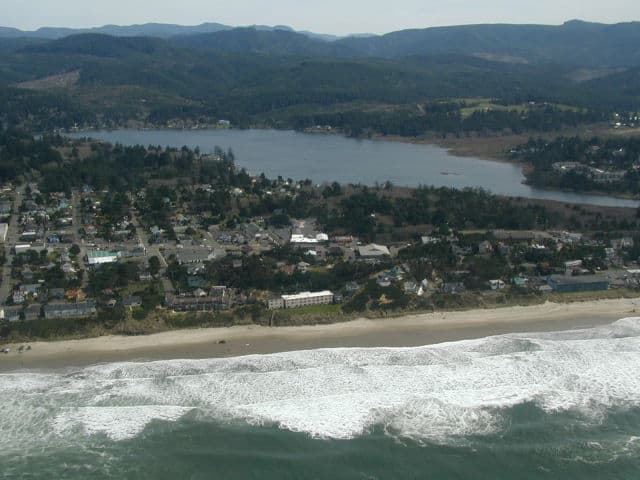 Far from anything maleficent, Devils Lake is a sweet little wonder lying in the midst of Oregon's attractive Lincoln City. The lake is situated in a unique location on Oregon's Pacific Ocean coast, connected, in fact, to the ocean via D River (yes, actually the letter "D"). But names do carry their meanings, and Devils Lake's less-than-sweet title was inspired by a legend of the American Indian Siletz people that used to inhabit the area. According to Chief William Depoe, the late Siletz chief, the people encountered the bad spirits of the water during a celebration when a creature emerged to capture a group of Siletz warriors, pulling them down into the lake's disrupted waters. The spirits were eventually appeased, and the people showed respect by making offerings before crossing the lake.
The events of the legend might be a little spooky, but the present-day lake's attractive features are anything but. The 685-acre body of freshwater was formed in 14,000 B.C.E. by a blockade of sand dunes and other deposits from the nearby beach. Devils Lake is about 3 miles long and 0.4 miles wide. D River, once named the world's shortest river at 120 feet, flows from Devils Lake into the Pacific and is the lake's only outflow. Rock Creek, on the lake's south end, and Thompson Creek, to the lake's northeast, are the major sources of inflow.
There is a modest dam on D River that controls the water level of Devils Lake, particularly during the recreational months of the summer (10.4 feet above sea level is considered the normal water level, 12 feet is considered flood stage). The Devils Lake Water Improvement District (DLWID) maintains the dam. Generally, the water level does not drop more than two feet; it varies only slightly depending largely upon precipitation which peaks during the winter months. Cyanobacteria (also known as blue-green algae) blooms can occur during warm summer months, so check with the DLWID for advisories to activities such as swimming, water skiing, and jet skiing.
Rainbow trout, grass carp and coho salmon are plenty, but there are stringent fishing restrictions. Devils Lake is stocked with hatchery-raised rainbow trout every year. These trout have had their adipose fins removed (that's the small fin on top closest to the tail) and are allowed to be captured. Wild trout, on the other hand, must be released unharmed. Grass carp were introduced to the lake by the Devils Lake Water Improvement District in an attempt to control unwanted vegetation. Removing the grass carp is prohibited. Adult coho salmon swim from the ocean to the lake in order to spawn. These wild salmon are considered endangered, so capture of salmon in the lake is also forbidden.
Devils Lake, surrounded by riparian life, wetlands, creeks, beach, ocean, and forest is an area of true biodiversity. Nature lovers will enjoy the coming together of these various ecosystems. You will sight many species of birds – commonly grebes, various species of ducks, coots, cormorants, the great blue heron, geese, egrets, migratory birds and so much more. Lounge on the lake, take advantage of one of the nearby sites (D River Wayside, East Devils Lake State Park, West Devils Lake State Park, Rock Creek Marsh, and Spring Lake Open Space) or take to the Oregon Coast Birding Trail with binoculars in hand.
Wildlife in the area include elk, deer, beavers, bats, butterflies, raccoon, muskrat, and opossums. Cougar and bears have reportedly wandered from the nearby Siuslaw National Forest.
Lincoln City is a main tourist attraction and a premier retirement location. Outdoor enthusiasts can choose from a host of freshwater and saltwater activities such as boating, fishing, swimming, kayaking, canoeing, sailing, windsurfing, whale-watching, clamming and crabbing, horseback riding, skateboarding, or kite-flying- the list goes on. Public access to the lake can be found at Regatta Grounds, Sand Point, Holmes Road Park, and East Devils Lake State Park. Boat rentals are available at a private marina. Bicycling and hiking are popular through Lincoln City's many Open Spaces. Devils Lake is also the venue for high-speed hydroplane racing, and each October hosts the Rocky Stone Memorial Kilo. For those who prefer less adrenaline-pumping activities, Lincoln City also offers activities such as antique shopping, cuisine classes, and glass art classes. So plan to stay for awhile; your options are endless.
Things to do at Devils Lake OR
Vacation Rentals
Fishing
Boating
Sailing
Swimming
Beach
Canoeing
Kayaking
Jet Skiing
Water Skiing
Hiking
Biking
Horseback Riding
Wildlife Viewing
Birding
State Park
National Forest
Antiquing
Shopping
Fish species found at Devils Lake OR
Carp
Coho Salmon
Grass Carp
Rainbow Trout
Salmon
Trout
---
Devils Lake OR Photo Gallery
Devils Lake OR Statistics & Helpful Links
Spread the word! Share our Devils Lake OR article with your fellow Lake Lubbers!