Lake Leelanau, Michigan, USA
Also known as:  Carp Lake
Welcome to the ultimate guide for history, statistics, local fun facts and the best things to do at Lake Leelanau. If you're considering Lake Leelanau vacation rentals and hotels, we've made it super easy to compare and book using the interactive map below. Or keep scrolling to read our Lake Leelanau Guide!
Lake Leelanau Visitor and Community Guide
Michigan is a bounty of natural resources – a place where every town is less than two hours from a body of water. Among these bodies of water, Lake Leelanau (pronounced LEE-lan-awe) stands out not only because of its Narrows, which separate the North Lake from the South Lake, but also because of its close proximity to some of the most outstanding attractions in the country. Lake Leelanau lies in the Northwestern Lower Penninsula of Michigan. This coastal area is a popular vacation destination. The tourist town of Traverse City is a short distance southeast of the lake. The north basin of Lake Leelanau meets Lake Michigan near the picturesque town of Leland. Although a dam prevents boats from entering Lake Michigan by way of Lake Leelanau, the inland lake remains connected to Lake Michigan through the mile-long Leland River. Across Lake Michigan lie the Manitou islands, which are a natural treasure for the state. Whichever direction you head, Lake Leelanau is a gateway to the best Michigan has to offer its visitors. Even if you don't venture from the shores of the lake itself, you'll experience history, beautiful scenery, and great activities.
Lake Leelanau has been designated as a warm and cold water fishery. Recreational fishing is a rich experience in Lake Leelanau because the North and South basins have different depths of water, attracting specific types of fish to each part of the lake. Award winning Brown Trout have been found in North Lake Leelanau for more than half a century. Bluegills are plentiful in the more shallow water of the South Lake. Northern Pike, several types of Bass and Yellow Perch can be found in both the North and South Basins. Thanks to efforts to populate the lake, Walleyes are by far the most abundant fish in Lake Leelanau. Nearby Leland holds a Walleye Festival each spring, celebrating the millions of Walleye that now fill the lake. Fishtown, a century-old fishing village in historic Leland, hosts charter fishermen who offer guided fishing trips, equipment and even instruction. Smoked fish is available in town from the local fisheries as well as fresh fish in the restaurants. Leland also has a full service marina, honoring the long tradition of boating in the Great Lakes State. The public ferry to the Manitou Islands departs from the Fishtown docks. The Islands are a haven for wildlife. They are accessible by private boat or ferry, and camping is permitted on both islands. Visitors to the island will enjoy the guided tours of preserved shipwreck sites and other historic landmarks.
Residential properties are available along the 41 miles of Lake Leelanau shoreline and in the lakeside communities of Leland and Cedar. The North and South basins of the lake are intersected by State Highway 204, which leads to the nearby community of Suttons Bay. Lake Leelanau is a designated source of water for portions of these communities. Though this region is not densely populated, with more than half of the land being woodlands and agricultural, the lake shores are well developed with private residential properties. East of Lake Leelanau, Traverse City is the nearest urban area and is known for sweet Michigan cherries and an annual Cherry Festival in July. There are wineries in the area that can make a drive through Traverse City to Lake Leelanau even more enjoyable. For those who prefer the road less traveled, M-22 follows the western coastline of Michigan and is the more scenic route to Lake Leelanau from points south. Some of the most beautiful beaches in the country are along the coast of Western Michigan. You can climb vast sand dunes, breathe clean air, and dip your feet into the pristine waters that define this particular area of the country.
Winter is cold in Michigan, so when warm weather finally arrives, the entire state comes alive with art, music, food and all the gifts of summer. The Sleeping Bear Dunes National Lakeshore is not far from Leelanau Lake and has breathtaking views along with summer events like the annual Manitou Music Festival.
Lake Leelanau is one of the many recreational lakes that make Michigan a wonderful place to spend summer vacation with family and friends. Cottages, log cabins and campgrounds abound near Lake Leelanau. With so many bodies of water, Michigan has no shortage of places to rent and purchase fishing boats, kayaks, and other water sports equipment. Gas service and launches are available for boats on both North and South Lake Leelanau, and the waters are navigable to the town of Cedar.
Those who brave the cold Michigan winter enjoy the beautiful scenery and ski resorts near Lake Leelanau. Ski runs for all levels of experience and terrain parks for snowboarders are within thirty minutes of the Lake Leelanau area.
Lake Leelanau runs 15 miles through the Leelanau Peninsula and has approximately 41 miles of shoreline. The entire lake includes two bodies of water, referred to as North Lake Leelanau and South Lake Leelanau. North Lake Leelanau is 2,950 acres. South Lake Leelanau is an expansive 5,370 acres. Together, the North and South Lakes span 8,320 acres. Between the two lakes, the water narrows near Highway M-204 in the community of Lake Leelanau. Called 'The Narrows,' this channel is a mile long and creates the border that defines the two basins. The North Lake averages 43 feet in depth, while the South Lake has an average depth of only 25 feet. Cedar River empties into Lake Leelanau and accounts for most of the water surface of the South Lake. Lake Leelanau Watershed drains 158 square miles of water. At its deepest point, South Lake Leelanau is 62 feet. North Lake Leelanau plunges 121 feet at its deepest.
Fountain Point, an historic landmark and summer resort on the South Lake, is one of the highlights of Lake Leelanau. The artesian spring at Fountain Point formed in 1867 when French fur trader Andre de Beloit attempted to drill for oil and instead struck a spring of water that has been streaming ever since. The spring is an attraction that has helped earn Fountain Point at Lake Leelanau a place on the Nation's Historic Registry.
Custom Lake Leelanau House Decor
Read our full review of these personalized lake house signs.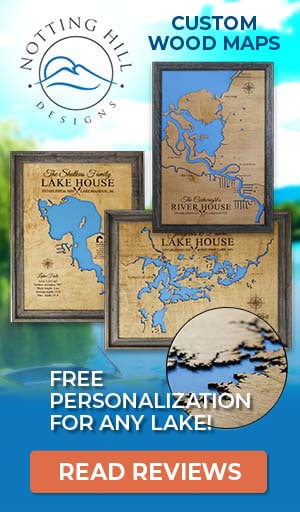 Things to Do at Lake Leelanau
Vacation Rentals
Fishing
Boating
Swimming
Beach
Kayaking
Camping
Campground
Cabin Rentals
Wildlife Viewing
Fish Species Found at Lake Leelanau
Bass
Bluegill
Brown Trout
Northern Pike
Perch
Pike
Trout
Walleye
Yellow Perch
---
Best Hotels and Vacation Rentals at Lake Leelanau
The Lake Leelanau map shown above is a simple and stress-free way to search for trip accommodations. But if you want to take a deeper dive to find the ideal waterfront home, cabin, cottage, condo, hotel or resort, visit our favorite lodging partners by clicking the buttons below.
Note: These are affiliate links so we may earn a small commission if you book through them. While there is no extra cost to you, it helps provide resources to keep our site running (thank you)! You can read our full disclosure policy here.
---
Lake Leelanau Statistics & Helpful Links
We strive to keep the information on LakeLubbers as accurate as possible. However, if you've found something in this article that needs updating, we'd certainly love to hear from you! Please fill out our Content Correction form.
Advertise Your Lake Leelanau Vacation Rental
LakeLubbers will soon offer homeowners and property managers the opportunity to to showcase their vacation rentals to the thousands of lake lovers searching our site daily for accommodations. If you'd like additional details, please contact our advertising team here.
Looking for the Lake Leelanau Forum?
LakeLubbers previously offered visitors the ability to create accounts and participate in lake forums. When we overhauled the site's content management system in 2021 we had to disable those features. We're evaluating options and welcome your comments and feedback here. We also encourage you to join our lake-lovin' community on Facebook, Instagram and Pinterest!
Lake Leelanau Photo Gallery
New photos coming soon!
Spread the word! Share our Lake Leelanau article with your fellow Lake Lubbers!