Houghton Lake, Michigan, USA
Welcome to the ultimate guide for history, statistics, local fun facts and the best things to do at Houghton Lake.
If you're considering Houghton Lake vacation rentals, we've made it super easy to explore accommodations and nearby hotels using the interactive map below. Simply click on a listing to compare similar properties, best rates and availability for your dates. Or keep scrolling to read our Houghton Lake guide!
Houghton Lake visitor and community guide
Houghton Lake is a shallow, marshy lake with a sandy, gravely bottom. Warm in the summer, freezing over during the winter months, and staying cool during the spring, the lake averages around 7-1/2 feet deep. The maximum depth is 22 feet measured in the lake's East Bay, but depths greater than 17 feet are uncommon. The water levels drop about 6 inches during the winter to allow for expected snowmelt and the precipitation of spring rains and rise again in the summer.
The lake sits between Interstate 75 and US-27 in Roscommon County, Michigan (less than three hours from Detroit) and lies in the areas of four townships (Markey, Denton, Roscommon and Lake Townships). It measures about 7-1/2 miles long and 4-1/2 miles wide and boasts over 32 miles of shoreline. Houghton Lake takes its name from Michigan's first state geologist, Douglas Houghton, who surveyed the region around 1832 to 1837.
Three towns border the lake – Houghton Lake and Houghton Lake Heights to the southwest and Prudenville to the southeast. There is a historic village in Prudenville that takes visitors back to the old ways of the area. The village includes a historic schoolroom built in 1876, a 19th-century pioneer village, a village museum, a playhouse and a wooded nature area for relaxation.
The community around the lake began developing when the lumbering industry in Michigan was booming and was settled in 1873. You may enjoy a visit at the Hartwick Pines Logging Museum in the Hartwick Pines State Park (in the vicinity of the nearby town of Grayling), where visitors re-visit the 19th century era of logging, and learn about the fascinating lifestyles of the time. The museum stands among one of Michigan's last preserves of virgin white pine that once covered the Michigan peninsula.
Cut River brings water from Higgins Lake (lying to the north of Houghton Lake), and is Houghton Lake's primary inflow. Houghton Lake is Michigan's largest inland lake. Its surface area measures approximately 20,044 acres and it is the source of the Muskegon River, the mouth of which opens out from the North Bay in the northwestern corner of Houghton Lake. Muskegon River flows for over 200 miles before letting out into Lake Michigan.
Houghton Lake is affected by a number of water level controls. The State of Michigan sets the legal water levels for Houghton Lake, and the Roscommon County Drain Commissioners are responsible for regulating Houghton Lake levels (as well as the levels on nearby Higgins Lake and Lake St. Helen) through a series of dams. Water levels are typically six inches lower in winter than in summer to make room for winter snowmelt in the spring.
Houghton lake lies at an elevation of approximately 1,139 feet, almost 4 feet higher than the lake would be naturally. Because of that, seawalls have been constructed around most of Houghton Lake. There are also numerous culverts and two pumping stations on the Houghton Lake Flats on the west edge of the lake. The Flats are 670 acres of marshy wetlands that were once connected to the lake. It is a prime wildlife area and many enthusiasts will pull into the overlooking wildlife observation deck on Old US-27 (some hundred feet off US-27) to watch osprey and heron. The pumping stations occasionally pump water into Houghton Lake to allow maintenance of the marsh and are managed by Michigan's Department of Natural Resources.
A diversity of aquatic plants live in Houghton Lake, including chara, elodea, various species of pondweed, and Eurasian milfoil. At one point the milfoil covered 11,000 acres of the lake and has responded to various treatments since 2002, when the Houghton Lake Improvement Board (HLIB) decided to resolve the problem. Treatments included a herbicide, called Sonar, and weevil stocking. The quantity of milfoil has greatly decreased since 2002.
The lake supports a wide range of recreational activity, but it is so big that it is never crowded. Visitors have their pick of nearly any water sport – jet skiing, boating, canoeing or fishing. Northern pike, walleye, panfish, crappie, yellow perch, and largemouth bass are common game; Houghton Lake is one of the most popular fisheries in Michigan. The immensely biodiverse area also attracts hunters, hikers and other nature enthusiasts. Roscommon County boasts 12 golf courses, varied enough for both novice and experienced golfers. Golf packages are available for serious golfers.
Winter activities are a great attraction on Houghton Lake. Snowmobiling, cross country skiing, snowshoeing, and ice fishing are of the most popular activities. Every winter, the seventh largest winter festival in the United States is held. It is called Tip-Up Town and occurs the last two weekends every January. The festival was created in 1951 as a way to have fun during the winter months and now draws crowds of people in the thousands. The festival incorporates lots of winter sports and features games, a parade, quirky elections for Mayors, Marshalls and Queens, fireworks, a hidden medallion to be found with different clues given each day, fishing contests and grand prize drawings.
If you plan your trip on a major holiday, such as Memorial Day, July Fourth or Labor Day, you may stop to take in the Arts and Crafts Show put on by local arts and crafts groups. The machine and computer quilting at A.J. Quilting might add a fun dynamic to your Houghton Lake experience, or you can check out the Kirtland Center for Performing Arts for a taste of Michigan's cultural flavor.
Tourism is the Houghton Lake area's largest source of revenue for the local economy and offers dependable options for lodging and dining. Campground, motel, hotel, lodge, or resort – whichever suits your style – in the Houghton Lake area, you have the luxury of choice. Make your stay a wildly fulfilling one.
Custom Houghton Lake house decor
Read our full review of these personalized lake house signs.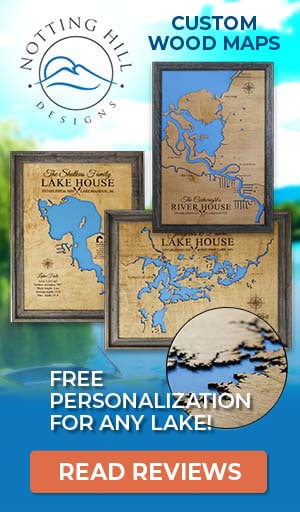 Things to do at Houghton Lake
Vacation Rentals
Fishing
Ice Fishing
Boating
Canoeing
Jet Skiing
Golf
Camping
Campground
Hiking
Cross-Country Skiing
Snowmobiling
Hunting
Wildlife Viewing
Birding
State Park
Museum
Fish species found at Houghton Lake
Bass
Black Bass
Crappie
Grayling
Largemouth Bass
Northern Pike
Perch
Pike
Walleye
Yellow Perch
---
Best hotels and vacation rentals at Houghton Lake
The Houghton Lake map shown above is a simple and stress-free way to search for trip accommodations. But if you want to take a deeper dive to find the ideal waterfront home, cabin, condo, hotel or resort, visit our favorite lodging partners by clicking the buttons below.
Note: These are affiliate links so we may earn a small commission if you book through them. While there is no extra cost to you, it helps provide resources to keep our site running (thank you)! You can read our full disclosure policy here.
---
Houghton Lake photo gallery
New photos coming soon!
Houghton Lake statistics & helpful links
We strive to keep the information on LakeLubbers as accurate as possible. However, if you've found something in this article that needs updating, we'd certainly love to hear from you! Please fill out our Content Correction form.
Advertise your Houghton Lake vacation rental
LakeLubbers will soon offer homeowners and property managers the opportunity to to showcase their vacation rentals to the thousands of lake lovers searching our site daily for accommodations. If you'd like additional details, please contact our advertising team here.
Looking for the Houghton Lake forum?
LakeLubbers previously offered visitors the ability to create accounts and participate in lake forums. When we overhauled the site's content management system in 2021 we had to disable those features. We're evaluating options and welcome your comments and feedback here.
We also encourage you to join our lake-lovin' community on Facebook and Instagram!
Spread the word! Share our Houghton Lake article with your fellow Lake Lubbers!