Upper Rideau Lake, Ontario, Canada
Also known as:  Rideau Lakes
Welcome to the ultimate guide for history, statistics, local fun facts and the best things to do at Upper Rideau Lake.
If you're considering Upper Rideau Lake vacation rentals, we've made it super easy to explore accommodations and nearby hotels using the interactive map below. Simply click on a listing to compare similar properties, best rates and availability for your dates. Or keep scrolling to read our Upper Rideau Lake guide!
Upper Rideau Lake visitor and community guide
Upper Rideau Lake holds a prominent place in Ontario's 'other Cottage Country'. Although many think of the area around Lake Muskoka as Eastern Canada's vacation playground, serious boaters all know about Upper Rideau Lake. A marvel of early 1800s ingenuity, the Rideau Canal is the oldest continuously operated canal in North America. Upper Rideau Lake lies just about midway along the route of the canal, which connects Ottawa and Kingston. The waterway opened in 1832, leading to the area's increase in population by opening a route to what was called 'Upper Canada'. Upper Rideau Lake holds the distinction of actually being the western half of a large lake that was split into two water bodies by building the canal. A lock and dam separate Upper Rideau Lake and Big Rideau Lake at The Narrows. The waterway has been named a UNESCO World Heritage Site. Much of the area around Upper Rideau Lake is a part of the Frontenac Arch Biosphere Reserve.
Upper Rideau Lake is excellent for water sports. Sailing, water skiing, house boating and windsurfing are favorite summer activities. The many inlets and bays draw paddlers with canoes and kayaks where they can view wildlife along the wooded shoreline. The view of the high rocky granite cliffs to the north from the lake is spectacular. Fishing draws sportsmen to Upper Rideau Lake both summer and winter. Northern pike, yellow pickerel, largemouth bass, smallmouth bass, bluegill, pumpkinseed, yellow perch, burbot and rock bass are caught in the lake. Some areas are off-limits certain parts of the year as a fish conservation measure. All prospective fishermen need to check local fish and game regulations as some areas are open one year and closed the next due to water conditions and spawning needs. Although most Rideau Waterway fish are safe to eat in large amounts, guidelines should be consulted for recommendations. In winter, ice fishing in the shallow bays, cross-country skiing, snowshoeing and snowmobiling provide entertainment for the cold-hardy native and visitor.
Upper Rideau Lake has one town at the west end of the lake and many small settlements and groupings of cottages along the rest of the shoreline. The settlement of Westport originated in 1828 when the first dam was built on the lake. The dam was used to power a mill at the point where Sand Lake ran into Rideau Lake. A succession of mills and associated businesses made the settlement a growing concern even before the completion of the Rideau Canal. In 1904 the village became a self-governing municipality with all the amenities needed to welcome waterway travelers and vacationers who came by car. Today, Westport Harbor provides all amenities necessary for boaters including fuel, slips, shore power, picnic tables, barbecue grills and boat service. Groceries and shopping are available in the village within walking distance. Westport has golf courses and swimming beaches for visitors to enjoy. The Rideau Valley Art Festival is held annually in Westport, and many artists call Westport home; there are many local artists who are pleased to welcome browsers to their shops and studios. There is no public transportation in Westport. Just east along the shore, the Foley Mountain Conservation Area provides hiking trails and a spectacular view of the region. The Rideau Trail, extending from Kingston to Ottawa, runs through the conservation area. Several campgrounds and RV parks are located along the shore, with at least one additional marina located near the Narrows Lock and Dam. Westport itself has a variety of vacation rentals close to town, including inns, hotels, motels, bed-and-breakfasts and private lakefront and forest cottages.
The entire 125-mile canal system is open to boats less than 90 feet long, provided that their draft is less than five feet. Only about 12 miles of the canal are man-made; the rest utilizes several lakes and the improved courses of the Rideau and Cataraqui Rivers. The waterway was built by the British between 1826 and 1832 to provide a transportation route between Ottawa and Kingston, thus avoiding possible blockage by hostile United States forces on the St. Lawrence River. The entire system contains 47 individual locks, all operated independently. Most of the original locks are still in use. The Canal never needed to be used for security purposes, but became a popular route for settlers to access the interior of the province. Via the Rideau Canal, boaters can sail from the Ottawa River to the St Lawrence River. The waterway is extremely popular, meandering through a succession of lakes and stretches of river. Most lock stations have docking space and rest rooms. Some provide camping and picnic areas also.
The town of Newboro, at the canal's northern entrance to Newboro Lake, is considered the home of the Rideau canal system. A short stretch of canal brings boaters from McNally Bay on Upper Rideau Lake south to Newboro Lake. This canal was the cause of the unprecedented lock and dam across Rideau Lake: At the Narrows, the Canal's builder Captain By was forced to dam Rideau Lake to raise water levels on Upper Rideau Lake and points south. Faced with hard bedrock and crews sick with malaria, Captain By managed to ease canal construction into Newboro Lake and forever created two lakes in place of one. Here at Newboro is the dividing line for the two river drainages, with Rideau to the north and Cataraqui to the south. The elevation drop from Newboro north to Ottawa is 318 feet, and the drop south to Kingston is 430 feet.
Visitors need not arrive at Upper Rideau Lake by water. Several improved highways can be taken to Upper Rideau Lake from both Ottawa and Kingston. The Rideau Heritage Route loops through the Rideau Corridor, passing through Westport on its way to Ottawa. The Rideau and Cataraqui Trails wander through the corridor, providing hiking space through some of Ontario's most beautiful country. Vacation rentals are plentiful along the lakeshore. Most are private homes and provide canoes or small boats for vacationers to use during their stay. Real estate is always available somewhere on the lake, usually existing cottages or cabins. Many families reserve the same cottage year after year, thus making Upper Rideau 'their' lake. You'll want to make it yours, too. Come and listen to the peaceful nature sounds at dawn. You'll never want to leave.
Custom Upper Rideau Lake house decor
Read our full review of these personalized lake house signs.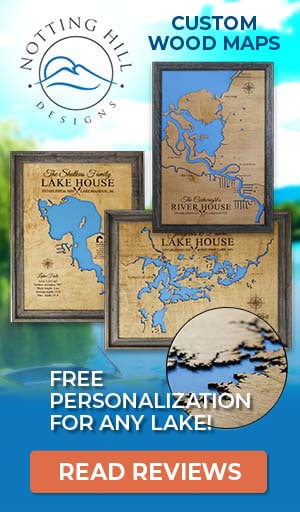 Things to do at Upper Rideau Lake
Vacation Rentals
Fishing
Ice Fishing
Boating
Sailing
Swimming
Beach
Canoeing
Kayaking
Water Skiing
Golf
Camping
Campground
Picnicking
Cabin Rentals
Hiking
Cross-Country Skiing
Snowmobiling
Wildlife Viewing
Playground
Shopping
Fish species found at Upper Rideau Lake
Bass
Black Bass
Bluegill
Burbot
Largemouth Bass
Northern Pike
Perch
Pickerel
Pike
Pumpkinseed
Smallmouth Bass
Sunfish
Yellow Perch
---
Best hotels and vacation rentals at Upper Rideau Lake
The Upper Rideau Lake map shown above is a simple and stress-free way to search for trip accommodations. But if you want to take a deeper dive to find the ideal waterfront home, cabin, condo, hotel or resort, visit our favorite lodging partners by clicking the buttons below.
Note: These are affiliate links so we may earn a small commission if you book through them. While there is no extra cost to you, it helps provide resources to keep our site running (thank you)! You can read our full disclosure policy here.
---
Upper Rideau Lake photo gallery
New photos coming soon!
Upper Rideau Lake statistics & helpful links
We strive to keep the information on LakeLubbers as accurate as possible. However, if you've found something in this article that needs updating, we'd certainly love to hear from you! Please fill out our Content Correction form.
Advertise your Upper Rideau Lake vacation rental
LakeLubbers will soon offer homeowners and property managers the opportunity to to showcase their vacation rentals to the thousands of lake lovers searching our site daily for accommodations. If you'd like additional details, please contact our advertising team here.
Looking for the Upper Rideau Lake forum?
LakeLubbers previously offered visitors the ability to create accounts and participate in lake forums. When we overhauled the site's content management system in 2021 we had to disable those features. We're evaluating options and welcome your comments and feedback here.
We also encourage you to join our lake-lovin' community on Facebook and Instagram!
Spread the word! Share our Upper Rideau Lake article with your fellow Lake Lubbers!