Commanda Lake, Ontario, Canada
Welcome to the ultimate guide for history, statistics, local fun facts and the best things to do at Commanda Lake.
If you're considering Commanda Lake vacation rentals, we've made it super easy to explore accommodations and nearby hotels using the interactive map below. Simply click on a listing to compare similar properties, best rates and availability for your dates. Or keep scrolling to read our Commanda Lake guide!
Commanda Lake visitor and community guide
A true jewel in the crown of Ontario's Near-North vacation playground, Commanda Lake is the perfect spot for either an annual vacation or a seasonal home. Located just south of Lake Nipissing, Commanda Lake lies just south of the popular Restoule Provincial Park amid miles of trails, waterways and historic locations. Nearby, the route of the Old Nipissing Road taken by early settlers wanders past the ruins of log cabins and tumble-down barns. The Loring Deer Yard, host to Ontario's largest winter deer herd, is a few miles away. Miles of hiking and canoeing routes focus on the Restoule and French Rivers. And there is Commanda Lake itself, serene and beautiful and teeming with fish. Several camps, lodges and resorts provide lodgings for annual visitors, many returning generation after generation. Many build cottages here and make Commanda Lake their own.
This 1357-acre lake in the Parry Sound District is large enough for activities such as water skiing, tubing and boating. Pontooning around the shoreline can take up much of a a day and is the perfect way to see the sights and wave to neighbors. A few cottagers enjoy using the long reach of the lake to sail their small craft. There is no marina on the lake, but many cottages have their own dock and can often arrange with the local resorts to launch their larger boats from their ramps. The irregular shoreline provides more than 14 miles of lakefront, mostly heavily-treed. Although there are quite a few cottages on the lake, there are still long stretches of woods harboring wildlife and many birds. Canoeing and kayaking are the perfect way to enjoy the local flora and fauna while getting a bit of exercise. It's also a perfect way to fish the many small inflowing streams that feed the lake. The village of Restoule sits along the highway at the north end of the lake, straddling the Restoule River.
Commanda Lake has bragging rights to its healthy walleye population. Northern pike, muskellunge, lake trout, smallmouth bass and largemouth bass are also caught here with walleye, pike and musky drawing the most fishing visitors. The camps and resorts along the lake offer all sorts of lodging choices, from motel-style rooms to housekeeping cottages to tent camping spaces. In keeping with fishing camp expectations, some locations offer guide service, while most provide boats or allow guests to bring their own. All Ontario fishing regulations are enforced, and visitors must have the appropriate provincial license to fish. Many of the resorts also stay open during the winter season as ice fishing, particularly for pike, is nearly as popular as casting on the open water. Some of the resorts also rent ice fishing huts complete with small cooking stoves for the mid-lake, mid-winter 'shore' lunch.
Evenings can get chilly here, even in mid-summer; campfires on the beach offer the perfect ambiance and a bit of warmth for exchanging fish stories and tall tales. Owls hoot spookily in the dark forest surrounding the camps and cottages, while loons sometimes wake light sleepers at dawn with their eerie cry. The stars are so bright it is startling in the dark sky, and the northern lights often make an appearance.
Commanda Lake is the headwaters of the short Restoule River which flows between Commanda and Restoule Lakes. The Restoule Provincial Park stretches on both sides of the river, providing miles of hiking, mountain biking and nature trails. The park is a treasured destination among paddling fans, with the French River route requiring several days of camping along side of the river, portaging short trails, and paddling across numerous connected lakes. This area is ideal for the winter sports enthusiast who will find miles of snowshoeing and cross-country skiing trails available.
Snowmobiling is also very popular with at least five major trails crossing the area. Many of the lodges and resorts cater specifically to the snowmobiling crowd, with some even renting snowmobiles to their guests. Two of the more popular snowmobile treks are the RAN (Ride Around Nipissing) and the RAP (Ride Around the Park). The many old logging trails on Crown land in the area offer excellent ATV routes, and 'meets' are often held at some of the resorts. The Deer Feeding Yard in winter allows people to view hundreds of deer at once as they come near the viewing platform to feed. With all of this opportunity for outdoor adventure, it is no wonder many families choose to buy or build a cottage of their own on either Commanda or Restoule Lake.
Although Commanda Lake is at the far reaches of the Muskoka Tourism Region, it is definitely cottage country. Located about 25 miles from little Port Loring and about 40 miles from North Bay, those needing a 'town break' can easily get out for an evening. The tour boat, Chief Commanda, sails out of North Bay daily onto Lake Nipissing. Meanwhile, the area is replete with small farm markets, artisan's shops, and historical markers to keep everyone occupied. The tiny hamlet of Commanda at the south end of the lake is home to the Commanda Museum and Heritage Center. This building displays the area's history within a restored storefront complete with Victorian 'gingerbread'. The architecture of this old store is unusual for this area of ancient pioneer cabins but has been lovingly restored. Here the visitor can learn the history of the original route of Samuel Champlain and of the early settlers to the region. And there is no better way to make Commanda Lake a part of your family heritage than to learn the history of both its First Nations residents and the early loggers, miners and settlers who settled here or simply passed through.
Real estate is often available in the form of existing cottages along Commanda Lake. There is even vacant land suitable for building to be found on occasion. Some property owners offer their cottages for weekly rental, and there are golf courses nearby for the avid golfer. A few restaurants in the area are available to give the family cook a break. And there is always something to do, even if it is sitting on the deck and reading a book. So escape the city and get back to nature at Commanda Lake.
*Although the lake has been surveyed for area, no depths are recorded.
Custom Commanda Lake house decor
Read our full review of these personalized lake house signs.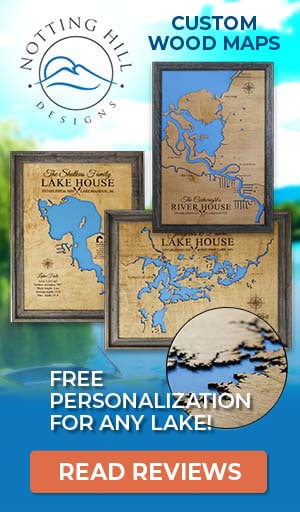 Things to do at Commanda Lake
Vacation Rentals
Fishing
Ice Fishing
Boating
Sailing
Swimming
Beach
Canoeing
Kayaking
Water Skiing
Tubing
Golf
Camping
Cabin Rentals
Hiking
Biking
Cross-Country Skiing
Snowmobiling
Wildlife Viewing
Birding
Provincial Park
Museum
Ruins
Playground
Fish species found at Commanda Lake
Bass
Black Bass
Lake Trout
Largemouth Bass
Muskellunge
Northern Pike
Perch
Pike
Smallmouth Bass
Trout
Walleye
---
Best hotels and vacation rentals at Commanda Lake
The Commanda Lake map shown above is a simple and stress-free way to search for trip accommodations. But if you want to take a deeper dive to find the ideal waterfront home, cabin, condo, hotel or resort, visit our favorite lodging partners by clicking the buttons below.
Note: These are affiliate links so we may earn a small commission if you book through them. While there is no extra cost to you, it helps provide resources to keep our site running (thank you)! You can read our full disclosure policy here.
---
Commanda Lake photo gallery
New photos coming soon!
Commanda Lake statistics & helpful links
We strive to keep the information on LakeLubbers as accurate as possible. However, if you've found something in this article that needs updating, we'd certainly love to hear from you! Please fill out our Content Correction form.
Advertise your Commanda Lake vacation rental
LakeLubbers will soon offer homeowners and property managers the opportunity to to showcase their vacation rentals to the thousands of lake lovers searching our site daily for accommodations. If you'd like additional details, please contact our advertising team here.
Looking for the Commanda Lake forum?
LakeLubbers previously offered visitors the ability to create accounts and participate in lake forums. When we overhauled the site's content management system in 2021 we had to disable those features. We're evaluating options and welcome your comments and feedback here.
We also encourage you to join our lake-lovin' community on Facebook and Instagram!
Spread the word! Share our Commanda Lake article with your fellow Lake Lubbers!