Clear Lake, Indiana, USA
Welcome to the ultimate guide for history, statistics, local fun facts and the best things to do at Clear Lake IN.
If you're considering Clear Lake IN vacation rentals, we've made it super easy to explore accommodations and nearby hotels using the interactive map below. Simply click on a listing to compare similar properties, best rates and availability for your dates. Or keep scrolling to read our Clear Lake IN guide!
Clear Lake IN visitor and community guide
Long-settled and long-popular, Clear Lake has been called home to thousands of residents over the past 150 years. Nestled in the northeast corner of Indiana near the borders of Michigan and Ohio, 800-acre Clear Lake is one of a number of natural lakes in this corner of the state. Steuben County is often called Northern Indiana Lakes Country. Clear Lake formed in a depression gouged by the last glacier to cover the region and was attractive to first Native American inhabitants and to European settlers by 1830.
Clear Lake, located five miles east of the Town of Fremont, is irregularly shaped. Its six-mile shoreline attracted seasonal vacationers in the 1800s who arrived mostly via the Fort Wayne, Jackson and Saginaw Railroad. Several large resort hotels, the latest rage in lakeside holidays, were built along the shore. Providing services for these visitors soon developed into a small community of year-round residents, along with residential cottages built by well-to-do part-timers. All types of amusements were offered to entice visitors, including hot air ballooning and scenic excursions on the lake. A sad testament to the popularity of such outings is recorded in the details of a tragic July 4th, 1859 boat capsizing in which 11 people drowned. The age of the automobile brought the middle-class to Clear Lake where they built smaller cottages and enjoyed their leisure time swimming, boating and fishing on the beautiful lake.
Clear Lake evolved into a community by 1900, when there were over 550 cottages along the shoreline. The Clear Lake Association was formed in 1919 and has continued in various incarnations to the present. The Association works to monitor water quality, sponsors various fun activities for residents, and encourages strong community spirit among the many lake residents in cooperation with the Steuben County Lakes Council. The community surrounding the lake was incorporated in 1932, a full 100 years after the first European settlers arrived. Clear Lake gained the appreciation of sailors who often held regattas here, and in 1939 formally created the Clear Lake Yacht Club. The yacht club continues to organize racing events and boating activities for its members. A water ski club practices aquatic tricks and advanced skiing formations, and cottagers enjoy pontooning, canoeing and swimming from the naturally sandy beaches bordering the shore. A small marina on the west shore rents boats and provides repairs.
One public beach is provided, although information on it is scarce. Steuben County owns a small county park on the southeast side of the lake off Lake Drive. The park offers some picnic tables and a concrete boat ramp. Boat motors are permitted, and there is some space for bank fishing along the shore at the launch site. Fishing has always been popular at the lake, with the Indiana Department of Natural Resources regularly stocking walleye, rainbow trout and steelhead trout. The lake also holds yellow perch, black crappie, smallmouth bass, bluegill, largemouth bass and rock bass. Ice fishing is popular, and the yellow perch are an especially attractive winter catch. All Indiana fishing regulations are in effect and the appropriate license must be obtained. Bait shops are located near the lake and can often direct the visiting fisherman to the current hotspots and preferred lures.
There is no camping facility on the Clear Lake shoreline. The nearest camping is at Pokagon State Park a few miles to the west. A few cottage resorts still exist along the lakefront and fill up quickly on summer weekends. Reservations are a must in order to get the choicest cottages. There are no commercial hotels still in existence at Clear Lake, although a few small motels can be found nearby on the state highways. Luckily, numerous private owners rent their homes by the week and often include a boat or canoe. Major hotels and other lodgings can be found along I-69 to the west, while convenience stores, gas stations and small cafes can be located nearby.
Although the lakefront is densely ringed by cottages and larger homes, the lake has only about 400 year-round residents, a number that swells to around 2000 each summer. Located in a quiet section of farmland, Clear Lake is near enough to several attractions that make a 'summer at the lake' an attractive prospect. Located about 10 miles north of historic Angola, most services not available in nearby Fremont can be found here. Coldwater, Michigan is less than 20 miles to the north. Michigan's Amish Country is found around Reading and Camden, less than five miles away and requires cautious driving on area roads to avoid slow-moving buggies. The geology that created Clear Lake extends into both northern Ohio and Southern Michigan in the form of myriad lakes for fishing, boating and lakeside fun. Only 10 miles to the west, the outlet malls near Fremont will please the bargain-hunter. Both Lake James and Pokagon State Park offer water-and nature-based outdoor fun in the same area.
The quiet country roads are ideal for walking and cycling adventures. A local cycling club can provide maps of good routes to bicycle and will enjoy having new two-wheel fans join them on leisurely rides. Although this is primarily farmland, the area still holds many whitetail deer, raccoon, squirrels, foxes and birds of prey. The wetland margins of the lake are a haven for waterfowl as well as a nursery for small fishes, frogs, turtles and other wetland denizens.
Clear Lake is one of a loosely connected chain of lakes in the tri-state area. One of the inlets to Clear lake is a little, non-navigable stream coming from nearby Lake Ann. The outlet drains into Round Lake. A birdseye view of the area would show many lakes more or less in a line up into Michigan and east into Ohio. The lakes are no longer connected, although they likely were in pre-history. As is normal, the lakes are aging in that they are taking in sediment and losing their pristine quality to some extent. In an effort to stave off the inevitable, many researchers have attempted to find ways to maintain the lakes as high-quality bodies of water, including reducing erosion and soil run-off and preventing pollution from entering the watershed. Luckily, efforts are in place and ongoing at Clear Lake and for the present, the lovely lake remains one of Indiana's prettiest and most desirable.
Real estate is available along Clear lake, in a variety of price ranges. Occasionally a build-able lot will be offered for sale, although most listings are for existing dwellings. This is the ideal location for either a weekend getaway or permanent retirement home. Fish, swim, sail or waterski: Clear Lake has it all.
Custom Clear Lake IN house decor
Read our full review of these personalized lake house signs.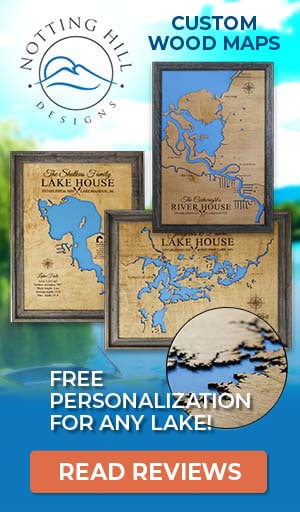 Things to do at Clear Lake IN
Vacation Rentals
Fishing
Ice Fishing
Boating
Sailing
Swimming
Beach
Canoeing
Water Skiing
Picnicking
Biking
Hunting
Wildlife Viewing
Birding
State Park
Fish species found at Clear Lake IN
Bass
Black Bass
Black Crappie
Bluegill
Crappie
Largemouth Bass
Perch
Rainbow Trout
Smallmouth Bass
Steelhead Trout
Sunfish
Trout
Walleye
Yellow Perch
---
Best hotels and vacation rentals at Clear Lake IN
The Clear Lake IN map shown above is a simple and stress-free way to search for trip accommodations. But if you want to take a deeper dive to find the ideal waterfront home, cabin, condo, hotel or resort, visit our favorite lodging partners by clicking the buttons below.
Note: These are affiliate links so we may earn a small commission if you book through them. While there is no extra cost to you, it helps provide resources to keep our site running (thank you)! You can read our full disclosure policy here.
---
Clear Lake IN photo gallery
New photos coming soon!
Clear Lake IN statistics & helpful links
We strive to keep the information on LakeLubbers as accurate as possible. However, if you've found something in this article that needs updating, we'd certainly love to hear from you! Please fill out our Content Correction form.
Advertise your Clear Lake IN vacation rental
LakeLubbers will soon offer homeowners and property managers the opportunity to to showcase their vacation rentals to the thousands of lake lovers searching our site daily for accommodations. If you'd like additional details, please contact our advertising team here.
Looking for the Clear Lake IN forum?
LakeLubbers previously offered visitors the ability to create accounts and participate in lake forums. When we overhauled the site's content management system in 2021 we had to disable those features. We're evaluating options and welcome your comments and feedback here.
We also encourage you to join our lake-lovin' community on Facebook and Instagram!
Spread the word! Share our Clear Lake IN article with your fellow Lake Lubbers!