Cedar Lake, Indiana, USA
Also known as:  Lake of The Red Cedars
Welcome to the ultimate guide for history, statistics, local fun facts and the best things to do at Cedar Lake IN.
If you're considering Cedar Lake IN vacation rentals, we've made it super easy to explore accommodations and nearby hotels using the interactive map below. Simply click on a listing to compare similar properties, best rates and availability for your dates. Or keep scrolling to read our Cedar Lake IN guide!
Cedar Lake IN visitor and community guide
Historic Cedar Lake in the North Region of Indiana has figured prominently in Chicago-area resort history. The 794-acre natural lake was the result of a large block of glacial ice that was left when the glacier receded thousands of years ago. Located a few miles east of the Indiana-Illinois state line, the lake was originally called Lake of The Red Cedars for the large number of trees lining its shores. Now, the lake is a favored residential lake for commuters from Gary and Chicago who enjoy lake living, boating and fishing. The shoreline is heavily developed with increasingly upscale housing; the Cedar Lake community is populated by nearly 10,000 residents. The local yacht club is a center of community activity as is the Cedar Lake Country Club.
Fishing, boating and golf form the center of activity around Cedar Lake. The large shallow lake is favored for sailing, pontooning, jet skis, water skiing and power boating. There is little public access to the lake other than a boat launch on the north shore. However, thousands of children have fond memories of Cedar Lake after attendance at a church-sponsored camp on the west shore. Here they enjoy swimming, canoeing, kayaking, picnicking, volleyball, tennis, team sports, campfires and religious instruction. The camp also sponsors adult religious retreats and offers a small public campground with RV services. Other visitors can take advantage of the many vacation rentals long the lakefront.
A marina on the northwest shore of Cedar Lake rents pontoons, jet skis and other watercraft besides selling ice, convenience foods and fishing necessities. The yacht club teaches sailing and holds regular regattas on the lake. Fishing is popular here, with some large crappies being the main attraction. Other sport fish include largemouth bass, smallmouth bass, bluegills and an occasional white perch, illegally planted.
The main water outlet of Cedar Lake is Cedar Creek, leading from the east side of the lake to Lake Delacarlia, a man-made lake a few miles downstream. A city park on the east side of the lake offers a small beach, playground, picnic tables and recreation courts. Less than a mile east of the lake, Lemon Lake County Park is open to the public. Lemon Lake offers fishing, hiking, cross-country skiing, picnic facilities with grills, restrooms, sledding hill, baseball and softball diamonds, tennis courts, soccer field, volleyball courts, dog park and paddleboat rental in season. The park also has a championship disk golf course where the World's Professional Disk Golf Tournament will be held in July of 2010.
Only 20 miles south of Gary, Indiana and 40 miles from Chicago, Cedar Lake became a favored hunting and fishing destination early in the development of Chicago as a business hub. By 1834, lodges were being built along the shore to accommodate European hunters who shared game trails with the local Pottawatomie. By 1850, the Native American population had been forced farther west, and the lake was becoming a more frequent destination for hunting and fishing. It wasn't until a railroad was built through the area that hundreds of visitors arrived each week to stay at the many resort hotels, enjoy steamship cruises along the lake, and swim, fish and enjoy the beaches. At one time there were over 50 resort hotels on the lake. The Monan Railroad built a park along the lake next to the rail line and brought trainloads to visit the lake from Chicago and other upstate areas. At one time, the Monon Railroad brought out thousands of employees from the Marshall field store in Chicago for picnics and family outings. Several ballrooms and pavilions dotted the lakefront, such as the Midway Gardens and the Lassen Pavilion, bringing in nationally-known bands to entertain area residents and visitors. Regular visitors began to build small cottages for summer use.
During the winter the ice industry employed both local residents and itinerant workers, bringing them from Chicago by train, to cut large blocks of ice from the lake. The ice was sent to the meat packing houses like the Armour Meat Company in Chicago. During WWII, workers came from the south to work in the Gary steel mills and often converted the tiny summer cottages to year-round homes. Later, these small cottages were often torn down and larger homes rebuilt on the site. The resort business faded away to be replaced by a lakefront community of year-round and part-time residents. The Lake of The Red Cedars Museum, located in one of the old resort hotels, has many pictures and artifacts detailing life at the lake in the previous 150 years.
Cedar Lake was finally incorporated as a town in 1967 and is still experiencing growth. Several new condo and townhouse developments have been built. The area is still in high demand as vacation property for those from the Chicago area, and real estate has continued to hold its value. Many of the part-time residents lease their homes as vacation rentals. Most include either a boat or directions to the nearest boat rental for the convenience of visitors. Hotel accommodations are available in the immediate area, although not on the lake front. And the countryside around Cedar Lake offers several bed-and-breakfasts not far away. Finding rental housing on or near Cedar Lake isn't difficult and makes an ideal get-away from Chicago, Gary, Indianapolis or South Bend. So, come and enjoy the sunsets at Cedar Lake. You'll soon be shopping for a condo overlooking the lake.
Custom Cedar Lake IN house decor
Read our full review of these personalized lake house signs.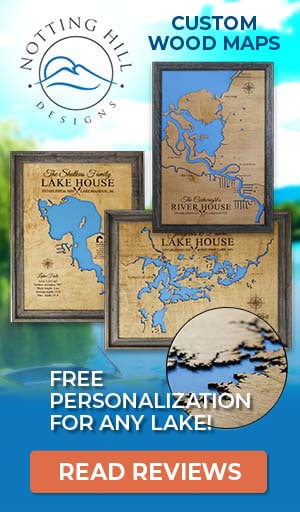 Things to do at Cedar Lake IN
Vacation Rentals
Fishing
Boating
Sailing
Swimming
Beach
Canoeing
Kayaking
Jet Skiing
Water Skiing
Golf
Tennis
Camping
Campground
Picnicking
Hiking
Cross-Country Skiing
Hunting
City Park
Museum
Playground
Shopping
Fish species found at Cedar Lake IN
Bass
Black Bass
Bluegill
Crappie
Largemouth Bass
Perch
Smallmouth Bass
White Perch
---
Best hotels and vacation rentals at Cedar Lake IN
The Cedar Lake IN map shown above is a simple and stress-free way to search for trip accommodations. But if you want to take a deeper dive to find the ideal waterfront home, cabin, condo, hotel or resort, visit our favorite lodging partners by clicking the buttons below.
Note: These are affiliate links so we may earn a small commission if you book through them. While there is no extra cost to you, it helps provide resources to keep our site running (thank you)! You can read our full disclosure policy here.
---
Cedar Lake IN photo gallery
New photos coming soon!
Cedar Lake IN statistics & helpful links
We strive to keep the information on LakeLubbers as accurate as possible. However, if you've found something in this article that needs updating, we'd certainly love to hear from you! Please fill out our Content Correction form.
Advertise your Cedar Lake IN vacation rental
LakeLubbers will soon offer homeowners and property managers the opportunity to to showcase their vacation rentals to the thousands of lake lovers searching our site daily for accommodations. If you'd like additional details, please contact our advertising team here.
Looking for the Cedar Lake IN forum?
LakeLubbers previously offered visitors the ability to create accounts and participate in lake forums. When we overhauled the site's content management system in 2021 we had to disable those features. We're evaluating options and welcome your comments and feedback here.
We also encourage you to join our lake-lovin' community on Facebook and Instagram!
Spread the word! Share our Cedar Lake IN article with your fellow Lake Lubbers!