China Lake, Maine, USA
Lake Locations:
USA - New England - Maine - Kennebec & Moose River Valleys -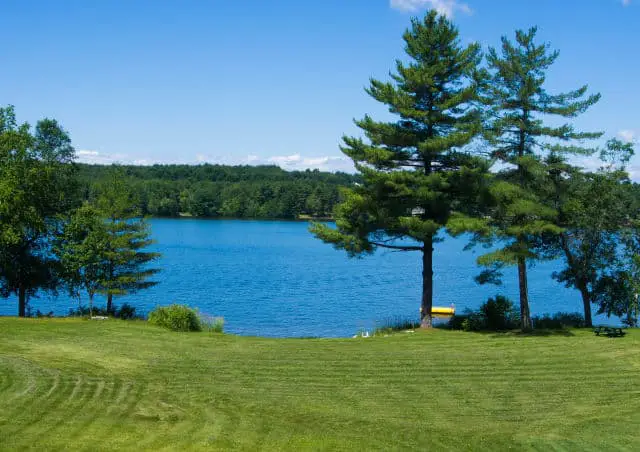 China Lake is less than 20 miles northwest of Augusta, Maine's state capital. This natural freshwater glacial lake rests in Kennebec County in southwest Maine, in the Kennebec and Moose River Valleys geographic region. China Lake is an irregularly shaped body of water, with two true basins: the West Basin and the East Basin. For environmental monitoring and control purposes, the lake's basins are often referred to in three sections: The West Basin is known as the #1 basin, with a surface area of 1,787 acres, averaging 2.5 miles long by 1 mile wide. The East Basin is divided into the Southeast Basin (#2) and the Northeast Basin (#3). Combined, the two eastern basins have a surface area of 2,150 acres and average 6.8 miles long by 0.6 miles wide. China Lake has been the Kennebec area's main water supply since the early 1900s, now serving more than 40,000 people. The lake has an average depth of 33 feet in the West Basin, while the East Basin is shallower and averages 20 feet. The maximum depth occurs in the West Basin, at 85 feet.
The two true lake basins are quite distinct in usage and development. The East Basin is significantly developed along its shoreline, with homes and dwellings dotting the perimeter of the lake. Conversely, the West Basin is nearly undeveloped, with an estimate that only 1 percent of potential areas are in use. The Kennebec Water District owns much of the lake's shoreline and is attempting to protect the lake from future problems. There are several public beaches available. Three boat ramps are available for public use in South China, China Village, and Vassalboro. Locals and visitors enjoy whitewater rafting, fishing, and boating, among other water-based sports. On land, camping, hiking, biking, shopping, and snowmobile use in the winter are all available for the active vacationer. Campgrounds can be found nearby for those who want an all-outdoor vacation experience. As with many lakes in the northeastern United States, China Lake is an enjoyable fishing destination. The Maine Division of Inland Fish and Wildlife stocks brown trout, the only cold-water species remaining in China Lake. Popular warm-water catches include largemouth bass, smallmouth bass, brown bullhead, chain pickerel, white perch, yellow perch, black bass, black crappie, and northern pike.
China Lake has four main tributaries: Muldoon Stream flows from the north into the East Basin in the northeast section. Ward Brook flows into the West Basin. Jones Book enters the West Basin from the south, and Starkey Brook enters from the east. At least 20 other smaller streams and minor tributaries also add to the water volume of the lake. Despite its many sources of water, China Lake has only one outlet: on the west shore in the West Basin, a stream and low dam are the solitary outflow. Once past the dam, the stream drains into the Sebasticook River. The original dam was constructed during the Civil War era. In 1969 the Maine Department of Environmental Protection (MDEP) restructured the dam, raising water levels by four feet. The Town of Vassalboro owned the dam until 2006, when management transferred to the Kennebec Water District. Water levels are determined by the Maine Department of Environmental Protection Water Level Order of 1997. The dam, which rests at 194.7 feet in elevation, is primarily used for flood control and is fitted with removable metal screens on top for fish. It also has two control drawdown gates and a 12-foot wide spillway. Winter drawdowns accommodate winter and spring runoff.
In many people's memories is the once-familiar term "China Lake Syndrome." This phrase was coined during the mid-1980s when the water quality of China Lake began to deteriorate very rapidly. In fact, China Lake was one of the very first lakes in the state of Maine to show a dramatic increase in levels of phosphorus caused solely by increasing area populations and its effects on local construction, development, and agriculture. The excessive phosphorus–an element which is essential to healthy plant life but detrimental to water quality–was found to be a product of new residential development. The phosphorus had the effect of causing algae blooms and a green hue to the lake. When China Lake Syndrome became better understood, a concerted effort was made to enact regulations to minimize the effects of human development and reverse the damage already done to China Lake. Today, the lake's water quality has improved compared to its China Lake Syndrome day, but algae blooms still appear.
For those who long to vacation in New England, they may envision rolling fields and lush green trees, rural farmsteads and grazing livestock. In fact, the area around China Lake fits that picturesque vision quite nicely. Although chain hotels and motels are available and plentiful, the real charm in this relaxing rural landscape is in renting a cottage or a cabin for a vacation stay. Most of these rental accommodations are unique and privately owned–and lovingly tended–by area residents who enjoy life in Maine and wouldn't live anywhere else. China Lake, being a good spot for water recreation and outdoor scenic beauty, is also ideally situated for travelers who would like to see a stunning lake not too far off the beaten path. China Lake is located in the towns of China and Vassalboro, Maine, which are located only a short distance from Interstate 95 to the west, and both of these towns are less than a half-hour drive from the Atlantic Ocean to the east.
Things to do at China Lake
Vacation Rentals
Fishing
Boating
Swimming
Beach
Whitewater Rafting
Camping
Campground
Cabin Rentals
Hiking
Biking
Snowmobiling
Wildlife Viewing
Shopping
Fish species found at China Lake
Bass
Black Bass
Black Crappie
Brown Bullhead
Brown Trout
Chain Pickerel
Crappie
Largemouth Bass
Northern Pike
Perch
Pickerel
Pike
Smallmouth Bass
Trout
White Perch
Yellow Perch
---
China Lake Statistics & Helpful Links
Spread the word! Share our China Lake article with your fellow Lake Lubbers!