Cobbossee Lake, Maine, USA
Lake Locations:
USA - New England - Maine - Kennebec & Moose River Valleys -
Also known as:  Lake Cobbosee, Cobbosseecontee Lake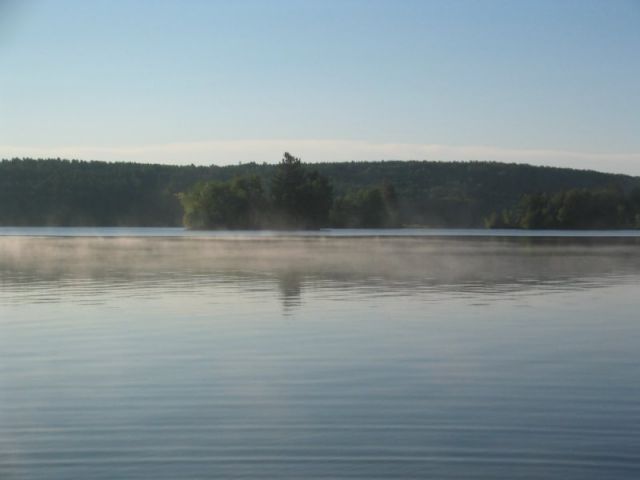 Cobbossee Lake is a treasured family vacation destination with over 62 miles of shoreline, dotted with many islands, and valued as one of the best lakes in Maine. The lake is located in Kenebec County in the Town of Manchester with Winthrop, Maine nearby. Its 1600s original name of Lake Cobbosseecontee was shortened and means "the place of many sturgeon," purportedly named by Abenaki Indians. Cobbossee Lake has the prestige of being the site of the only freshwater land-locked lighthouse in the state of Maine. The gorgeous 5,500 acre lake has many coves and inlets and is known for its fishing and outdoor recreation opportunities. A state-owned public launch is located on the southwest shore of the lake in East Monmouth.
The Augusta, Winthrop and Gardiner Street Railway created a recreation area on Lake Cobbossee's Island Park in 1903 with a trolley system bringing people to swim, picnic, and enjoy dancing in an open air pavilion. Steamboats populated the lake and took folks to the numerous inns, hotels, cottages, and sporting camps. Cobbossee Lake is now home to vacation rentals and year-round homes and has become quite well developed. Its proximity to Augusta, Maine's state capital, makes it a favorite for seasonal as well as year-round residents.
Cobbossee Lake, running from the southwest to northeast with a watershed of 22 square miles, is a natural 5,543 acre lake with a maximum depth of about 100 feet. Its inlets are Jug and Jock Streams and its outlet forms Cobbossee Stream. The Lake is also a secondary source of drinking water for the City of Augusta.
As one might expect, fishing is a dominant activity with major species including brown trout, brook trout, largemouth bass, smallmouth bass, chain pickerel, white perch, and yellow perch. The largest fish now inhabiting the lake are northern pike and, for the bass angler, many tournaments are regularly held on Cobbossee Lake. Anglers can have a field day here!
Sailing doesn't take a back seat, with the Cobbossee Yacht Club having many regattas and races. Lake Cobbossee's other activity opportunities include swimming, picnicking, sunbathing, water skiing, and canoeing. For the more energetic, there are miles of trails for hiking and biking, with multitudes of geocaches found nearby. In wintertime, cross country skiing and snowmobiling are popular sports. For shopping and sightseeing, the towns of Boothbay Harbor and Camden are just over an hour away. Golfers will find the Lake Cobbossee Golf Course approximately two miles from the lake. Birders can really enjoy the lake area with species to be seen such as Bald Eagles, Great Blue Heron, Least Bittern, Osprey and Loons.
In short, Cobbossee Lake has something for everyone for their vacation pleasure.
Things to do at Cobbossee Lake
Vacation Rentals
Fishing
Sailing
Swimming
Canoeing
Water Skiing
Golf
Picnicking
Hiking
Biking
Cross-Country Skiing
Snowmobiling
Birding
Shopping
Fish species found at Cobbossee Lake
Bass
Black Bass
Brook Trout
Brown Trout
Chain Pickerel
Largemouth Bass
Northern Pike
Perch
Pickerel
Pike
Smallmouth Bass
Sturgeon
Trout
White Perch
Yellow Perch
---
Cobbossee Lake Photo Gallery
Cobbossee Lake Statistics & Helpful Links
Spread the word! Share our Cobbossee Lake article with your fellow Lake Lubbers!