Barbee Lakes, Indiana, USA
Lake Locations:
USA - Midwest - Indiana - North -
Also known as:  Big Barbee Lake, Little Barbee Lake, Kuhn Lake, Irish Lake, Sawmill Lake, Sechrist Lake, Banning Lake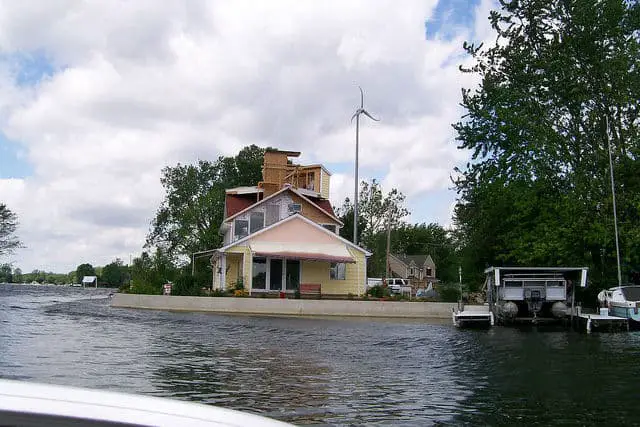 Seven interconnected, natural lakes comprise the Barbee Lakes chain in northeastern Indiana's Kosciusko County: Big Barbee Lake, Little Barbee Lake, Kuhn Lake, Irish Lake, Sawmill Lake, Sechrist Lake, and Banning Lake. The lakes, covering a combined surface area of 855 acres, were formed by retreating glaciers during the Pleistocene era. Most of Indiana's other natural lakes are also located in the northeastern part of the state.
The shorelines of the group of lakes have experienced heavy residential development. During the 1950s, channels were built through the surrounding wetlands to connect the Barbee Lakes and to provide additional lakefront property. There were approximately 2,300 residences around the lakes' shorelines in 2000 but nearly 75% of the watershed is stiil farmland. Farming and increased lakefront residential density have contributed nutrients to the watershed and accelerated the natural eutrophication of the lakes. The Barbee Lakes Property Owner's Association (BLPOA) works to sustain and improve the lakes' water quality.
Boating and fishing are prime recreational pursuits on the Barbee Lakes. Fishermen are rewarded with bountiful catches of bluegill, largemouth bass, yellow perch, muskie, catfish, and crappies. The Indiana DNR stocks the Barbee Lakes with muskellunge fingerlings.
Four of the lakes — Sawmill, Big Barbee, Little Barbee and Irish — lie along Grassy Creek. Two smaller lakes flow into the chain but are not connected by channels. Shoe Lake is connected to Banning Lake, and Heron Lake connects to Kuhn Lake. Due to their smaller watersheds contributing less nutrients, Kuhn and Banning Lakes have the best water quality in the chain. Water from the Barbee Lakes flows into Lake Tippecanoe.
Big Barbee Lake has no speed limit, allowing residents and visitors to enjoy a variety of water sports. The other six lakes in the chain have a 10 mph limit because of their smaller sizes. Indiana DNR provides a public boat ramp on the north side of Kuhn Lake. Boats under 16 feet can access Tippecanoe Lake through a tunnel and a set of manual locks.
If you opt for some off-water fun, Kosciusko County offers a variety of outdoor activities including biking, hiking, geocaching, and golf. Accommodations at the Barbee Lakes range from camping, modern cabins, private vacation rentals, and area hotels. Lakefront campsites provide convenient access to fishing, swimming, and boating.
So what are you waiting for? Set your compass for the Barbee Lakes, part of Indiana's Northern Lakes Natural Area.
*The statistics pertain to Big Barbee Lake, the largest in the chain with 304 acres. Statistics for the other lakes include:
Banning Lake: 17 acres, maximum depth 17 ft., mean depth 8 ft.
Irish Lake: 182 acres, maximum depth 36 ft., mean depth 11 ft.
Kuhn Lake: 137 acres, maximum depth 28 ft., mean depth 8 ft.
Little Barbee Lake: 74 acres, maximum depth 26 ft., mean depth 11 ft.
Sawmill Lake: 36 acres, maximum depth 27 ft., mean depth 9 ft.
Sechrist Lake: 105 acres, maximum depth 63 ft., mean depth 19 ft.
Things to do at Barbee Lakes
Vacation Rentals
Fishing
Boating
Swimming
Golf
Camping
Cabin Rentals
Hiking
Biking
Fish species found at Barbee Lakes
Bass
Black Bass
Bluegill
Catfish
Crappie
Largemouth Bass
Muskellunge
Perch
Pike
Sunfish
Yellow Perch
---
Barbee Lakes Photo Gallery
Barbee Lakes Statistics & Helpful Links
Spread the word! Share our Barbee Lakes article with your fellow Lake Lubbers!