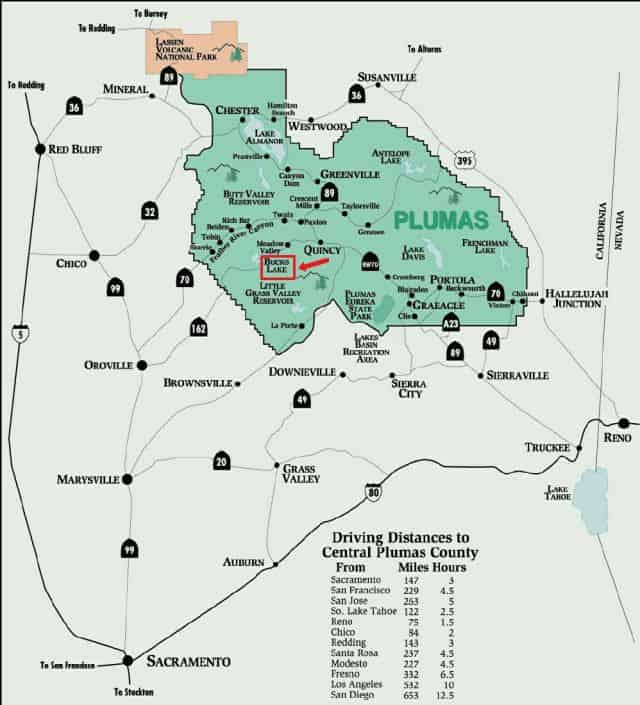 Bucks Lake, California, USA
Lake Locations:
USA - West - California - Shasta Cascade -
A peregrine falcon, perched in the top of a silvery, windswept pine, watches a sailboat tack back and forth across the clear cool water of Bucks Lake. Set against the backdrop of the Plumas National Forest and rimmed with tall straight pine trees, Bucks Lake in the Shasta Cascade region of northern California is a favorite with birds and boaters alike.
Originally called the Bucks Creek Project, Bucks Lake is an impoundment of Bucks Creek. Construction on the 122-foot high rock-filled dam was started in 1926 by the Feather River Power Company, which was owned by R. C. Storrie and Robert Muir. The project ran into financial difficulty and was sold to the Great Western Power Company, which completed the dam in 1928. Today the dam is operated by the Pacific Gas and Electric Company.
About half the shoreline of Bucks Lake is owned by the Pacific Gas and Electric Company, and the other half is managed by the Forest Service. Houses on Pacific Gas and Electric Company lots are not supposed to be rented as vacation rentals, but there are lake view rentals and a few waterfront resorts. The Forest Service runs four campgrounds with room for trailers but no hookups, and the Pacific Gas and Electric Company also runs a campground on the south side of Bucks Lake. Four public boat launch ramps provide access to the lake. There are also privately run marinas for supplies and boat rentals.
With almost 2,000 acres of water, Bucks Lake is a very popular boating lake and has even been called a "boating Mecca." There is plenty of room for ski boats, jet skis and waterskiing along with sailboats and pontoon boats. The pine-rimmed shoreline is a great place to explore by canoe or kayak to see the bald eagles, osprey and Canada geese that make their home at Bucks Lake.
Lake fishing, particularly in Lower Bucks Lake, is very good. The California Department of Fish and Game stocks the lake with rainbow trout annually, and there are abundant fish to challenge anglers. Healthy populations of German brown trout, brook trout, and kokanee salmon all make their homes in Bucks Lake. Along with the fishery, the California Department of Fish and Game also manages some hunting nearby.
Bucks Lake, located in Plumas County, was named after one of the first white settlers in the area. In 1850, Horace "Buck" Bucklin moved from New York to the valley that became known as Bucks Ranch. The land is now part of the Bucks Lake Wilderness Area in the Plumas National Forest. Established by President Theodore Roosevelt in 1905, the forest occupies 1,146,000 acres of mountain land in the northern Sierra Nevada. The Plumas National Forest is a collection of canyons, valleys, meadows, and peaks just to the south of the Cascade Range.
The Bucks Lake Wilderness Area includes 23,958 acres, but Bucks Lake is just outside its boundaries. It is home to black bear, coyote, mountain lion, and black-tailed and mule deer. Hiking and horseback riding trails in the area offer visitors a chance to see wildlife. A section of the Pacific Crest Trail, which runs from Mexico to Canada, is just three miles from Bucks Lake and crosses Bucks Summit.
Recreation at Bucks Lake is not limited to summer months, however. The area receives heavy snowfall every year, and in the winter there are miles of trails for cross-country skiing as well as trails for snow mobiles.
Bucks Lake has the beauty and remoteness of the surrounding wilderness and the convenience of amenities nearby. There are bed and breakfasts, motels and resorts, and after a day on the water dinner is just moments away at a waterfront restaurant. The lake is only 15 miles from Quincy and any thing a visitor might need. For visitors wanting to extend their stay, there is real estate for sale near Bucks Lake and in the surrounding area.
In the shadow of the Sierra Nevada, with cross-country skiing and snowmobiling in the winter and fishing and boating in the summer, Bucks Lake is a four-season recreation area that is sure to become your favorite.
Things to do at Bucks Lake
Vacation Rentals
Fishing
Boating
Sailing
Canoeing
Kayaking
Jet Skiing
Water Skiing
Camping
Campground
Hiking
Cross-Country Skiing
Snowmobiling
Horseback Riding
Hunting
Wildlife Viewing
Birding
National Forest
Fish species found at Bucks Lake
Brook Trout
Brown Trout
Kokanee Salmon
Rainbow Trout
Salmon
Trout
---
Bucks Lake Statistics & Helpful Links
Spread the word! Share our Bucks Lake article with your fellow Lake Lubbers!