Carter Lake, Iowa & Nebraska, USA
Lake Locations:
USA - Midwest - Iowa - Southwest - Nebraska - Metro -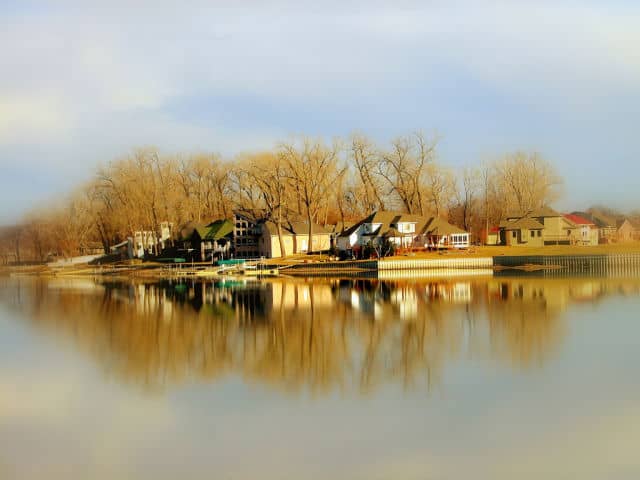 In the late 1800's the Missouri River changed its course, altering the future of the area around Omaha, Nebraska and creating Carter Lake. Spanning parts of the southwest region of Iowa and the Metro region of Nebraska, Carter Lake quickly earned the reputation as a fantastic recreation destination. It is a title the lake still holds today with visitors flocking to the lake to fish, swim, boat and water ski, stopping at the end of the day to enjoy the nightlife and cultural opportunities of the City of Omaha.
Carter Lake is an oxbow lake created when the flood of 1877 caused the Missouri River to shift. When the flood waters receded, the river flowed through a different channel and 315-acre Carter Lake was left behind. The lake was originally called Cut-Off Lake and was renamed Lake Nacoma in 1906. It became Carter Lake in 1908 after Selina Carter Cornish donated land around the lake. Carter Lake and the Levi Carter Park on the northern shore of the lake were named in honor of Levi Carter, owner of the Omaha White Lead Works.
Almost immediately after its creation, Carter Lake became a popular recreation lake with vacation rentals springing up around its shore. It was so popular that both states wanted it, and ownership of the lake was litigated back and forth between Iowa and Nebraska, finally ending at the US Supreme Court. It was eventually determined that Iowa owns slightly less than a third of the lake, including the City of Carter Lake in Pottawattamie County. Nebraska owns the remaining two thirds in Douglas County. The City of Omaha borders the lake on the Nebraska side.
Carter Lake has a maximum depth of 28 feet and an average depth of eight feet. It is an excessively fertile lake (hypereutrophic), and a significant effort was made starting in 2005 to remove excess nutrients. Water quality has improved, and the Carter Lake Preservation Society continues to monitor the lake. The society was created to enable volunteers from both states to work together to protect and improve Carter Lake.
Access to the lake is from two public ramps, and all types of boats are welcome on Carter Lake. During the summer its location in Omaha and the City of Carter Lake makes it a popular place to water ski and jet ski. Anglers should expect significant boat traffic on summer weekends. Part of rehabilitating Carter Lake includes stocking the lake with bluegill, largemouth bass and channel catfish. The occasional walleye can also be found in the lake. Levi Carter Park is on the northern shore of the lake and has ADA accessible fishing along with restrooms, ball fields and a picnic pavilion.
Ducks, geese and swans all make their homes at Carter Lake, and the lake is especially popular with bald eagles. It is not uncommon to see 15 to 20 eagles soaring over the lake at a time. The lake provides both animals and people with a pocket of nature in a very urban setting. The lake is only two miles from downtown Omaha and adjacent to Eppley Airfield. Both vacation rentals and real estate for sale can be found around Carter Lake. Easy accessibility, shops, restaurants and museums make Carter Lake a favorite with city residents and visitors alike.
Things to do at Carter Lake IA
Vacation Rentals
Fishing
Boating
Swimming
Jet Skiing
Water Skiing
Picnicking
Birding
Museum
Fish species found at Carter Lake IA
Bass
Black Bass
Bluegill
Catfish
Channel Catfish
Largemouth Bass
Perch
Sunfish
Walleye
---
Carter Lake IA Photo Gallery
Carter Lake IA Statistics & Helpful Links
Spread the word! Share our Carter Lake IA article with your fellow Lake Lubbers!