Caballo Lake, New Mexico, USA
Also known as:  Caballo Reservoir
Welcome to the ultimate guide for history, statistics, local fun facts and the best things to do at Caballo Lake.
If you're considering Caballo Lake vacation rentals, we've made it super easy to explore accommodations and nearby hotels using the interactive map below. Simply click on a listing to compare similar properties, best rates and availability for your dates. Or keep scrolling to read our Caballo Lake guide!
Caballo Lake visitor and community guide
One of the little-known treasures in New Mexico's Southwest region is Caballo Lake. This 11,000-acre reservoir along the Rio Grande River escapes the notice paid to its popular nearby neighbor Elephant Butte Lake, but offers all of the natural beauty, fishing and boating fun of its busier companion reservoir upstream. Constructed in 1938, Caballo Lake was designed to provide flood control and irrigation water to 160,000 acres of cropland. Crops irrigated are not only in New Mexico but also partially in Texas; the water provided is in fulfillment of a 1902 treaty with the former Republic of Texas. The name Caballo was derived from the Sierra del los Caballos, Spanish for 'horse mountain". These nearby mountains were named for the herds of wild horses, descendants of the horses brought here by the Spanish around 1540. Located about 60 miles north of Las Cruces and 20 miles south of Truth or Consequences, Caballo Lake is conveniently located a short distance east of highway I-25.
Caballo Lake remains somewhat isolated. There are no homes along the shoreline, which is owned by the US Bureau of Reclamation. Caballo Lake State Park, third largest state park in New Mexico, encompasses much of the lake's 24-mile shoreline within its 5,300 acres. The remaining shore is controlled by the US Bureau of Land Management and offers limited access only by rugged-duty vehicles. The lake is popular among recreational boaters, who often arrive on weekends to offload their personal boats from one of the three public boat launch sites. Boaters enjoy power boating, sailing, water skiing, wind surfing, jet skiing, canoeing and kayaking. The long and narrow reservoir can receive dangerous winds on occasion, so a wind warning light is provided on the southeast shore. In summer, when the lake level drops due to irrigation, four shallow islands may appear near the south end of the lake. These are marked by warning buoys when lake levels are low enough that they can become a danger.
Although some commercial boat rentals state that there is a marina and boat rental at Caballo Lake, official publications show no fuel or concession on the lake. These publications then may reference the several marinas at Elephant Butte Lake 10 miles upstream which rent boats and may transport their rentals down to Caballo Lake. This lack of commercial development is what keeps Caballo Lake relatively quiet and somewhat deserted most week-days. Weekends see the highest numbers of visitors by a wide margin.
Fishing is one of the big draws at Caballo Lake; catfish, largemouth bass, walleye, white bass, crappie, bluegill, northern pike, sunfish, smallmouth bass and striped bass are all caught, with occasional rainbow trout and walleye surprising the lucky angler. Although there are no bait and supply facilities in the park, several fishing supply stores are located nearby. Annual events at the lake feature several fishing tournaments, including a youth fishing derby in late September. Kayaking and canoeing on the Rio Grande is a favorite pastime when timed to the water releases from Elephant Butte Dam. The 10 to 12-mile river run usually begins at Elephant Butte State Park and ends at Caballo Lake State Park.
Several campground facilities are operated at Caballo Lake, one of which can meet nearly every need. Some primitive boat camping is available on the east side of the lake for small, fishing-size boats. A beach camping area offering few amenities is located on the western shore north of the main campground. The majority of developed campsites sit on a bluff overlooking the lake near the dam. An additional camping area below the dam on the Rio Grande offers the only RV Rally site in the New Mexico state park system, with a large group shelter, huge barbecue grills, and a gated campground that can accommodate over 200 recreational vehicles. There is no marked swimming beach, but most swimmers utilize an area west of the dam, or another favored spot along the north edge of the main campground.
The small visitor center has displays of area archeology and historic photos from the construction of Caballo Dam. There are color photos of the birds, fish, and plants of the park to help with identification, and even a sandbox area in which to stamp various wildlife footprints for educational and identification purposes. Youth groups and schools are often hosted here for hands-on learning experiences. Several cactus and succulent gardens are maintained in the park where visitors may enjoy their colorful blooms in late March and early April. Yucca, agave, ocotillo, prickly pear, mesquite and other desert flora can be enjoyed from the many walking paths in the park. All of the park's 5.5 miles of trails are considered 'easy' and are perfect for exploring the native plants and animals.
Mammals include rock squirrels and cottontail rabbits, coyotes, wolves, foxes, raccoons, mule deer, and an occasional black bear. There are also rattlesnakes, lizards, frogs and turtles. Bird watching is a favorite activity at Caballo Lake, with the reservoir noted for visiting bald eagles and golden eagles. In recent years a breeding pair of bald eagles calls Caballo Lake their winter home. In addition, double-crested cormorants, sandhill cranes, common loons, scaled quail, American white pelicans, northern goshawks, snowy egrets and roadrunners are often sighted. There are dozens of songbirds, several species of hummingbirds, and numerous geese and ducks seen daily. Some hunting for small game is permitted in the park during hunting season; park staff should be contacted for complete information.
Although real estate is not available directly along the shoreline, some real estate is occasionally available nearby, often in the mountains overlooking the lake. A few private owners offer their properties for rental by the week or month nearby. Conventional lodgings can be found in both Truth or Consequences or Las Cruces in the form of motels, hotels and condos. These cities offer every amenity desired for an extended vacation, including golf courses, theaters, restaurants and nightlife. A number of state parks and national forests nearby offer every type of terrain and outdoor recreation a visitor could want. A day or a week on the water at Caballo Lake is both accessible and secluded. Bring the binoculars, the fishing rods and the canoe and come to Caballo Lake. With only one visit, Caballo Lake will become your favorite New Mexico get-away spot.
Custom Caballo Lake house decor
Read our full review of these personalized lake house signs.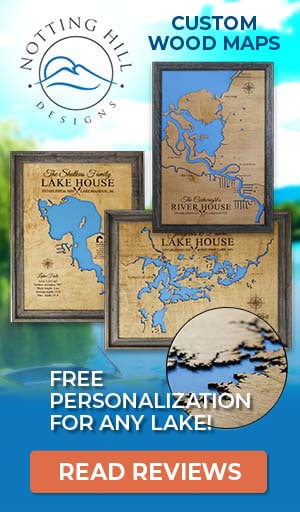 Things to do at Caballo Lake
Vacation Rentals
Fishing
Fishing Tournaments
Boating
Sailing
Swimming
Beach
Canoeing
Kayaking
Jet Skiing
Water Skiing
Wind Surfing
Golf
Camping
Campground
Hiking
Horseback Riding
Hunting
Wildlife Viewing
Birding
State Park
National Forest
Fish species found at Caballo Lake
Bass
Black Bass
Bluegill
Catfish
Crappie
Largemouth Bass
Northern Pike
Perch
Pike
Rainbow Trout
Smallmouth Bass
Striped Bass
Sunfish
Trout
Walleye
White Bass
---
Best hotels and vacation rentals at Caballo Lake
The Caballo Lake map shown above is a simple and stress-free way to search for trip accommodations. But if you want to take a deeper dive to find the ideal waterfront home, cabin, condo, hotel or resort, visit our favorite lodging partners by clicking the buttons below.
Note: These are affiliate links so we may earn a small commission if you book through them. While there is no extra cost to you, it helps provide resources to keep our site running (thank you)! You can read our full disclosure policy here.
---
Caballo Lake photo gallery
New photos coming soon!
Caballo Lake statistics & helpful links
We strive to keep the information on LakeLubbers as accurate as possible. However, if you've found something in this article that needs updating, we'd certainly love to hear from you! Please fill out our Content Correction form.
Advertise your Caballo Lake vacation rental
LakeLubbers will soon offer homeowners and property managers the opportunity to to showcase their vacation rentals to the thousands of lake lovers searching our site daily for accommodations. If you'd like additional details, please contact our advertising team here.
Looking for the Caballo Lake forum?
LakeLubbers previously offered visitors the ability to create accounts and participate in lake forums. When we overhauled the site's content management system in 2021 we had to disable those features. We're evaluating options and welcome your comments and feedback here.
We also encourage you to join our lake-lovin' community on Facebook and Instagram!
Spread the word! Share our Caballo Lake article with your fellow Lake Lubbers!