Brantley Lake, New Mexico, USA
Also known as:  Brantley Reservior
Welcome to the ultimate guide for history, statistics, local fun facts and the best things to do at Brantley Lake.
If you're considering Brantley Lake vacation rentals, we've made it super easy to explore accommodations and nearby hotels using the interactive map below. Simply click on a listing to compare similar properties, best rates and availability for your dates. Or keep scrolling to read our Brantley Lake guide!
Brantley Lake visitor and community guide
No place in Southeast New Mexico represents water recreation like Brantley Lake. The relatively new reservoir has a state park along its shores, complete with campground, day use area and two boat ramps. The desert surroundings of Brantley Lake State Park feature sand dunes in constantly-changing patterns and colors ranging from white to tan to reddish-brown. The dunes add a stark contrast to the welcoming blues of the over-3000-acre Brantley Lake. The lake doesn't get heavy usage because it is not visible from the main highway. Local residents of the small City of Carlsbad know Brantley Lake well, and many make the 20-minute drive to take advantage of swimming, boating and fishing on the beautiful pool.
Two day use areas offer plenty of water access to daily visitors. Both the Seven Rivers Day Use Area and the East Day Use Area are open from March to September and offer swim beaches, picnic grounds, rest rooms, playground and boat launching facilities. No water or electricity is available at the Seven Rivers Day Use Area, although trails leading from the area provide for primitive campsites. Although there are no marinas located on Brantley Lake, rentals can be arranged that will be delivered to the lake. Lake cruises can also be arranged with outside vendors. Many watercraft owners bring their own jet skis, water ski boats, sailboats, canoes and kayaks to launch on Brantley Lake on hot summer weekends. A wind warning light within sight of most of the lake warns boaters of advancing wind-related dangers. Park staff operate patrol boats on the reservoir. Several special events are coordinated by park rangers each year, including an Earth Day Shoreline Sweep, Kids Fishing Clinic, and Go Fly a Kite in March, along with Saturday night campground programs.
Brantley Lake offers a year-round campground that can accommodate up to 52 camping units. The campground is popular with RVers who appreciate a quiet and serene camping area. The wide open spaces display beautiful night skies. A Visitors Center is open from May to September on the entrance road. Extensive landscaping is in place to provide shade trees and wind shelter. A short interpretive trail and a longer 2.2-mile trail are already developed, with another short loop from the campground to the lakeshore and back. The Brantley Wildlife Management Area (WMA) lies both north of the lake and south of the dam. The entire Pecos River Valley is a major flyway for migrating birds and waterfowl, so a variety of waterfowl may be found on the lake any time of the year. The WMA also holds mule deer, coyote, jack rabbit, ground squirrel, kit and grey fox, porcupine, bobcat, raccoon and other desert dwellers.
Fishing is always a favorite at Brantley Lake. A fishing pier is provided, and the lake has been stocked with channel catfish, walleye,largemouth bass, crappie, white bass and bluegill. Recent testing has shown the fish carry higher than optimal levels of DDT, so eating the day's catch is not advised. Water levels on the lake vary drastically, depending on the flow of the main incoming river, the Pecos. Other small creeks also feed the reservoir, which was intended partially to provide irrigation water and flood control.
The dam was constructed in 1988 to replace the upstream McMillan Dam which was in danger of failing. Due to seepage into the porous limestone under Lake McMillan, stored water was being lost as well as undermining the existing dam. The new Brantley Lake Dam was built on a different geological formation to the south where it would be less prone to seepage. The former Lake McMillan is now a part of the Brantley Wildlife Management Area. The former town of Seven Rivers, a major crossing on the Goodnight-Loving Trail and refuge of numerous outlaws, now lies under the waters of Brantley Lake.
The same kinds of limestone formations that lay under Lake McMillan also helped to create the many caverns located in the Carlsbad area. Famed Carlsbad Caverns National Park is located a few miles south of Brantley Lake, making the campground a fine choice as home base for touring the area. Interestingly, the huge caverns were not created entirely by water seepage through the limestone rock; they were also hollowed from below by percolating chemicals from petroleum reserves. The massive caverns are something no visitor to Southern New Mexico should miss seeing.
Those who prefer more modern accommodations will find plenty of lodging choices around the City of Carlsbad, with a number of large hotels, smaller motels, ranch stays and bed & breakfasts nearby. Besides offering a variety of restaurants and services, Carlsbad is home to several cultural facilities geared to entertaining and enlightening Carlsbad visitors. The oldest municipal museum in New Mexico, the Carlsbad Museum & Art Center, has been in operation since 1911. The facility houses an extensive collection of Native American ceramics, including Anasazi, Mesa Verde, early Mogollon and early historic period pottery. The museum's art collection features the best of New Mexican artists. Other exhibits include cave photography and cultural exhibits. Local artisans' shops offer a variety of unique gift items and 'objet d'art' souvenir pieces that will delight the casual collector.
Plan a visit to Brantley Lake and Southeast New Mexico today. There are many unusual sights to see and new vistas to experience. Most of all, come to see the star-filled night sky of the desert over Brantley Lake. You'll find it remains among your favorite memories.
*Statistics for Brantley Lake are for the lake at full pool. The lake is seldom at that level.
Custom Brantley Lake house decor
Read our full review of these personalized lake house signs.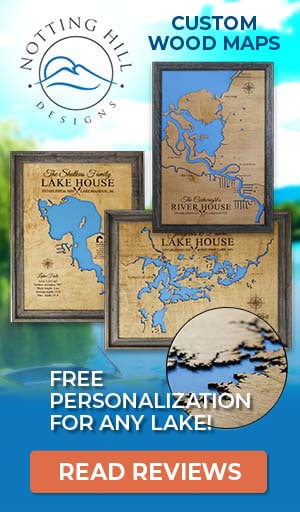 Things to do at Brantley Lake
Vacation Rentals
Fishing
Boating
Sailing
Swimming
Beach
Canoeing
Kayaking
Jet Skiing
Water Skiing
Camping
Campground
Picnicking
Hiking
Wildlife Viewing
Birding
State Park
National Park
Museum
Playground
Fish species found at Brantley Lake
Bass
Black Bass
Bluegill
Catfish
Channel Catfish
Crappie
Largemouth Bass
Perch
Sunfish
Walleye
White Bass
---
Best hotels and vacation rentals at Brantley Lake
The Brantley Lake map shown above is a simple and stress-free way to search for trip accommodations. But if you want to take a deeper dive to find the ideal waterfront home, cabin, condo, hotel or resort, visit our favorite lodging partners by clicking the buttons below.
Note: These are affiliate links so we may earn a small commission if you book through them. While there is no extra cost to you, it helps provide resources to keep our site running (thank you)! You can read our full disclosure policy here.
---
Brantley Lake photo gallery
New photos coming soon!
Brantley Lake statistics & helpful links
We strive to keep the information on LakeLubbers as accurate as possible. However, if you've found something in this article that needs updating, we'd certainly love to hear from you! Please fill out our Content Correction form.
Advertise your Brantley Lake vacation rental
LakeLubbers will soon offer homeowners and property managers the opportunity to to showcase their vacation rentals to the thousands of lake lovers searching our site daily for accommodations. If you'd like additional details, please contact our advertising team here.
Looking for the Brantley Lake forum?
LakeLubbers previously offered visitors the ability to create accounts and participate in lake forums. When we overhauled the site's content management system in 2021 we had to disable those features. We're evaluating options and welcome your comments and feedback here.
We also encourage you to join our lake-lovin' community on Facebook and Instagram!
Spread the word! Share our Brantley Lake article with your fellow Lake Lubbers!