Buckhorn Lake, Ontario, Canada
Lake Locations:
Also known as:  Trent-Severn Waterway, Kawartha Lakes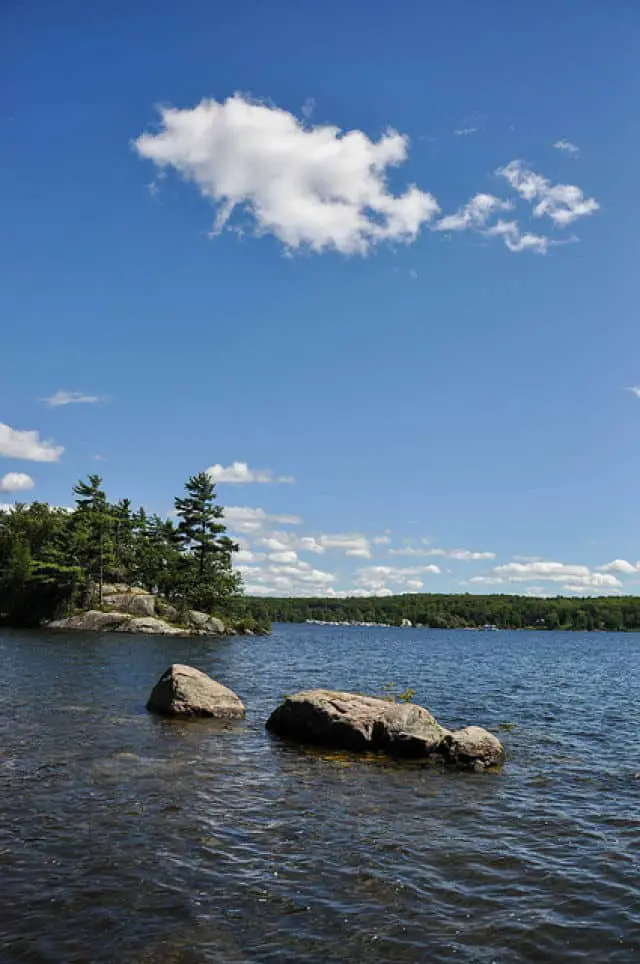 Part of the Kawartha Chain of Lakes, Buckhorn Lake is one of the many lakes that make up the famed Trent-Severn Waterway. The waterway connects Lake Ontario at Trenton to the Georgia Bay part of Lake Huron at Port Severn. Construction of the waterway started in 1833 at Kawartha Lakes and took 87 years to complete. It wasn't until 1920 that the first boat was able to make the entire trip. Originally built for commercial use, the Trent-Severn Waterway spans 240 miles with 20 miles of manmade canals and includes 44 locks, 39 swing bridges and 160 dams and water control structures. There is also a marine railway at Big Chute that moves boats between the upper and lower sections of the Severn River.
Along with the manmade canals, the waterway includes the Trent and Otonabee Rivers and the Kawartha Lakes and Lake Simcoe. The waterway was never quite large enough to be viable as a commercial route, and today it is managed by Parks Canada for recreational use. The Trent-Severn Waterway includes 2,796 miles of shoreline, 123,520 acres of water and 18 hydroelectric plants and is open for navigation across southern Ontario's "cottage country" from May through October. Buckhorn Lock is located at the halfway point of the waterway and is one of the busiest locks in the system.
Buckhorn Lake was created in 1830 when John Hall built a sawmill and dam. The lake was first known as Hall's Bridge, but Mr. Hall's habit of displaying his large collection of deer antlers on the outside of the mill led to the name Buckhorn Lake. The name wasn't officially changed until 1936 long after Hall's death. Before Mr. Hall passed away in 1883, he gave every female in the community a plot of land to encourage the hamlet of Buckhorn to grow. It has grown while at the same time maintaining its charm. There are restaurants (some on the water), shops with unusual treasures, and historic buildings to stroll past.
The community of Buckhorn has parks on both sides of the locks with nature walks and ample opportunities for bird watching. Bike trails turn to groomed trails for snowmobiling and cross-country skiing in winter. Just a short walk from Buckhorn Lake are two boulders known as the Adam and Eve rocks. Legend says that if two lovers hold hands and each touches one of the boulders, they will have a blessed life. With its towering glacial rocks and cool, clear water, Buckhorn Lake is a charming, romantic part of Ontario, Canada.
The Kawartha Lakes extend 44 miles from Balsam Lake in the west to Stony Lake in the east. Buckhorn Lake along with Lake Chemong and Pigeon Lakes are referred to as the Tri-lakes because they are really one body of water with three names. As a result, boaters, kayakers and anglers have easy access to all three lakes. Lovesick Lake was also intended to become part of Buckhorn Lake. It didn't flood enough, however, to completely combine. Water levels on all the Kawartha Lakes are lowered in the fall and winter to prepare for snow melt.
Buckhorn Lake is the sixth largest of all the Kawartha Lakes, but it is the third for shoreline miles. The lake itself has 43.8 miles and the islands have 25.9 miles. The shore is ringed with sand beaches and lakefront vacation rentals. There is real estate available for sale around the lake and in neighboring communities. There are several islands in Buckhorn Lake, including Flat Island and Seaweed Island favored by house boats. The weed beds around Red Rock Island are a particularly good spot for anglers. Pickerel, smallmouth bass, largemouth bass, crappie, perch and muskie are all abundant in the lake.
A little over an hour and a half from Toronto, Buckhorn Lake is 20 minutes from the City of Peterborough. In the forest to the northeast of the city, Petroglyph Provincial Park preserves the largest known concentration of Aboriginal petroglyghs. Over 900 deer, turtles, snakes, birds and humans are carved into the white marble. Trails wind through the 4,060 acre-park which shares a border with the Peterborough Crown Game Reserve. White tail deer, beaver, otters, wolves, turkey and ruffed grouse can all be seen at the park.
Buckhorn Lake and the Trent-Severn Waterway may not have succeeded as a commercial waterway, but they have more than succeeded as a recreational one. Visitors flock every year to enjoy the hundred of miles of water and beauty of southern Ontario's "cottage country."
Things to do at Buckhorn Lake
Vacation Rentals
Fishing
Boating
Swimming
Beach
Kayaking
Hiking
Biking
Cross-Country Skiing
Snowmobiling
Wildlife Viewing
Birding
Provincial Park
Fish species found at Buckhorn Lake
Bass
Black Bass
Crappie
Largemouth Bass
Muskellunge
Perch
Pickerel
Pike
Smallmouth Bass
---
Buckhorn Lake Photo Gallery
Buckhorn Lake Statistics & Helpful Links
Spread the word! Share our Buckhorn Lake article with your fellow Lake Lubbers!