Bolton Lakes, Connecticut, USA
Lake Locations:
USA - New England - Connecticut - River Valley -
Also known as:  Bolton Lake, Upper Bolton Lake, Middle Bolton Lake, Lower Bolton Lake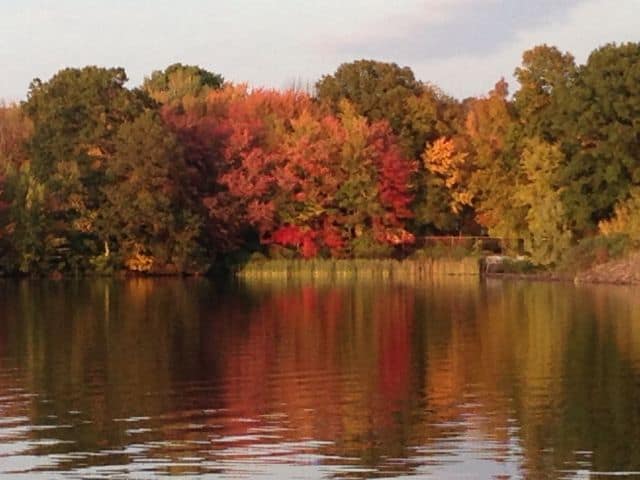 Bolton Lakes is conveniently located in Connecticut's Tolland County, just 14 miles east of the state's capital city of Hartford. The series of three freshwater lakes are individually known as the Lower, Middle, and Upper Bolton Lakes. Connected by a dam and spillway, they are situated in the heart of the Constitution State's River Valley tourism region.
With a surface area of 175 acres and an average depth of 11 feet, Lower Bolton Lake is by far the biggest and busiest of the trio. Adored by anglers, boatsmen, and nature enthusiasts alike, the lake features varied real estate properties and vacation rentals as a direct result of its popularity. Highlights include a public beach and a state-run boat launch. Lower Bolton Lake Dam is located on the southeast corner of the reservoir, near Indian Notch Park — about 2/3 of a mile south of Upper Bolton Lake Dam. This earth embankment is an impressive 880 feet long and 18.5 feet high, with a 200-foot concrete spillway and a maximum storage capacity of 2,325 acre-feet. Due to damage wrought by a hurricane in 1938, the dam is not in top form, but can still control water levels for recreational purposes.
Middle Bolton Lake is similar to Lower Bolton, but on a slightly smaller scale: it boasts a surface area of 121 acres, a maximum depth of 20 feet, and an average depth of 12 feet. Upper Bolton Lake Dam, a structure composed of both concrete and earth, is located on the southern side of this artificial impoundment. Real estate and vacation rentals can be found along most of the shoreline of Middle Bolton.
Upper Bolton Lake is the smallest of the three Bolton Lakes, with a surface area of of 50 acres. It feeds runoff into Middle Bolton Lake via a spillway underneath a country road, and offers one state-owned boat ramp for public access. With an average depth of three feet and a maximum depth of 7.5 feet, the body of water is not quite as ideal for boating and water sports as its southern neighbors — a six horsepower engine limit is in place for all watercraft. Surrounded mostly by marsh, Upper Bolton lacks any significant lakeside developments.
Kayaking, sailing, canoeing, swimming, and year-round fishing are just a handful of the many activities that Bolton Lakes has to offer. Here, the most commonly caught species include catfish, panfish, perch, sunfish and largemouth bass. Ice fishing for bass is hugely popular during the winter months, and come spring the Bolton Lake Sailing Club hosts a Sunfish sailboat racing regatta. Softball and baseball yoga and bingo provide other interesting diversions, along with a youth summer camp. For mountain biking and hiking, the best trek in the area is a section of the Hop River State Park Trail that picks up in Bolton and finishes in Columbia. This six-mile portion of trail is quite tough, as it follows an old railroad track along extremely rugged terrain.
Just south of Bolton Lake, you'll find the historic Town of Bolton — a charming municipality that was incorporated back in 1720, having previously been a part of Hartford. Many of the first pilgrims to migrate here in the early 1600s were from an English city also known as Bolton, after which this New England town was named. Throughout the years, Bolton residents played instrumental roles in the French and Indian War, the Revolutionary War, and the Civil War. Before the arrival of European settlers, the lands were used as hunting grounds by the Podunk Native Americans.
Today, the town owns and operates three parks around Bolton Lakes: Freja, Indian Notch, and Herrick. Freja Park consists of 21 acres of undeveloped land adjacent to Bolton Pond. Just next to Lower Bolton Lake, Indian Notch Park is made up of 27 acres of wooded areas and 300 feet of sandy beach, positively ideal for swimming and sunbathing. While an irresistible fresh food market draws crowds during the summer, amenities like grills, picnic areas, bathrooms, a basketball court and a baseball diamond attract groups and families year-round. Herrick Park is located farther south, featuring an impressive playground, picnic area, and a set of interchangeable soccer or baseball fields (depending upon the season). A man-made skating rink can also be enjoyed here during the wintertime, while the nearby community building is available for special events. A smattering of other parks and lakes situated near Bolton Lakes make for perfect day trips. To the south, Gay City State Park features 1500 acres of woodlands, a fishing pond, and a veritable ghost town that was abandoned during the area's old milling days. Southeast, the sparkling Lake Coventry is surrounded by Nathan Hale State Forest, which was named after Connecticut state hero Nathan Hale, a revolutionary war patriot and spy for the Continental Army.
Bolton Lake's isolation, tranquility, and stunning New England countryside make it a truly special place to live, rent or own a lakeside property. Here, it is impossible not to fall in love with the great outdoors — particularly during autumn, when millions of fire-red and orange leaves fall gracefully from the trees. The municipality of Bolton's motto, "a town of all seasons," certainly extends to Bolton Lakes, with their striking array of year-round recreation and peaceful scenery.
Things to do at Bolton Lakes
Fishing
Ice Fishing
Boating
Sailing
Swimming
Beach
Canoeing
Kayaking
Camping
Picnicking
Hiking
Biking
Hunting
State Park
State Forest
Playground
Fish species found at Bolton Lakes
Bass
Black Bass
Catfish
Largemouth Bass
Perch
Sunfish
---
Bolton Lakes Photo Gallery
Bolton Lakes Statistics & Helpful Links
At LakeLubbers.com, we strive to keep our information as accurate and up-to-date as possible, but if you've found something in this article that needs updating, we'd certainly love to hear from you!
Please let us know about it on our Content Correction form.
Spread the word! Share our Bolton Lakes article with your fellow Lake Lubbers!