Lake Terramuggus, Connecticut, USA
Lake Locations:
USA - New England - Connecticut - River Valley -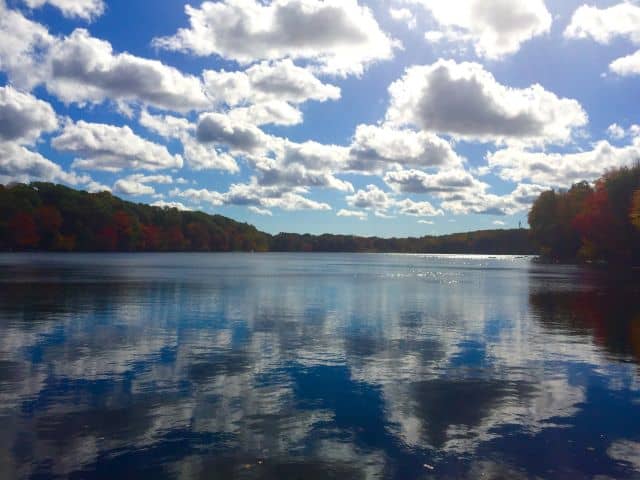 Located in the quiet rural area of Marlborough, Connecticut, Lake Terramuggus is proclaimed to be an undiscovered gem. The serenity of this lake offers residents year round entertainment and scenic beauty.
Lake Terramuggus is owned by the town of Marlborough. Boat motors are restricted to 3.3hp or less and are usually used only on small fishing boats. While this keeps the noise level down around the area, it does not discourage boating in general. In fact, boats most frequently seen on the clear water include paddle boats, canoes, kayaks, crewing sculls and small sailboats.
Residents take great pride in Lake Terramuggus. Lifeguards are on duty during the summer months at the sandy beach to watch over swimmers and provide swimming lessons and water safety rules to the children. Many activities are centered around the lake to encourage the sense of community.
What more can bolster pride in a lake than winning trophy fish awards for the state of Connecticut for fish caught there? A channel catfish and a calico bass reeled in from Lake Terramuggus have achieved such honors. Anglers have also boasted about the great trout fishing here.
Because Lake Terramuggus is owned by the town Marlborough, only town residents have access to the lake. Real estate development along the shoreline includes only private homes that blend with the small town charm of the area. With close proximity to Hartford, Marlborough is a highly desirable location for families who wish to enjoy the scenic beauty, friendly neighbors, and simple way of life yet have a short commute to their jobs in the big city. Marlborough prides itself in retaining the town's charm while looking forward to the future by making improvements and enhancements to maintain their high quality of living for their residents.
Lake Terramuggus is located in Connecticut's Central Interior/River Valley tourist region. This area offers big cities, quaint towns, sparkling rivers with scenic shorelines, and miles of the famed New England beauty. Attractions are diverse with each turn from Mark Twain's house to symphony and opera houses to riverboat cruises to golf courses to ski resorts. Shopping is as varied with antique shops, specialty stores, upscale stores and spacious malls. Vacation rentals here include motels, cabins, campgrounds, bed and breakfast inns, ski resorts, and casinos. And all along as you travel, there is sense of history in the area as some towns date back to the early 1700's and proudly displays their historic monuments to tell their story.
Marlborough Connecticut is a charming quiet town that is attracting new residents with its small town appeal. With the added benefit of Lake Terramuggus and New England's scenic beauty, perhaps you too should investigate the area before your next move.
Things to do at Lake Terramuggus
Fishing
Boating
Sailing
Swimming
Beach
Canoeing
Kayaking
Golf
Camping
Campground
Cabin Rentals
Antiquing
Shopping
Casino Gambling
Fish species found at Lake Terramuggus
Bass
Catfish
Channel Catfish
Trout
---
Lake Terramuggus Photo Gallery
Lake Terramuggus Statistics & Helpful Links
Spread the word! Share our Lake Terramuggus article with your fellow Lake Lubbers!