Andover Lake, Connecticut, USA
Lake Locations:
USA - New England - Connecticut - River Valley -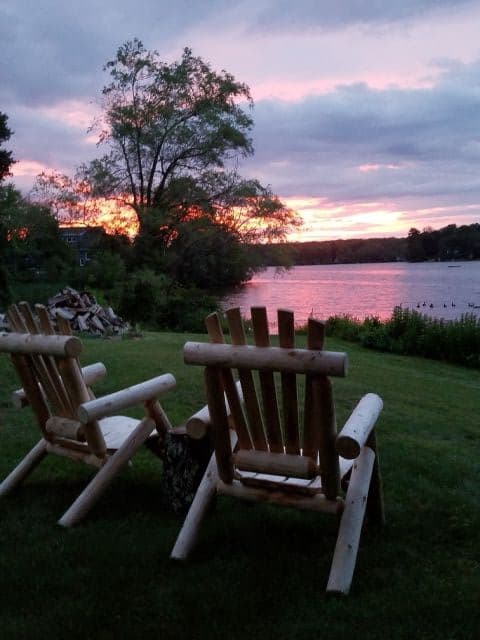 Located in the town of Andover in northeastern Connecticut, Andover Lake provides a wonderful sense of community that only private lakes can offer. Andover Lake is surrounded by beautiful New England countryside in Connecticut's River Valley Tourism Region. Andover Lake membership provides lakeside homeowners, and area residents, access to 159 acres of clear, clean water waiting for fishing, swimming, boating, and lakeside activities.
Thanks to the foresight of Andover area businessmen, Andover Lake exists today. In 1926, several influential businessmen saw the potential in developing a swampy area of land formerly known as Cheney Hollow. In short order, Andover Lake Corporation was formed and plans to build a dam and privately owned lake quickly took shape. Completed in 1927, and rebuilt in 1990, Andover Lake Dam stands at the north end of the lake, crossing Cheney Brook at a height of 20 feet and length of approximately 454 feet.
Today, Andover Lake remains a privately owned property. Andover Lake's operation is shared by two non-profit organizations. The manager and owner of the dam, beach, right-of-ways, lake bottom, and portions of lakeside property is Andover Lake Management Association (ALMA). Andover Lake Property Owners Association (ALPOA) oversees membership and plans social activities and lake events.
Andover Lake membership is open to residents of Andover and neighboring towns. There are five levels of membership: Regular Membership is limited to property owners within the ALMA's defined real estate area. Regular members are the only members who have voting privileges in regard to association matters; Associate Membership is available to those who are legal residents of the town of Andover; Out-of-Town Membership may be held by families who do not own property in Andover, with the number not exceeding 25% of the total membership; Lake Renters have membership through the landowner's regular membership; senior citizens may receive discounts on their regular or associate memberships
Open to fishing year around, Andover Lake is known for its excellent fisheries. The many small crooks and bends in the shoreline combine with warm, slow-moving water to provide optimum fishing conditions. The black crappie fishery is said to be one of the best in Connecticut and largemouth bass often exceed a five-pound weight. Additional species include smallmouth bass, chain pickerel, brown bullhead, white catfish, pumpkinseed, bluegills, redbreasted sunfish, and yellow perch.
Maintaining high water quality and excellent fish habitat is a priority to the management and membership of Andover Lake. In addition to regular monitoring, the lake's water level is lowered three-to-five feet each fall to help maintain fish and plant habitat. Water levels return to the maximum depth of 16 feet and average depth of 10 feet in the spring in preparation for summer water activities.
To maintain the quiet beauty of Andover Pond, no motorized or propellered craft are allowed on the lake. Sailboats, canoes, kayaks and rowboats make boating a popular pastime. A large beach, located at the south end of Andover Pond, is the site of many association activities and events. Birdwatching is popular year-round with osprey, Canadian geese, mallards, eastern bluebirds, mute swans, wild turkey and occasional bald eagles listed among sighted birds. Other wildlife includes bats, muskrats, raccoon, white-tailed deer, gray squirrel, red fox, striped skunk, rabbits and coyote.
For those who enjoy an outing in the woods, 1,500-acre Nathan Hale State Forest lies at Andover's northeastern city limits. Nathan Hale State Forest holds one of over 30 Connecticut "letterbox hikes": similar to geocaching, the Department of Environmental Protection (DEP) provides clues that lead hikers through the forest to a letterbox. Within the letterbox is a stamp to be used to document your visit. Accumulate enough stamps and Connecticut's DEP will reward visitors with a patch or walking stick.
Hop River State Park Trail is conveniently located in Andover. This 19-mile trail runs from Manchester (to the northwest) to Willimantic (to the southeast) with portions available for horseback riding and mountain biking. Drive twenty miles northeast of Andover Lake and you will find Mansfield Hollow State Park and Mansfield Hollow Lake. Here you can enjoy boating, hiking or mountain biking along scenic trails, picnicking, and fishing for pike and bass in the 500-acre lake.
For those who prefer urban exploration, Hartford is a quick 20-mile drive west of Andover Lake. Local history centers and museums draw thousands of visitors each year, including the Mark Twain House, Harriet Beecher Stowe Center, the Old State House, and Connecticut Historical Society Museum. A walk through historic neighborhoods will tempt shoppers to browse specialty stores and unique gift shops. Whether you enjoy seafood, soul food, Greek, Asian, Middle Eastern, or Caribbean flavors, Hartford's diverse ethnic population serves up dining experiences to please any palate.
Enjoy the city, the history, and the forests before coming home to your own vacation spot every day. Andover Lake homeowners and Andover residents have created an exceptional lakeside community of 3,000 residents. Andover Lake's lakeside vacation rentals and real estate properties are ideal for those who don't want to stray too far from civilization — enjoy the conveniences of a nearby city while residing in a small-town atmosphere. Whether you come for a week or stay to watch the seasons change, Andover Lake's sparkling water will welcome you home.
Things to do at Andover Lake
Vacation Rentals
Fishing
Boating
Sailing
Swimming
Beach
Canoeing
Kayaking
Picnicking
Hiking
Biking
Horseback Riding
Wildlife Viewing
Birding
State Park
State Forest
Museum
Fish species found at Andover Lake
Bass
Black Bass
Black Crappie
Bluegill
Brown Bullhead
Catfish
Chain Pickerel
Crappie
Largemouth Bass
Perch
Pickerel
Pike
Pumpkinseed
Smallmouth Bass
Sunfish
White Catfish
Yellow Perch
---
Andover Lake Photo Gallery
Andover Lake Statistics & Helpful Links
Spread the word! Share our Andover Lake article with your fellow Lake Lubbers!