Benson Lake, Ontario, Canada
Lake Locations:
Also known as:  Rideau Lakes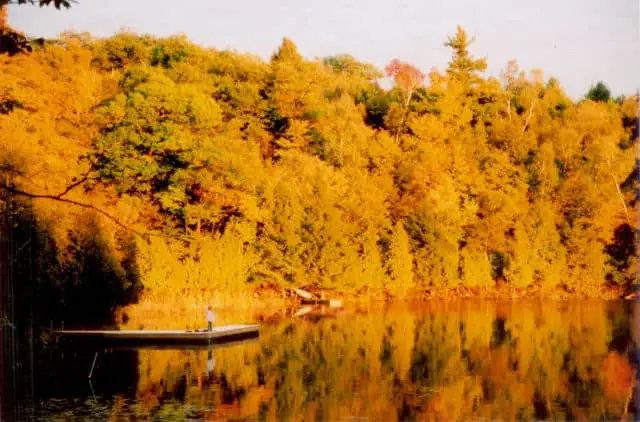 Benson Lake is part of the historic Rideau Waterway in Ontario, Canada. Benson Lake is one of six lakes surrounding Scott's Island. Benson Lake, Clear Lake, Indian Lake, Mosquito Lake, Newboro Lake, and Loon Lake all share the same water level and can be traveled without passing through one of the locks on the canal. The Rideau Canal has 45 locks at 23 stations and connects more than nine lakes including Lower Rideau Lake, Big Rideau Lake, Upper Rideau Lake, Newboro Lake, Clear Lake, Indian Lake, Opinicon Lake, Sand Lake, and Whitefish Lake. The Canal was opened back in 1832 and many of the locks still operate their large wooden doors with hand cranks. Take your friends and family to Benson Lake to experience engaging activities and fascinating history.
Benson Lake has 517 acres of pristine blue waters for your fishing pleasure. With a maximum depth of 40 feet and a mean depth of 8 feet, Benson Lake is home to lake trout, northern pike, largemouth bass, and smallmouth bass. Anglers can make their way to each of the connecting lakes for new fishing holes each day. You can see wildlife while boating, kayaking, canoeing, sailing, and pontooning. Many species of duck stop off at the lakes during the spring and fall months. Loons are common among all of the lakes as well as blue heron and osprey. Turtles can be seen basking in the sun, and the croaking of frogs can be heard in the evening. Other wildlife such as beavers, muskrats, otters, hummingbirds, and fireflies make Benson Lake an enchanting place to visit. And for visitors who want to enjoy time in the waters of Benson Lake, swimming, water skiing, wakeboarding, and scuba diving are favorite activities.
Trails surrounding Benson Lake invite exploration. The Rideau Trail offers 240 miles of public and privately owned lands for hiking, snowshoeing, and cross-country skiing. The trail is popular with all levels of hikers with terrain ranging from novice farmland to a more advanced Canadian Shield. For a smoother grade, Cataraqui Trail is right next door to Benson Lake. The trail follows the former National Canadian Railway line along the Napanee River. Cataraqui Trail has 48 main and secondary road access points along its length and is open year-round for hikers, bikers, equestrians, snowmobilers, and cross-country skiers.
Benson Lake and its surrounding lakes are part of the Frontenac Arch Biosphere Reserve, a program designated to protect landscapes, ecosystems, and the inhabited species. The area has many sublime parks such as Frontenac Provincial Park and Murphys Point Provincial Park. Frontenac Park features granite outcrops, vast wetlands and mixed forests and is home to wildlife such as kingfisher, black bear, fox, coyote, and abundant beaver. The park offers Wilderness Skills Training programs and many canoe routes throughout the park. Take a canoeing class and hone your skills on one of the many lakes within the park's boundaries. Murphys Point has guided tours of a restored mica mine and groomed trails for hiking, biking, and birding. Fish, canoe, swim, or boat on one of the lakes, and even spend the night at a boat-in campsite on Big Rideau Lake.
The winter weather brings many people to the Rideau area. A section of the Rideau Canal becomes the largest ice skating rink in the world with nearly 5 miles of ice to skate. If you love to speed skate, the international speed skating tournament known as Skate the Lake is held annually on Big Rideau Lake. Don't hesitate to visit during the summer months as well. The Rideau area hosts gardening shows, cycling tours, youth camps, and music festivals.
Be sure to take a day to see the historical sites in the area. At Chaffey's Lock is the Lockmaster's House Museum. The house dates back to 1844 and is rich with historical significance. The Old Stone Mill at Delta is also a fascinating place to visit. It was built in 1810 and is one of the earliest surviving, fully automatic, grist mills of Upper Canada. The mill has been declared a National Historic Site.
Vacation rentals and real estate property abound at Benson Lake. With year-round activities for all ages you can be sure to find something everyone will enjoy.
Things to do at Benson Lake
Vacation Rentals
Fishing
Boating
Sailing
Swimming
Canoeing
Kayaking
Water Skiing
Wakeboarding
Scuba Diving
Camping
Hiking
Ice Skating
Biking
Cross-Country Skiing
Horseback Riding
Wildlife Viewing
Birding
Provincial Park
Museum
Fish species found at Benson Lake
Bass
Black Bass
Lake Trout
Largemouth Bass
Northern Pike
Pike
Smallmouth Bass
Trout
Whitefish
---
Benson Lake Photo Gallery
Benson Lake Statistics & Helpful Links
Spread the word! Share our Benson Lake article with your fellow Lake Lubbers!