Bear Lake, Idaho & Utah, USA
Lake Locations:
USA - West - Idaho - Southeastern - Utah - Cache Valley -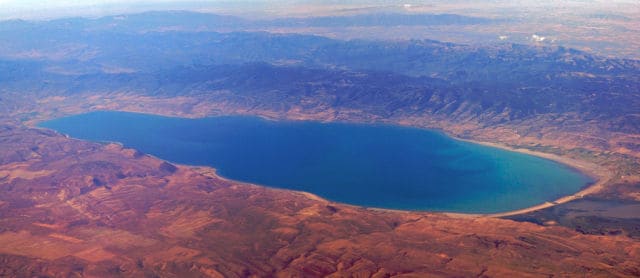 A natural freshwater lake straddling the borders of Utah and Idaho, Bear Lake is a 70,000-acre turquoise jewel that lives up to its moniker of "Caribbean of the Rockies." This lake, estimated to have formed 150,000 years ago, boasts spectacular views and a healthy year-round tourism industry, thanks to its beautiful location and ecological diversity.
The Shoshoni Native American tribes made the Bear Lake area home until the arrival of French-Canadian trappers and settlers in 1818. By 1825, mountain men were making their home here, including such famous names as Jedediah Smith and Jim Bridger. Despite Bear Lake's proximity to the Oregon Trail, most settlers didn't make it this far south until 1863, when Charles C. Rich led Mormon pioneers to colonize the area. His agreement with the Native Americans left most of the Utah side in the control of the Shoshonis, and much of the Idaho portions to the settlers. Over time, the lake's popularity grew, and it became a destination resort and recreation area for people from all over the country.
Although Bear Lake is a natural lake, water levels are controlled by the Utah Power and Light Company for irrigation water storage, hydropower generation, flood control, and fish and wildlife management. Bear Lake is not naturally connected to the Bear River, which starts in the Utah mountains and follows a circuitous route through Wyoming and Idaho, returning to Utah and terminating at the Great Salt Lake. The predecessor of Utah Power built Stewart Dam in 1917, diverting river water through canals into Mud Lake which connects to Bear Lake. Water leaves Bear Lake through a canal and rejoins the Bear River. The dam, canals, and pumping facilities are located in Idaho. Bear Lake is at full capacity at 5,924 feet above sea level; water cannot be pumped from the lake below 5,902 feet.
Today, this natural reservoir continues its recreational tradition and welcomes thousands of visitors to its shores each year. Suspended limestone deposits in the water give it its unique Caribbean-like feel, though the views and landscape are anything but island-like. Get a lay of the land, along with amazing photo ops, from one of Bear Lake's three scenic drives: Bear Lake Scenic Byway, Laketown Scenic Byway, and Logan Canyon Scenic Byway. Measuring between 15 and 81 miles roundtrip, these panoramic drives will afford you views of the rich blue waters, provide glimpses of the surrounding area, and give you a front seat to some of the most amazing scenery that Utah and Idaho have to offer.
Another way to see the area is on hiking and biking trails. Beginning mountain bikers will enjoy the 11-mile Swan Flat/Red Sink loop, and experts will be challenged to traverse the 10-miles Steam Mill Lake trail. If hiking is your game, the Lumber Pine Trail is all yours, offering an enjoyable walk through fir forests to the 500-year old, 25-foot circumference Lumber Pine Tree, a tree that was once thought to be the largest of its kind in the world. Though it was later discovered that the tree was actually the result of five trees grown together, it is still a sight worthy of the hike.
If you're itching to get outdoors, but hiking and biking aren't your favorite pastimes, sign up for a horseback trail ride and traverse the canyon, catch views of majestic elk, and tailor your ride to your preferences. Another option is an off-road Jeep or ATV trip, offered by several local companies, allowing you to explore hard-to-reach areas that would be otherwise impossible. Take your camera along to capture amazing views and, if you're quiet enough, scenes of Bear Lake wildlife.
Back on the lake's shores, water sports are the name of the game. Rent a jet ski or powerboat to enjoy the lake at full speed, parting waves and creating your own as you explore the lake's almost 70,000 acres. If you prefer to let someone else do the work, guided pontoon boat tours are available, where you'll learn about the Bear Lake's past and present. Or, bring your sailboat with you to enjoy what Bear Lake lovers know to be exciting, but smooth sailing. Three Utah state parks and two Idaho state parks offer beaches, boat ramps, small boat rentals, and camping facilities.
The reservoir is known as a great fishing location, home to a trophy-winning cutthroat trout fishery. It was here that an enormous 19-pound cutthroat set the Idaho state record. Large Mackinaw (lake trout) grow to a whopping 30 pounds and join the lake's endemic Bonneville variety of cisco and whitefish, Bear Lake's own whitefish, and sculpin to make your fishing trip an exciting and prosperous one.
Summers at Bear Lake are made sweeter by Raspberry Days, an annual festival that shows off the sweet fruit that flourishes in this region. Usually during the first week in August, Berry Days is home to parades, dancing, fireworks, rodeos, a raspberry recipe bakeoff, concerts, craft fair, the Miss Berry Princess contest, and many other forms of fun. If you can, plan to be at Bear Lake for the festival, as it's a delicious way to end your summer.
During the winter, Bear Lake shifts gears and transforms into a winter wonderland. Snow-capped trees paint the landscape and icicles dangle from every tree, covering the lake's shores in a blanket and tranquil white. The area comes alive with cross-country skiing, downhill skiing, and snowmobiling for the outdoor enthusiast. Anglers also dot the lake's surface, cutting holes in the ice in search of the four species only found at Bear Lake.
The lake is year-round paradise for outdoor enthusiasts, offering everything from mountain hiking in summer to ice fishing in winter. If peace and quiet with a twist of excitement are what you seek, you'll find yourself in a four season heaven at Bear Lake.
Things to do at Bear Lake ID
Vacation Rentals
Fishing
Ice Fishing
Boating
Sailing
Swimming
Beach
Jet Skiing
Camping
Hiking
Biking
Downhill Skiing
Cross-Country Skiing
Snowmobiling
Horseback Riding
Wildlife Viewing
State Park
Fish species found at Bear Lake ID
Cisco
Cutthroat Trout
Lake Trout
Sculpin
Trout
Whitefish
---
Bear Lake ID Photo Gallery
Bear Lake ID Statistics & Helpful Links
Spread the word! Share our Bear Lake ID article with your fellow Lake Lubbers!