Applegate Lake, Oregon, USA
Lake Locations:
USA - West - Oregon - Southern -
Also known as:  Applegate Reservoir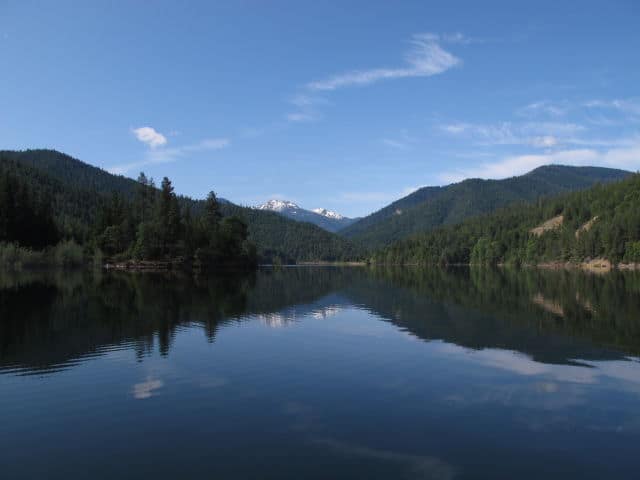 Reflecting the peaks of the Siskiyou Mountains, Applegate Lake is surrounded by Rogue River National Forest in southwestern Oregon's Jackson County. Long recognized as an angler's paradise, the rivers, streams and lakes of Oregon's Southern Tourism Region draw fishermen from around the world. Just 23 miles southwest of Medford, Applegate Lake runs an additional five miles south to the California border. Travel in any direction and you will find Applegate Lake surrounded by unspoiled nature, begging for exploration.
Applegate Lake is named for Lindsay and Jesse Applegate, who crossed the mouth of the Applegate River while carving the Southern Emigrant Trail of the 1840s. The haunting beauty of surrounding Collings Mountain, Kinney Mountain and Stein Butte hides a history of miners and gold seekers. Names of rivers, mountains, trails and campgrounds are pulled from the pages of Oregon's history, when prospectors flocked to the west to find their fortune. Abandoned mine sites dating back to the 1850s can still be seen along Applegate Lake's hiking trails.
Constructed to provide irrigation and flood protection, Applegate Dam was completed in 1980 by the US Army Corps of Engineers. Originating in California's Siskiyou Mountains, the Applegate River flows northward, feeding Applegate Reservoir before meeting the Rogue River six miles west of Grants Pass. Flowing from the Cascade Mountains to the Pacific Ocean, Rogue River is one of eight original National Wild and Scenic Rivers. Known for its excellent salmon runs, whitewater rafting, and spectacular scenery, the Rogue River is a "must see" for visitors to Applegate Reservoir. With over 2,000 miles of rivers and streams found on the Rogue River-Siskiyou National Forest, fishing and recreational opportunities are within easy driving distance of Applegate Lake.
Applegate River fishing greatly improved with the construction of Applegate Dam. Applegate Lake's cooler water, average depth of 85 feet, and maximum depth of 225 feet provide excellent conditions for catching rainbow trout, steelhead trout, chinook and coho salmon. Managed as a two-story fishery, warm-water species include smallmouth bass, largemouth bass, bluegill, black crappie, sunfish and brown bullhead.
Applegate Lake is open to year-round fishing, but access varies with lake levels. While year-round boat ramps are available at multiple locations and campgrounds, some lie below water during full pool or far above water at minimum pool. Copper boat ramp, located near the northwestern end of Applegate Lake, and French Gulch, located at the northeastern end of the lake, provide low-water ramps. The Forest Service Hart-Tish Park, also found at the northeast end of Applegate Lake, includes a paved boat ramp as long as water levels are above 1928 feet. Additional park amenities include parking, a general store, fishing supplies, swimming beach, kayak rentals, dry-RV and tent camping, restrooms, and drinking water.
The 988-acre lake attracts far more than fishermen. Applegate Reservoir is home to an annual triathlon's 3/4-mile lake swim, a 1500- and 5000-meter open-water swim for Masters swimmers, and beaches for those just learning to swim. With a speed limit of 10 miles per hour, calm waters make kayaking and canoeing a favorite water activity on Applegate Lake. Whether you choose to paddle across Applegate Reservoir for the exercise, or glide along the 18-mile shoreline, unblemished views will stretch from mountainside-to-mountainside.
With only 12,000 people residing in the 698-square-mile Applegate River watershed, much of the area remains pristine and undeveloped. Many campgrounds around Applegate Lake are hike-in, with trails instead of roads leading around the reservoir. Designated trails are accessible to motor cycles, mountain bikes, and riders on horseback. Each season brings new color to the scenic loops; overlooks provide views of Applegate Lake and wildlife viewing can include a stop at the Big Foot trap, built during the 1970s.
Rogue River National Forest is administratively merged with Siskiyou National Forest. The Siskiyou National Forest area covers over one million acres with a portion extending into northwestern California. The Forest Service states this National Forest the widest variety of landscapes, geology, plant communities and soils in the Pacific Northwest. Sharing southern boundaries with Rogue River-Siskiyou National Forest is Klamath National Forest. At nearly two million acres, Klamath National Forest provides access to trails, rivers, lakes, campgrounds and five wilderness areas in northern California. The scope of activities offered by these three national forest areas is only limited by a visitor's time and abilities.
Picture a view from the Pacific Ocean to Crater Lake's Mount Scott and you have a glimpse of the varied scenery and attractions surrounding Applegate Reservoir. East of Applegate Lake, Interstate 5 passes through Jackson County, conveniently located about midway between Portland and San Francisco. Communities located north of Applegate Reservoir provide endless entertainment: Medford hosts the Rogue Valley Balloon Rally, Ashland is a nationally recognized theater and arts center, and Grants Pass is known for its access to the Rogue River and Oregon Caves National Monument. Visitors could easily spend an entire summer here.
Vacation rentals and real estate properties lie among the hills and communities surrounding Applegate Lake. Whether you end your day in the solitude of a cabin or a condominium in the city, select your accommodation and extend your visit. Select among day trips to the Oregon Coast, Crater Lake National Park, the Oregon Shakespeare Festival or regional wineries. Fish the steelhead of the Rogue River, paraglide over the Siskiyous or simply watch the light dance on the surface of Applegate Reservoir. Find your home away from home and explore Oregon.
Things to do at Applegate Lake
Vacation Rentals
Fishing
Boating
Swimming
Beach
Canoeing
Kayaking
Whitewater Rafting
Camping
Campground
Cabin Rentals
Hiking
Horseback Riding
Wildlife Viewing
National Park
National Forest
Fish species found at Applegate Lake
Bass
Black Bass
Black Crappie
Bluegill
Brown Bullhead
Chinook Salmon
Coho Salmon
Crappie
Largemouth Bass
Rainbow Trout
Salmon
Smallmouth Bass
Steelhead Trout
Sunfish
Trout
---
Applegate Lake Photo Gallery
Applegate Lake Statistics & Helpful Links
Spread the word! Share our Applegate Lake article with your fellow Lake Lubbers!