Youghiogheny River Lake, Pennsylvania, USA
Lake Locations:
USA - Mid-Atlantic - Pennsylvania - Pittsburgh & Countryside -
Also known as:  Yough Lake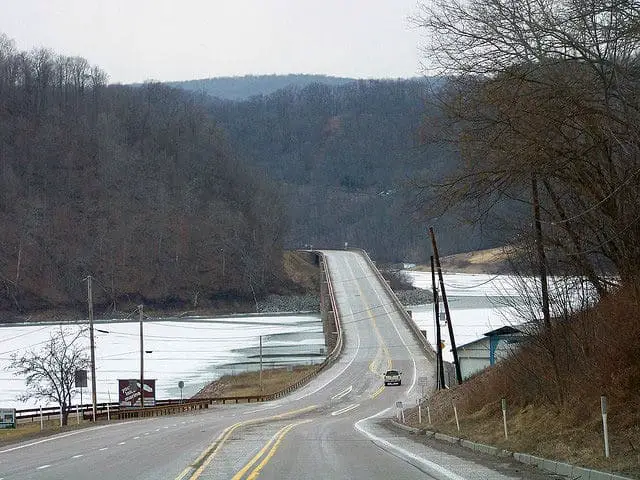 In the heart of the Laurel Highlands and spanning the Mason-Dixon Line between Pennsylvania and Maryland lays Youghiogheny River Lake. The U.S. Army Corps of Engineers invites you to experience the clean waters, mountains and steep-sided valleys which encompass the project and provide an unsurpassed setting for outdoor recreation opportunities.
A popular location for recreation, Youghiogheny River Lake attracts numerous visitors each year. Boating, hunting, camping and many other outdoor activities are enjoyed by visitors with outstanding facilities provided for the public's convenience.
Boaters consider Youghiogheny River Lake, with all its 16 mile length and channels up to one-half mile wide, the best power boating and water-skiing lake in southwestern Pennsylvania.
For the angler, there are numerous coves and backwater areas along the lake which provide excellent fishing. The lake is inhabited by a large variety of game and panfish and is especially known as a hotspot for walleye and smallmouth bass. A license has been granted to the Pennsylvania Fish and Boat Commission for fish management purposes in the Pennsylvania portion of the lake. The Fish and Boat Commission has also developed and maintains the Jockey Hollow Boat Launching Area. The tail waters of the dam are very popular for trout fishing. Youghiogheny River Lake's outflow area is one of the few areas in Pennsylvania open for trout fishing year round (except for the two weeks immediately preceding Opening Day) and is stocked by the Fish and Boat Commission on a regular basis throughout the spring and summer.
Another popular activity at Youghiogheny River Lake is camping. Campers have a choice of three campgrounds at which to stay, each offering something different with facilities ranging from modern to primitive. For cycling enthusiasts the Youghiogheny River Hiking-Biking Trail South runs from Confluence, Pennsylvania, to Ohiopyle State Park and extends into the Outflow Campground.
Even if you're just out for an afternoon drive, why not stop and have a lakeside picnic at one of Youghiogheny's four picnic areas? Then tour the project and enjoy the scenery as well as the other numerous points of interest which are within a short drive of the lake. An especially breathtaking time for sightseeing at Youghiogheny River Lake is during the first half of October when fall foliage colors are at their peak.
For those who prefer to propel their boats with a paddle, the Youghiogheny River has plenty to offer. From the outflow area of the dam and extending for approximately 20 miles downstream is one of the most popular rafting and canoeing rivers in the eastern United States. The boulder strewn stretch of river below Ohiopyle, Pennsylvania, is renowned for its whitewater and is often the scene of national kayaking competitions.
Source: U.S. Army Corps of Engineers, Pittsburgh District
Things to do at Youghiogheny River Lake
Vacation Rentals
Fishing
Boating
Canoeing
Kayaking
Water Skiing
Camping
Campground
Picnicking
Hiking
Biking
Hunting
State Park
Fish species found at Youghiogheny River Lake
Bass
Black Bass
Perch
Smallmouth Bass
Trout
Walleye
---
Youghiogheny River Lake Photo Gallery
Youghiogheny River Lake Statistics & Helpful Links
Spread the word! Share our Youghiogheny River Lake article with your fellow Lake Lubbers!