Lake Stoneycreek, Pennsylvania, USA
Lake Locations:
USA - Mid-Atlantic - Pennsylvania - Pittsburgh & Countryside -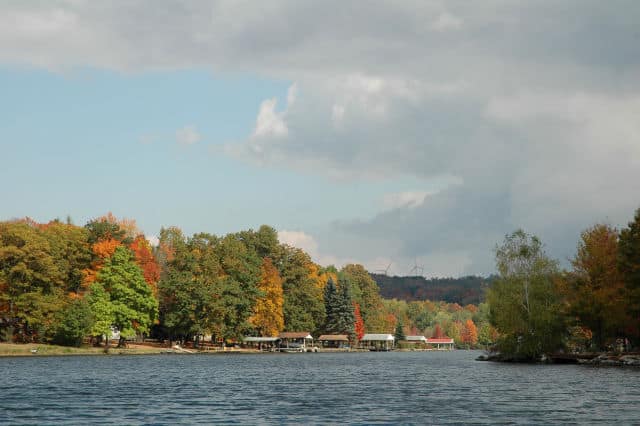 Tucked away in the Allegheny Mountains of south west Pennsylvania, Lake Stoneycreek is a private mountain jewel. Close enough to enjoy everything the Laurel Highlands have to offer, but private enough to ensure rest and relaxation, Lake Stoneycreek is an ideal destination for either a short term stay or long term residence.
In 1960 the Stoneycreek Valley Development Corporation under the direction of Jim McIntyre completed construction on the Lake Stoneycreek Dam. The resulting 166 acre impoundment was the start of a planned residential community. Three years later construction on the Indian Lake Dam was completed creating the much larger Indian Lake. The Indian Lake Dam is between the two lakes, and along with Boone Run, the outflow from Indian Lake makes up the inflow of Lake Stoneycreek. Rhoads Creek is Lake Stoneycreek's outflow and eventually joins the Stoneycreek River.
Together the two lakes make up the focal point of a planned residential community. Indian Lake is a 2,000 acre incorporated borough that also includes a private 18 hole championship golf course. Both lakes are private with access only to homeowners and guests. Lake Stoneycreek in ringed with lakefront homes, both full time residences and vacation rentals. There is lake front real estate for sale as well as golf homes and condominiums.
Private access to Lake Stoneycreek is from a boat ramp, and there is more than enough water to boat, sail, paddle, water ski and swim. Despite is location in an area that was once strip-mined for coal; Lake Stoneycreek is a clean, mesotrophic lake that supports a healthy cold water fishery. Anglers can challenge themselves against the lake's bass and crappie, and below the dam in the Stoneycreek River the trout are plentiful.
Lake Stoneycreek freezes in the winter opening a world of winter activities including ice skating and ice sailing. There are trails nearby for cross country skiing, and a home a Lake Stoneycreek is the perfect home base for a trip to one of the area's downhill ski slopes.
Part of the Pittsburgh and countryside region, Lake Stoneycreek is about an hour and a half from Pittsburgh. The small town of Shanksville is only a few miles from the lake. Truly a small town known only for its annual picnic, Shanksville catapulted into the nation's consciousness on September 11, 2001 when the passengers of United Airlines Flight 93 crashed their plane in a field nearby averting an attack on the nation's capitol. Today there is a monument marking the crash site and commemorating the heroism of the flight's passengers.
Lake Stoneycreek is in the heart of Somerset County which is dotted with small towns, each charming in their own way. There are shops, restaurants, and miles of country roads to explore. The Heritage Driving Tour winds across the county showcasing the area's ten remaining covered bridges. The highest peak in Pennsylvania, Mt. Davis, is also in Somerset County. The 3,213 foot peak on the summit of Negro Mountain is in the Mt. Davis Natural Area which is part of the Forbes State Forest. Named for General John Forbes, the state forest includes 50,000 acres in parts of Fayette, Somerset, and Westmoreland Counties.
With its clean, clear water and all the amenities of a private lake and community, Lake Stoneycreek is an ideal south west Pennsylvania destination.
Things to do at Lake Stoneycreek
Fishing
Boating
Sailing
Swimming
Water Skiing
Golf
Picnicking
Hiking
Ice Skating
Downhill Skiing
Cross-Country Skiing
State Forest
Fish species found at Lake Stoneycreek
---
Lake Stoneycreek Photo Gallery
Lake Stoneycreek Statistics & Helpful Links
Spread the word! Share our Lake Stoneycreek article with your fellow Lake Lubbers!