Yatesville Lake, Kentucky, USA
Lake Locations:
USA - South - Kentucky - Appalachians -
Also known as:  Yatesville Lake State Park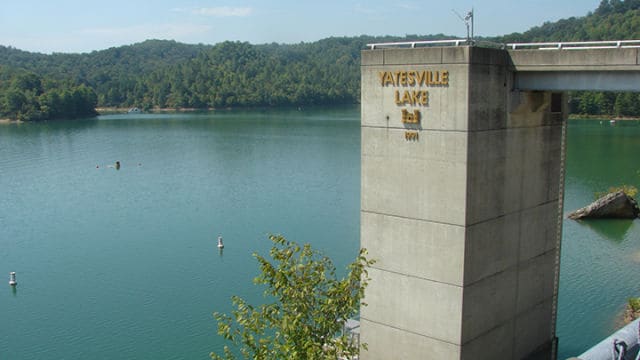 The newest star in the Kentucky Appalachians region is Yatesville Lake. Very young as lakes go, Yatesville Lake was created in 1991 when the US Army Corps of Engineers dammed Blaine Creek, a tributary of Big Sandy River for flood control and storm water management. From this very utilitarian beginning, one of eastern Kentucky's largest and best recreational lakes was born. By the time the lake opened to the public in 1992, the Kentucky Department of Fish and Wildlife Resources had already stocked the lake with black bass, channel catfish, largemouth bass, crappie and bluegill. A state park was in the works, and the new lake took off from the starting line already bounds ahead of many other lakes. Its popularity continues to grow.
The 2,200+ acres of water stretch into a number of coves, bays and branches as it meanders along the former course of Blaine Creek. A Project Information Center located near the dam gives information on the technical details of the project and the particulars of the lake itself. A few private properties share the view of the 93-mile shoreline with Yatesville Lake State Park, all set back above any high water danger. The gently rolling hillsides are heavily forested, leaving a lakeside view of near-wilderness shoreline and a peaceful feeling of utter solitude on much of the lake.
Boating is a big attraction near the marina at Yatesville Lake, where boaters can water ski, jet ski or enjoy sailing, tubing, windsurfing and sail boarding. The small marina rents pontoons and small flat-bottom boats called 'jon boats' for fishing. There are 140 boat slips for rent, and many boat owners from nearby large cities keep their boats here most of the summer. A boat ramp is located at the marina and at the campground. Landlubbers can fish from the ADA-compliant fishing jetty located near the marina. So good is the largemouth bass fishing that tournaments are regularly scheduled here each summer. The pontoons are popular for exploring the coves, while canoes and kayaks are idea for paddling silently into narrow inlets to enjoy wildlife.
Yatesville Lake State Park encompasses much of the eastern end of the lake near the dam. The campground is well-planned to encourage all kinds of camping experiences. The park includes several 'double' RV sites where two families can camp together. The majority of campsites have electricity, with drinking water, rest rooms, showers, laundry and dump station. A playground, volleyball court, picnic tables, grills and a picnic pavilion are also provided. Sixteen boat-in campsites are only accessible by water, while four sites can accommodate only hike-in campers. These sites are in great demand for campers and paddlers who crave seclusion. None of these sites have electricity, although necessary facilities are not far away. A swimming beach with showers and rest rooms and a snack bar are located near the marina. The state park also has several trail systems geared to every type of hiker.
The Mary Ingle Trail System is located near the marina and consists of six separate trail loops totaling 2.5 miles. One is an ADA-compliant interpretive nature trail, two are exercise paths, and three are wooded and somewhat rugged. The Pleasant Ridge Trail System consists of five separate trails winding through the campground area. The most extensive trail, the Multi-Purpose Trail, covers over 20 miles and is open to mountain biking, hiking, backpacking and horseback riding. These trails are maintained by the Lawrence County Saddle Club, located near the campground. All roads in the park are also available for bicycling and walking. The entire area is popular for bird watching, and birding clubs often schedule outings here.
Eagle Ridge Golf Course adjoins Yatesville Lake State Park and is considered one of the most affordable golf courses in the area. A part of the state park system, the golf course is very popular, and local vacation rentals usually advertise based ion their proximity to the facility. The nearest town to Yatesville Lake is Louisa, less than 10 miles east of the state park. The old town of Louisa provides groceries, gas, supplies, restaurants, motels and small-store shopping. Country music fans will appreciate a visit to the Kentucky Pavilion at Falls Creek just north of Louisa on Country Music Highway (US 23). The Pavilion holds a huge collection of country music memorabilia, from Minnie Pearl's famous hat-complete with price tag- to Elvis Presley's Exxon gas card. The Pavilion isn't just a Welcome Center and a museum; budding music acts from rock to country music perform in the courtyard.
Less than an hour's drive from Yatesville Lake are Grayson and Ashland, KY and Huntington, WV. Charleston, WV is an hour-and a half and Lexington, KY two-and-a-half hours away. This makes Yatesville Lake convenient for a weekend getaway. Real estate is available in the area around Yatesville Lake. New housing is being built nearby and cabins, guest stays and bed & breakfasts in the area make this eastern Kentucky's easiest relaxation and resort area. Many rental cabins are available along Blaine Creek, with some luxury new homes available for rent overlooking Yatesville Lake. So, bring the boat if you have one (or rent a pontoon if you don't), and pack up the kids for a week at Yatesville Lake. You'll soon discover just how beautiful Kentucky's Appalachian Mountains and its lakescapes are.
Things to do at Yatesville Lake
Vacation Rentals
Fishing
Boating
Sailing
Swimming
Beach
Canoeing
Kayaking
Jet Skiing
Water Skiing
Tubing
Golf
Camping
Campground
Picnicking
Cabin Rentals
Hiking
Biking
Horseback Riding
Wildlife Viewing
Birding
State Park
Museum
Playground
Shopping
Fish species found at Yatesville Lake
Bass
Black Bass
Bluegill
Catfish
Channel Catfish
Crappie
Largemouth Bass
Sunfish
---
Yatesville Lake Photo Gallery
Yatesville Lake Statistics & Helpful Links
Spread the word! Share our Yatesville Lake article with your fellow Lake Lubbers!