Cave Run Lake, Kentucky, USA
Lake Locations:
USA - South - Kentucky - Appalachians -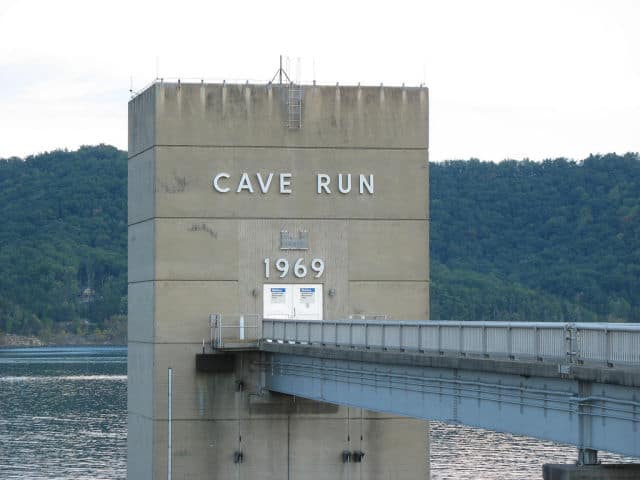 Cave Run Lake, located in the Eastern Highlands Region of Kentucky, is an 8,270-acre manmade reservoir. Originally built by the U.S. Army Corps of Engineers for flood control in 1973, the lake now serves as a prime vacation destination.
Cave Run Lake is neighbor to the Daniel Boone National Forest. Established in 1937, the national forest covers more than 700,000 acres over 21 Kentucky counties. Visitors to the lake owe it to themselves to visit the forest, and nature lovers will be in heaven here. More than 300 species of amphibians, birds, mammals and reptiles make their home in the towering hardwoods, bubbling streams, pristine ponds, and deep, cool caves. Daniel Boone National Forest offers its visitors picnic areas, primitive and developed camping facilities, and boat ramps to allow you access to Cave Run Lake.
One of the lake's best activities is its fishing, as it didn't get the nickname "Muskie Capital of the South" for nothing. Known for its record-breaking muskie, the lake also houses bass, catfish, and crappie beneath its glistening surface. Whether you take your own boat to the lake or rent one from a local marina, you'll find that Cave Run Lake fish like to bite, so prepare yourself for your next big catch.
The lake offers its visitors truly spectacular Kentucky scenery year-round. Though it's located in the south, the lake has a spectacular autumn season, with all shades of yellows, oranges, and reds painting the landscape. Winter brings pristine white scenery, as snow falls and covers the region in a blanket of purity. And, of course, in the spring and summer, Cave Run Lake is surrounded by bursting blooms, deep green-hued trees, and giant, open blue skies.
Boaters dot the lake, zipping around in powerboats, leisurely exploring in kayaks and canoes, and testing their skill with sailboats. Swimmers dive deep below the lake's surface, sometimes taking snorkeling or scuba gear with them to explore what lies below. Sunbathers enjoy the two public beaches, located in Twin Knobs Recreation Area and Zilpo Recreation Area. Picnickers utilize the public picnic areas and recreation shelters, as well as dine from the comfort of their boat, rented or brought from home. There is always something for everyone here.
Because the primary purpose of Cave Run Lake is flood control, the water level is drawn down in the fall to winter pool level, allowing spring rains to fill the reservoir instead of flooding the surrounding land. The summer pool water level is 730 feet; winter pool level is reduced to 724 feet.
Truly, Cave Run Lake is a haven for nature lovers, adrenaline junkies, and vacationers with relaxation in mind, so make you plans and pack your bags for a great vacation.
Things to do at Cave Run Lake
Vacation Rentals
Fishing
Boating
Sailing
Swimming
Beach
Canoeing
Kayaking
Snorkeling
Scuba Diving
Camping
Picnicking
Birding
National Forest
Fish species found at Cave Run Lake
Bass
Catfish
Crappie
Muskellunge
Pike
---
Cave Run Lake Photo Gallery
Cave Run Lake Statistics & Helpful Links
Spread the word! Share our Cave Run Lake article with your fellow Lake Lubbers!