Wolford Mountain Reservoir, Colorado, USA
Also known as:  Wolford Mountain Lake
Welcome to the ultimate guide for history, statistics, local fun facts and the best things to do at Wolford Mountain Reservoir.
If you're considering Wolford Mountain Reservoir vacation rentals, we've made it super easy to explore accommodations and nearby hotels using the interactive map below. Simply click on a listing to compare similar properties, best rates and availability for your dates. Or keep scrolling to read our Wolford Mountain Reservoir guide!
Wolford Mountain Reservoir visitor and community guide
As one of Colorado's newest lakes, Wolford Mountain Reservoir is getting a lot of well-deserved attention. The reservoir was created in 1996 when Ritschard Dam was built across Muddy Creek, a tributary of the Colorado River. Wolford Mountain Reservoir was built to store water for later release to the Colorado River, keeping fish and wildlife well-supplied when large Front Range cities such as Denver would have drawn it down to a mere trickle. Along with successfully helping to maintain water levels on the Colorado River, Wolford Mountain Reservoir provides all types of recreation, local water supply, and irrigation. The reservoir is owned by Colorado River Water Conservancy District, with adjacent land primarily under the ownership of the U.S. Bureau of Land Management (BLM).
Named for nearby Wolford Mountain, this high-elevation lake covers about 1,550 acres when full, which is smaller than most Colorado reservoirs. Its 15-mile shoreline is completely undeveloped with no private homes directly on the shoreline. Forty percent of the water allotted to municipalities is earmarked for Denver. Since its creation in 1996, Wolford Mountain Reservoir has quickly become a favorite for recreational boating and fishing. One privately operated campground along the shore is home to the main boat launch and 45+ campsites in high demand, along with picnic grounds and a day-use area.
The lake is a treasured spot for water skiing, tubing, wakeboarding, sailing, pontooning, jet-skiing and other water sports in a primarily arid environment. A basic marina without services located near the campground provides boat slips and dock space daily or seasonally. The location also rents fishing boats, pontoons, canoes, tubes and runabouts. An annual launching fee helps pay for the mandatory inspections against invasive species. Because Wolford Mountain Reservoir has many narrow arms and stream inlets, canoeing and kayaking are favored for wildlife watching and fishing in otherwise inaccessible coves.
Wolford Mountain Reservoir is noted for fishing, with kokanee salmon and several species of trout (including rainbow trout, Snake River cutthroat trout and brown trout) being stocked regularly by Colorado Parks and Wildlife since the reservoir filled. In recent years northern pike are sometimes caught. As the pike were illegally introduced, anglers are encouraged to take all of them landed. A popular winter ice fishing tournament draws large numbers of anglers and guarantees several very large prizes. Additional fishing along Muddy Creek below the dam is popular among fly fishermen who can follow trails to great fishing spots. A parking lot at the dam allows shore anglers to cross the dam on foot and follow the path down to the water. Because Wolford Mountain is the only reservoir in the area to have a naturally-occurring population of native roundtail chub, environmental agreements guarantee the reservoir owners maintain a percentage of the stored water to facilitate the continued survival of this non-game species.
Access to the lake requires a small fee, used to improve recreational opportunities in the area. The campground is located in an area called the Wolford Mountain Recreation Area on the west shore, with walking trails, mountain biking, wildlife observation and shore fishing providing a range of activities for visitors to enjoy. Reservations for the campsites are advised as they fill up quickly. Sites have electric hook-ups, with an RV dump and water fill stations. Most of the campground facilities are handicapped accessible. Fish cleaning stations are provided. The campground is open year-round, although the boat ramp closes and not all services are available.
Wolford Mountain is located east of the lake. The area has limited road access and is owned by the Bureau of Land Management. In keeping with the desire to provide recreational opportunities and to encourage wildlife to stay east of the water, the lower slopes of Wolford Mountain have been reworked to offer more feeding opportunities for large mammals. More available feed prevents them from crossing the reservoir on the winter ice and impeding traffic on nearby Highway 40. A system of marked trails in the area offers plenty of opportunity for mountain bikers and off-road-vehicle enthusiasts to enjoy the mountainside. Trail maps and details are available from the Kremmling Field Office of the BLM. The office also has hunting maps of their nearby elk and deer management units. Much of the area remains open year-round, although some roads are closed during the winter. Several commercial outfitters have BLM permits to guide fishing, hunting or horseback treks in the area.
The small city of Kremmling is located less than five miles downstream from Wolford Mountain Reservoir. An RV park and 'camping cabin' facilities are located on the outskirts of town. Many local outfitters are located here, available for activities at Wolford Mountain Reservoir and its surrounding area and for whitewater rafting along the Colorado River. Kremmling is a popular destination for rafters, snowmobilers, hunters and outdoor fans and has the necessary services to keep them well-supplied. Several restaurants and coffee shops can provide a hot meal or a snack to hungry fans. The area is popular among artists, and a local facility serves as a gallery for showcasing and selling their wares. A hotel provides lodgings, as do several guest ranches and dude ranches. Vacation rentals can sometimes be arranged with private individuals in the area, and there are several resorts with housekeeping cottages in the surrounding countryside. In winter, downhill skiers and snowshoe trekkers join snowmobilers in celebrating winter and snow in the high country nearby. Kremmling is less than two hours west of Denver on good roads, so access to the area is easy.
Not all of the attention garnered by Wolford Mountain Reservoir recently has been favorable. A few years ago, dam inspectors noticed evidence of settling and unexpected 'movement' at the 25-year-old structure. Engineers called in to evaluate determined that, although there was no immediate danger of the dam failing, improper compaction of one area of the rock-fill in the dam's core was allowing for more movement than was planned. Scheduling is in process to partially drain the reservoir to remove the weakened area and repair it. Meanwhile, all activities go on as usual at Wolford Mountain Reservoir and downstream at Kremmling. The lake is still entertaining guests, and the fish are still eager for your bait.
*The Colorado River Water Conservancy District does not provide statistics such as depth for this reservoir.
Custom Wolford Mountain Reservoir house decor
Read our full review of these personalized lake house signs.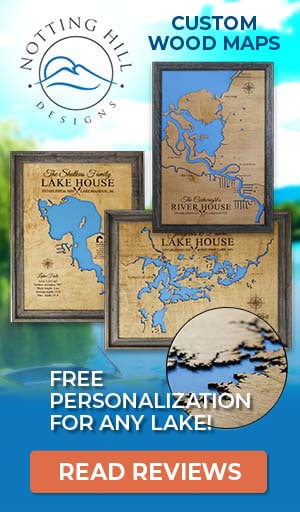 Things to do at Wolford Mountain Reservoir
Vacation Rentals
Fishing
Fishing Tournaments
Ice Fishing
Boating
Sailing
Canoeing
Kayaking
Whitewater Rafting
Jet Skiing
Water Skiing
Wakeboarding
Tubing
Camping
Campground
Picnicking
Cabin Rentals
Hiking
Biking
Downhill Skiing
Snowshoeing
Horseback Riding
Hunting
Wildlife Viewing
Fish species found at Wolford Mountain Reservoir
Brown Trout
Carp
Cutthroat Trout
Kokanee Salmon
Northern Pike
Pike
Rainbow Trout
Salmon
Trout
---
Best hotels and vacation rentals at Wolford Mountain Reservoir
The Wolford Mountain Reservoir map shown above is a simple and stress-free way to search for trip accommodations. But if you want to take a deeper dive to find the ideal waterfront home, cabin, condo, hotel or resort, visit our favorite lodging partners by clicking the buttons below.
Note: These are affiliate links so we may earn a small commission if you book through them. While there is no extra cost to you, it helps provide resources to keep our site running (thank you)! You can read our full disclosure policy here.
---
Wolford Mountain Reservoir photo gallery
New photos coming soon!
Wolford Mountain Reservoir statistics & helpful links
We strive to keep the information on LakeLubbers as accurate as possible. However, if you've found something in this article that needs updating, we'd certainly love to hear from you! Please fill out our Content Correction form.
Advertise your Wolford Mountain Reservoir vacation rental
LakeLubbers will soon offer homeowners and property managers the opportunity to to showcase their vacation rentals to the thousands of lake lovers searching our site daily for accommodations. If you'd like additional details, please contact our advertising team here.
Looking for the Wolford Mountain Reservoir forum?
LakeLubbers previously offered visitors the ability to create accounts and participate in lake forums. When we overhauled the site's content management system in 2021 we had to disable those features. We're evaluating options and welcome your comments and feedback here.
We also encourage you to join our lake-lovin' community on Facebook and Instagram!
Spread the word! Share our Wolford Mountain Reservoir article with your fellow Lake Lubbers!