Willow Creek Reservoir, Colorado, USA
Welcome to the ultimate guide for history, statistics, local fun facts and the best things to do at Willow Creek Reservoir.
If you're considering Willow Creek Reservoir vacation rentals, we've made it super easy to explore accommodations and nearby hotels using the interactive map below. Simply click on a listing to compare similar properties, best rates and availability for your dates. Or keep scrolling to read our Willow Creek Reservoir guide!
Willow Creek Reservoir visitor and community guide
A vital link in the chain of water projects that irrigate Colorado's Eastern Slope, Willow Creek Reservoir is less-known and less crowded than many nearby larger reservoirs. As a part of the massive Colorado-Big Thompson Project, Willow Creek Reservoir is actually on the Western Slope in the Northwest Region of the state with water being transferred across the Continental Divide by a series of pipes, canals, flumes and pumps. Willow Creek Dam doesn't generate hydroelectric power as do many of the reservoirs. Instead, the dam pool stores spring snow melt and impounds the water from Willow Creek to supply Lake Granby Reservoir to the east. Relatively shallow at a maximum of 53 feet, Willow Creek Reservoir serves as a recreational destination to the western slope. Although the dam is owned by the Bureau of Reclamation, the entire reservoir shoreline lies within Arapaho National Recreation Area (ANRA), assuring a wealth of recreational opportunities for lucky visitors.
Although much of the north shore of Willow Creek Reservoir abuts the surrounding mountains, the southern shoreline is far more accessible. Three camping areas provided by the forest service offer rustic camping along the shore among the trees. Accommodating RVs to 40 feet, the campsites all contain a picnic table, fire grate, cooler platform, lantern hooks, and a food locker. The food lockers are provided as protection from bears that frequent the area and must be used by all campers. A boat launch site is located near the dam at the east end of the lake, along with a picnic area. To the delight of bird watchers, an osprey nesting platform is provided near the camping area and often offers the chance to see these raptors fishing in the shallow waters. Fishermen enjoy catching cutthroat trout, rainbow trout, brook trout, suckers and kokanee; all but the suckers are regularly stocked. Boat speed on Willow Creek Reservoir is slow or no-wake, limiting the numbers of power boats and water sports engaged in here. The quiet waters encourage canoes, kayaks and float-tubes for fishing and shore fishing. An ANRA pass is required but also covers all ANRA locations in the area, including those at Grand Lake and Lake Granby.
As with many Colorado reservoirs, most boats must be inspected to prevent the introduction of invasive species. Unfortunately, no inspection program is 100% effective, resulting in evidence of quagga mussels in the lake in recent years. For this reason, Willow Creek Reservoir is closed to larger boats and trailers for the 2012 season, although smaller, hand-launched craft can still be used. This limitation likely will not impact camping and fishing negatively, because the option for shore fishing is always open. Willow Creek Campground attracts solitude lovers who wish to camp among spruce and lodgepole pine, wake to nature's music and admire west slope wildlife. Although there are no organized trails within the campground itself, the Arapahoe National Recreational Area holds a number of trails nearby, some of which connect to trails within the Rocky Mountain National Park. Favorites in the recreation area are the nine-mile East Shore Trail which is part of the Continental Divide National Scenic Trail and is open to horseback riding. The Arapaho and Roosevelt National Forest and Pawnee National Grasslands Visitors Guide offers more specific information on activities available in nearby areas.
Willow Creek Reservoir water levels stay relatively stable during most of the year, as there is no direct withdrawal for irrigation. Water levels are lowered in winter in anticipation of spring run-off within the 134-square mile drainage area. The reservoir contributes needed water to Lake Granby in a unique system of pumps: the Willow Creek Pumping Station pumps water 175 feet up to the Willow Creek Supply Canal, where it flows 1/4 mile by gravity to Lake Granby, a much larger reservoir. The entire Colorado-Big Thompson Project consists of 10 reservoirs and 13 dams, along with many smaller water structures. Willow Creek Reservoir shares this area of the system with Lake Granby, Shadow Mountain Lake and Grand Lake. All hold recreational facilities on their shorelines and are popular for fishing both summer and winter.
The nearby mountain town of Granby has hosted mountain visitors since its founding in 1905 but has seen rapid growth in the last few years. Sports enthusiasts have increasingly come to the West Slope in search of hiking, mountain biking, boating, horseback riding, hunting, river rafting and lake fishing. Because Granby is on the road between Winter Park and Grand Lake, the town has increasingly become a destination in itself for skiing, snowmobiling, dog sledding, and snowshoeing in winter. Not content to rest on its reputation as a gateway to Willow Creek Reservoir and Lake Granby, the town of Granby offers a number of golf courses, scheduled music festivals and rodeos, and even a family-friendly ski venue just outside of town.
The town of Grand Lake is another location to find services and recreation near Willow Creek Reservoir. Only 15 miles to the northeast, Grand Lake functions as the west entry to Rocky Mountain National Park and provides all necessary amenities, along with a variety of recreational opportunities. The area surrounding the two towns holds a number of guest ranches, bed-and-breakfasts, private rentals and more formal lodgings. With Denver only 100 miles away, the area around Willow Creek Reservoir is the ideal weekend getaway, utilizing either the many public and private campgrounds in the area or more luxurious ski accommodations. Increasingly popular as a location for a vacation home, real estate may be hard to find immediately. Those who truly desire to live surrounded by national forests and majestic mountain views amid rushing creeks will eventually find just the right property at a reasonable price. One visit to Willow Creek Reservoir will convince you: you were born to be a mountain lakelubber . . at least on weekends. Hope to see you soon!
Custom Willow Creek Reservoir house decor
Read our full review of these personalized lake house signs.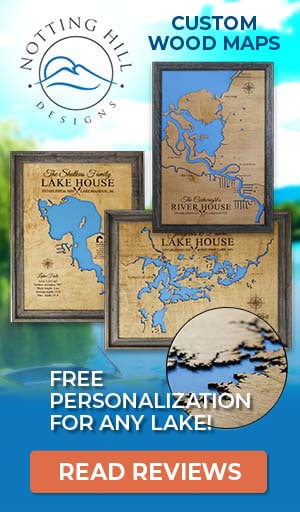 Things to do at Willow Creek Reservoir
Vacation Rentals
Fishing
Boating
Canoeing
Kayaking
Tubing
Golf
Camping
Campground
Picnicking
Hiking
Biking
Snowmobiling
Dog Sledding
Horseback Riding
Hunting
Wildlife Viewing
Birding
National Park
National Forest
Fish species found at Willow Creek Reservoir
Brook Trout
Cutthroat Trout
Kokanee Salmon
Rainbow Trout
Sucker
Trout
---
Best hotels and vacation rentals at Willow Creek Reservoir
The Willow Creek Reservoir map shown above is a simple and stress-free way to search for trip accommodations. But if you want to take a deeper dive to find the ideal waterfront home, cabin, condo, hotel or resort, visit our favorite lodging partners by clicking the buttons below.
Note: These are affiliate links so we may earn a small commission if you book through them. While there is no extra cost to you, it helps provide resources to keep our site running (thank you)! You can read our full disclosure policy here.
---
Willow Creek Reservoir photo gallery
New photos coming soon!
Willow Creek Reservoir statistics & helpful links
We strive to keep the information on LakeLubbers as accurate as possible. However, if you've found something in this article that needs updating, we'd certainly love to hear from you! Please fill out our Content Correction form.
Advertise your Willow Creek Reservoir vacation rental
LakeLubbers will soon offer homeowners and property managers the opportunity to to showcase their vacation rentals to the thousands of lake lovers searching our site daily for accommodations. If you'd like additional details, please contact our advertising team here.
Looking for the Willow Creek Reservoir forum?
LakeLubbers previously offered visitors the ability to create accounts and participate in lake forums. When we overhauled the site's content management system in 2021 we had to disable those features. We're evaluating options and welcome your comments and feedback here.
We also encourage you to join our lake-lovin' community on Facebook and Instagram!
Spread the word! Share our Willow Creek Reservoir article with your fellow Lake Lubbers!